Category:
Chrome Extension
Top Chrome Extensions Every Recruiter Needs in 2022
Nowadays, the software landscape for recruiters is vast. Every new SAAS solution claims to save time, money, and place candidates – but how much truth to that is there? In recruiting and staffing, time is money and time is best spent reaching out to qualified candidates.
Recently, we asked some of our recruiting partners to really get an understanding of the top SAAS tools in the recruiting/staffing industry. On top of this, we asked one important question – what makes your days more efficient? The answer: Chrome Extensions. 
What is a Chrome Extension?
Chrome Extensions are browser add-ons that customize your online experience. They enable users to tailor specific functionality to individual needs or preferences. 
A single extension can include multiple components and a range of functionality, as long as everything contributes towards a common purpose i.e texting candidates on their phones!
Why do recruiters need Chrome Extensions in 2022?
There are a ton of benefits that chrome extensions provide for recruiting and staffing professionals. Extensions save time, boost candidate placement, help clean your CRM data, and improve recruiter productivity.
Since each recruiting firm is so different and fills different needs – we thought we would wrangle our top chrome extensions for recruiters so you don't have to!
Chrome Extensions Every Recruiter Needs
Depending on what ATS/CRM your company uses – you will likely have different options for a lot of these categories, but here are some of our favorites!
Best Scheduling Extension For Recruiters
What Does it Do? Calendly allows you to schedule meetings without hassle. Never get double booked again. Calendly works with your calendar to automate appointment scheduling. Once you have a Calendly account (free and paid plans), use the Calendly for Chrome extension to:
Access all of your event types from anywhere on the web
Leverage Calendly from the Gmail compose toolbar, and add times to your email
Leverage Calendly in LinkedIn Messaging, Recruiter, and Sales Navigator
Select and share your availability in a few clicks
Create one-off meetings to handpick times for VIPs
Create meeting polls to find and book the best time for everyone to meet<
Mark and save event types as your favorites for even quicker access
What we love: User-friendly interface, integrates with all calendar tools, free version is fairly robust! 
Price: Free and Paid Version. Paid version starts at 8/month. See more pricing here.
Best Email Efficiency Extensions For Recruiters
What does it do?Grammarly Improves your writing with communication assistance—including spell check, grammar check, punctuation check, and more. Grammarly for Chrome offers real-time suggestions to help you write your best online, no matter what you're working on in your browser.
But great writing is about much more than just grammar and spelling. That's why Grammarly also helps you streamline wordy phrases and rewrite sentences that are likely to confuse readers. It also suggests word choice improvements to help keep readers engaged, and helps you adjust your tone to ensure you come across the way you intend.
What we love: Helps not only to craft the perfect email, but ANYWHERE you are typing on a web page. Never have to edit a tweet, LinkedIn or other social post again with this chrome extension.
Price: You can download and use grammarly for free. To unlock more features, they offer tiered plans as well!
2. Saleshandy
What does it do? Saleshandy is a 100% free email tracking without any hidden signatures, logos or gimmicks. The tool allows you to easily see who opens, clicks and replies to your emails in gmail! 
Here are some other features that they provide, along with free email tracking:
Free Email scheduling across time-zones
Smart Email templates (Insert in milliseconds!)
Email Sequence (Send an email with automated follow ups for a single recipient)
Mail Merge with auto follow-ups
What we love: For a free extension, this tool hits well above its weight class. Freelancers or small startup recruiting firms can use this tool to get great email data without having to worry about a monthly budget. 
Price: Free!
Best ATS Extension For Recruiters
What does it do?The Bullhorn Chrome Extension is a free Google Chrome Extension that allows users to easily create and update records in Bullhorn, using text from the web. Increase your team's efficiency and reduce clicks by leveraging Bullhorn's parsing engine to extract information and pre-populate fields in Bullhorn.
When you come across interesting information on the web that could be a potential candidate, contact, lead, opportunity or job, you can easily create new records in Bullhorn with a few clicks.
What we love: Bullhorn is the top ATS in the recruiting industry and their extension allows for all users to easily add/edit/audit Bullhorn data with this sleek extension.
PriceIf your company has Bullhorn ATS, this extension is totally free!
Best Communication Extension For Recruiters
What does it do? Yes, yes – this is our extension. But we truly believe it to be one of the best! TextUs has been a key tool in recruiters toolbelts for over 8 years which has allowed us to really get a solid foundation in recruiters daily workflow.
Our Business-class Texting Software extensions allows you to start texting directly from your CRM, ATS or any website. Quickly find numbers on any html web page to either message or import into your TextUs contacts. TextUs will automatically open the contact details within your TextUs account when on a contact record in your CRM or ATS. We recently brought back the slide out extension and are constantly releasing new features and bug fixes!
What we love: The user-friendly interface transfers seamlessly to this extension. Allowing you to scrape contact data and quickly fire texts from any page on the web! Bonus points for our ever-expanding lists of CRM/ATS integrations like Salesforce, Greenhouse, and many others! 
Price: If your company has TextUs, this extension is totally free!
Best Data Extraction Extension For Recruiters
What does it do? Clean data is the key to recruiter success. This extension allows users to extract data out of HTML web pages and imports it into Microsoft Excel spreadsheets.
You can use DataMiner for FREE in their starter subscription plan. You will get 500 free page credits per month which is not too shabby for a free tool! This way you can see how it works and what you can export with no risk. 
What we love: Free, free, free. Nothing slows down a recruiter more than bad data. This tool is for our freelancers and startup staffing firms that need good data, at a good price point. 
Price: Free starter with 500 contacts a month. From there they have tiered pricing from $20/month and up.
There you have it! Some of our favorite chrome extensions to help recruiters and placement specialists make the most out of their day and crush quota. Do you have questions about any of these or have one you love that isn't on the list? Let us know here!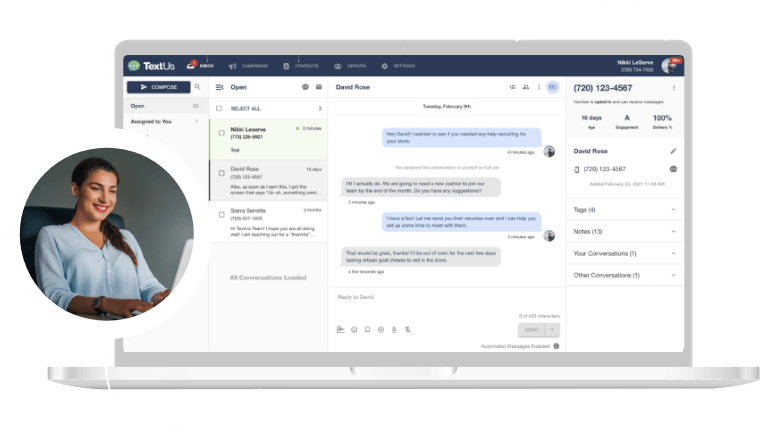 Get a TextUs Demo
Learn how thousands of businesses use TextUs everyday to communicate in real-time.