Power of Two: How An Original Equipment Manufacturer (OEM) Improves Product Development in SaaS
When deciding to buy a product you may think about the brand name in determining your purchase. In consumer packaging, you may notice which product is exclusive to a store brand or sold in many different stores. Software developers also build technology that has the capability to be branded generally under their brand or with other software partners. This makes the developer an original equipment manufacturer (OEM).
Product development meets brand awareness
Technology focuses on building solutions to problems. Product development looks to build technology that is user friendly and visually appealing. When you have software that works asynchronously and it is branded, there is power to expand your solution.
When you take one SaaS solution that has already been thoughtfully designed and partner with another platform, users benefit from knowing the brand and the other company doesn't have to waste time developing a solution and can be delivering immediately under its own system. It can be a win-win when you choose your partners as intentionally as you built your product.
People who are already using tech solutions as part of their life are embracing the digital transformation and will appreciate the user journey of a partnership. A solid user experience (UX) and interface (UI) means that users will be able to embrace and use the technology quickly. An OEM who licenses its product to a company and then the company brands it under its own platform so users will recognize it is bringing product development and brand awareness together. When the product matches up with the brand, ROI increases.
Sales in a digital world
Gartner says "80% of B2B sales interactions will occur in digital channels by 2025." As buyers embrace the digital transformation, SaaS partnerships become more valued. The race to develop and package a full-service product able to meet user and buyer needs is on the rise. Development takes time so instead of adding more labor, OEM lets companies package a specific solution to its existing offering.
The benefits to having a strong brand means that users who have begun to rely and trust on your services will be more likely to embrace new features. As you build a partnership with another tech company, you can incorporate branding that will yield a better customer experience to current customers and be more attractive to prospective customers.
"Sales reps will need to embrace new tools and channels, as well as a new manner of engaging customers, matching their sales activity to their customers' buying practices and information collecting needs." – Cristina Gomez, Managing Vice President for the Gartner Sales Practice
A strong brand allows sales to confidently communicate with prospects. A strong brand backed by a powerful platform increases usability and growth.
TextUs and Bullhorn Messaging
What does an OEM look like at software companies? At TextUs, we have built a communications platform for business SMS. We focus on the UX and UI to make communicating in business as easy as it is on your personal device. Knowing that customers are wanting digital communication, ease of use, and convenience, we build to meet those needs. We thoughtfully build integrations to help customers improve their workflows—not just communication.
One of our biggest integrations is with applicant tracking systems (ATS). The staffing and recruiting industry is using SMS to reach, interview, and place candidates. Bullhorn is a global leader in software for the staffing industry providing a cloud-based platform to power staffing processes from start to finish. Bullhorn Messaging, powered by TextUs, is the branded solution available directly within the Bullhorn workflow.
Bullhorn users who are already loyal to the brand and trust the company are able to text users directly from the workflow. It's powered by TextUs software that has already been proven successful, but with brand identity users recognize. By adding SMS to its robust platform, Bullhorn can offer end-to-end solutions to its customers without having to focus on developing SMS features in-house.
Just as sales is focusing on the customer experience, staffing agencies and recruiters are looking to provide a positive candidate experience. In a digital first world, candidates are relying and responding quickly to text messages. In fact, we have seen:
60% response rate when recruiters send 1:1 texts
67% of candidates respond to messages that are 50 characters or less
85% of candidates respond after the first text message
70% of candidates respond within the first two hours
Bullhorn Messaging lets recruiters communicate faster and build stronger relationships with leads, candidates, and customers by reaching them where they are—on their mobile phone.
Brand matters on every level. When Bullhorn uses Bullhorn Messaging to give customers a familiar name, it also provides each user with an individual number that will be recognizable to its customers and users creating a cycle of recognition. Focusing on brand identity at every level means adoption will increase without extra effort.
We are living in a world where speed and efficiency are trending: shorter sales cycles, convenient communication, placing candidates faster, quicker development, and buying products on our own time. But we can't sacrifice quality for speed and convenience. Smart partnerships and OEM can give us the best of both worlds—for both SaaS companies and users.
Interested in learning more? Read more about our OEM offering or request a demo.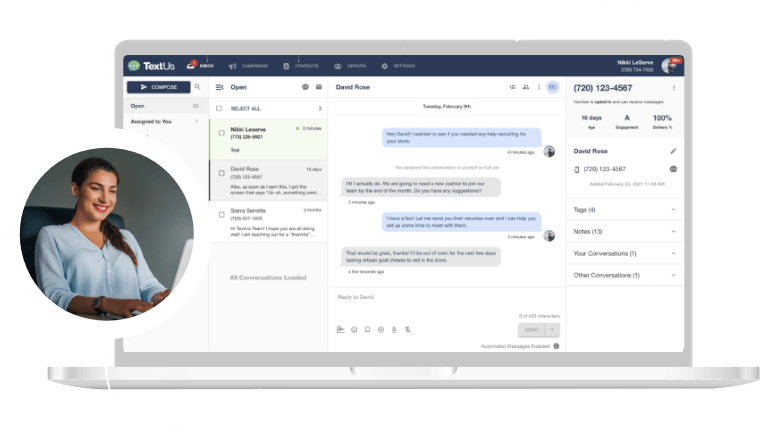 Get a TextUs Demo
Learn how thousands of businesses use TextUs everyday to communicate in real-time.