Texting has become a vital tool for the hospitality industry, providing real-time communication with customers and resulting in improved customer experiences, increased revenue, and operational efficiency gains. It also enables businesses to automate routine tasks, freeing up staff time to focus on more complex tasks, further improving operational efficiency.
Getting started is fast and easy
Integrate with your CRM or ATS
Send and receive real-time, two-way text messages from your CRM or simply import your contacts into the TextUs platform.
Start texting
Start engaging in two-way, conversational texting right away. TextUs also offers broadcast, automated and MMS texting capabilities.
Track performance
See detailed analytics on your best performing messages, deliverability, response rates, and link clicks – so you can keep your focus on what drives the best ROI.
Why is SMS beneficial to hotels and restaurants?
Increases Bookings and Revenue
Don't miss out on potential customers and revenue. 64% of consumers would prefer to text a business than call. By sending targeted offers and promotions, you can encourage customers to take action and make a reservation.
Enhances Customer Experience
Meet customers on their preferred communication channel. 90% of consumers prefer to text with businesses, and 98% of text messages are read, compared to only 20% of emails.
Improves Productivity
Text messaging maximizes your team's time by automating routine tasks, fast-tracking recruiting and easily communicating shift changes.
Make your workday a breeze with powerful SMS features
Scheduled texts
Your travelers may be coming from all over the country and world. Schedule texts for it's convenient for both you and your contacts!
1:1 and bulk texting
Communicate with individuals or small and large groups at any time.
Automated replies
Schedule automated responses to frequently asked questions to give quick replies to answer contact's questions.
Shared inboxes
Don't waste time wondering if a colleague has already talked to a customer! See the exact message conversation history without having to guess.
Typing indicators
Avoid stepping on each other's toes: know when other users are typing in the same conversation.
Personalized Messages
Dynamic variables let you easily add contact details to give your messages a personalized touch.
Different apps
TextUs has a web app, mobile app, and Chrome Extension so no matter how you need to use it, it's accessible to you and works in real-time.
Campaign analytics
Discover which messages really work with each of your audiences so you can continue to do more of what will keep your restaurants and hotels booked!
Ways SMS can help your hotel or restaurant grow
Increase bookings: Send targeted SMS messages to customers who have abandoned their bookings, reminding them of their reservation.
Promote deals: Send exclusive SMS offers to customers who have opted in to your SMS list.
Recruit quicker: Keep job candidates engaged and informed about new job openings, hiring timelines, and other relevant information.
Manage staffing: Notify staff of shift changes or last-minute cancellations, ensuring that your operations run smoothly.
Deliver personalized service: Send personalized welcome messages to guests when they arrive at your hotel or restaurant, along with a list of amenities and services available to them.
Streamline check-in and check-out: Allow guests to check in and out of your hotel via SMS, reducing wait times.
Upsell amenities: Send targeted SMS messages to guests who have booked a room, promoting your restaurant or spa services and encouraging them to add these amenities to their stay.
Notify guests of special events: Send SMS messages to guests who have opted in to your SMS list, notifying them of upcoming special events at your hotel or restaurant.
TextUs is the best!
"TextUs has made our resident communication so much easier than in previous years. I have used numerous other texting platforms, and TextUs far outperforms their competitors as far as ease of use, customer support and functionality. I can't recommend it enough!"
Michaela S.
Multi-Site Community Manager
Frequently Asked Questions
SMS marketing is a more direct and immediate way to reach customers compared to email marketing. While email may sit in a customer's inbox for hours or even days before being opened, SMS messages are typically read within minutes of being received. Additionally, SMS marketing allows for shorter, more concise messaging that can be more effective at grabbing a customer's attention.
There are a few key metrics you can use to track the success of your SMS marketing campaigns, such as open rates, click-through rates, and conversion rates. By analyzing these metrics over time, you can refine your messaging and improve the effectiveness of your campaigns.
Yes, there are several regulations in place to protect consumers from spammy or unwanted text messages. It's important to obtain opt-in consent from customers before sending them marketing messages, and to provide an easy opt-out mechanism for customers who no longer wish to receive messages. Additionally, be sure to comply with regulations such as the Telephone Consumer Protection Act (TCPA) and the CAN-SPAM Act.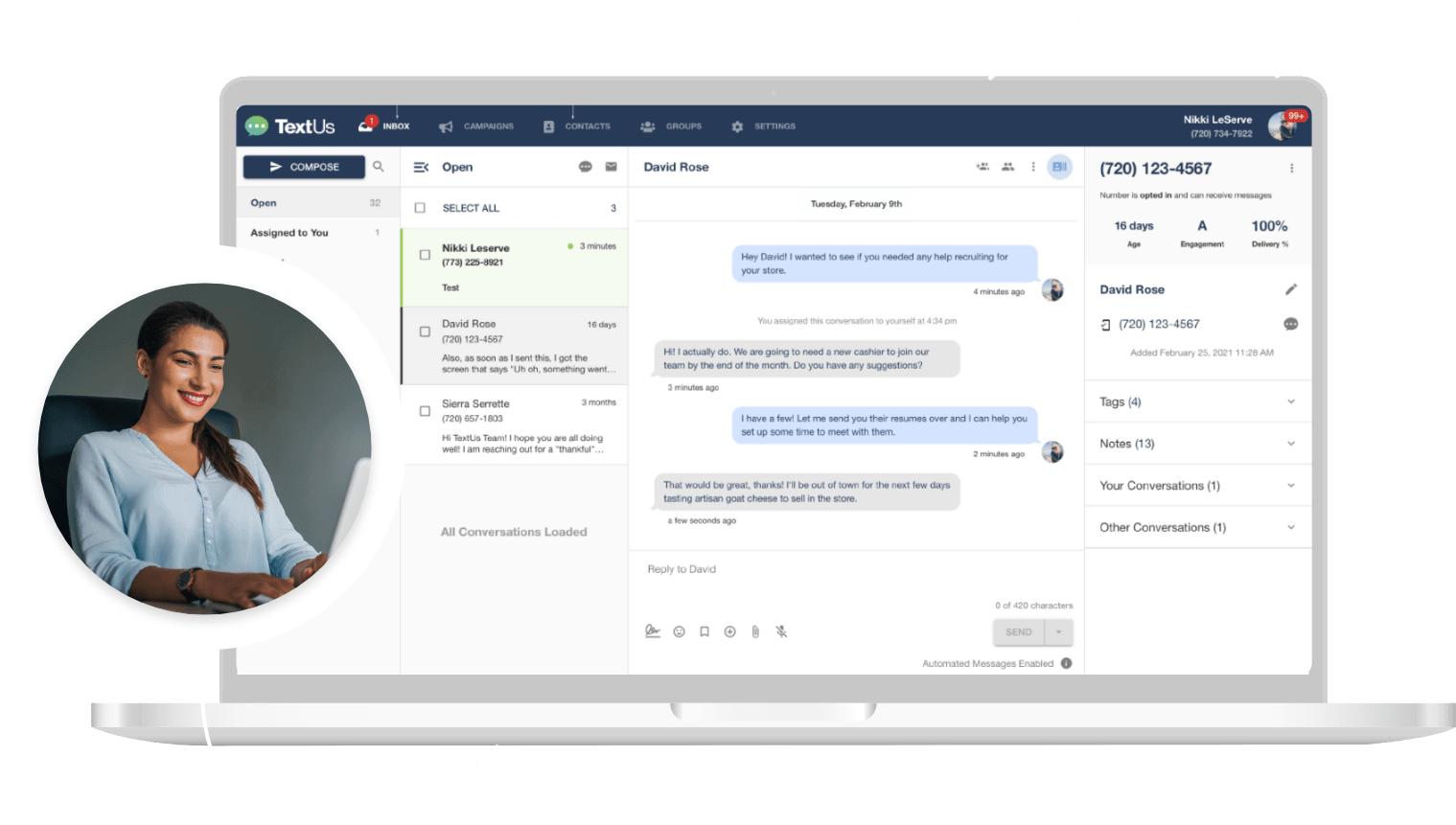 Get a TextUs Demo
Learn how thousands businesses use TextUs every day to communicate in real-time.