Introduction to TextUs Business Communication Sequences [Template]
From sales to staffing and recruiting, it's safe to say that a large portion of your job involves business communication with prospective candidates or customers across myriad channels on a regular basis.
Reaching out and following up via phone and email are certainly the norm today, and they make up the majority of what a communication sequence will generally entail.
Business communication sequences are common in many business settings, so you may be familiar with them already! But just in case, here's a brief rundown on what a communication sequence actually is:
A communication sequence is a repeated pattern of events that is used to engage candidates or customers. Depending on your process and what you've found to be effective in the past, it's traditionally a combination of reaching out via phone or email, to initially contact someone and to follow up with them regarding their interest level (if they're a job candidate), or to make a sale or follow up on a sale (if they are a potential or existing customer). The number of steps in a sequence depends entirely on how long it takes to determine whether this candidate is interested in the position, or to make or follow up on a sale.
Creating a default sequence for yourself or your team can prove very effective; not only is it a great time-management tool, it's also a much easier way to keep track of successes and determine what may need changing for future attempts.
Here's an example of what your existing basic communication sequence may look like:
At TextUs, we've seen firsthand the improvements in response rates and interaction that come with the addition of business texting to your communication sequences. Because texting boasts roughly eight times the response rates of phone calls, and roughly 13 times that of emails, mixing your sequences up with some texts will undoubtedly bring your business to the next level.
The common goal of any communication sequence is this: get your message across to someone, quickly, and get their response, quickly.
Smartphones have made this more effective even with the more old-school methods, as most people have email on their phone. However, with a text, there's no need for a recipient to so much as open an app. They will see your message the very next time they so much as glance at their screen, and it doesn't get much quicker than that.
Ready to get started creating your own team communication sequences? Download and capture what's working in your process with this communication sequence template.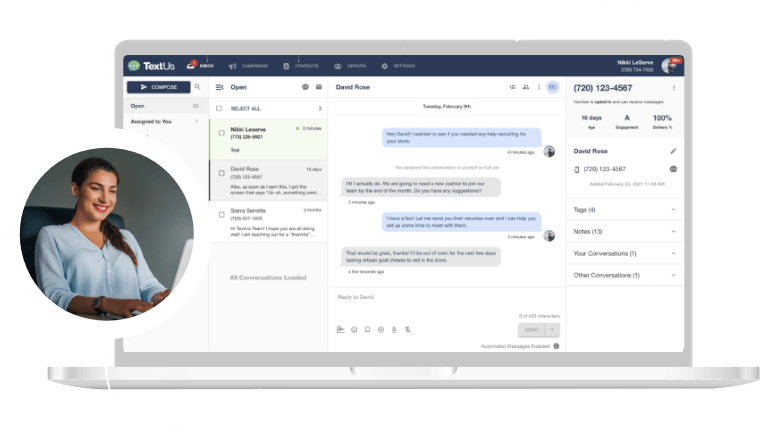 Get a TextUs Demo
Learn how thousands of businesses use TextUs everyday to communicate in real-time.