Mobile Technologies and Staffing: What You Need to Know
Mobile is the future when it comes to recruiting (and the future is now). Mobile devices have surpassed desktops as the primary way people access the internet. The talent you're looking for may be searching for a job while on the elliptical at the gym or reading up on your clients during their morning commute. To keep your finger on the pulse, here's what staffing firms and recruiters need to think about when going mobile.
Know your audience
Before you start out on the road to mobile optimization, take a good look at the way job seekers and existing talent currently use your website and interact with your content.
Analyze your existing mobile visitors
Ask precise, thoughtful questions of your site data and use the answers to implement an effective, responsive mobile strategy. Here are some questions you might look into.
What percentage of candidates access your site through mobile devices? How many on desktops?

How long do those on mobile devices stay on your site? How does this compare to those on desktops?

What is the conversion rate for your mobile visitors compared to desktop visitors? Is there a big gap?

What days of the week does mobile traffic tend to visit your site? What times of day?

Smartphone users tend to search for jobs on their commute, while tablet users tend to surf in the evening after dinner

. Are you catching these upticks?

What do your mobile visitors seek from your site? Do they pop on to get an address or a phone number from your contact page? Are they exploring your blog? Are they attempting to apply to positions and then abandoning ship?
Survey your talent base
Ask the talent you're already in touch with what they want during a mobile job search. Determine the kinds of information that are most valuable to them. Explore how they would prefer to receive information about opportunities and what method is most convenient when applying for jobs.
Take a look at how Millennials' needs may differ from Baby Boomers'. Ask the questions that will get you the information you need to draw in the talent you want.
Role play
Visit your site as though you were a potential candidate. View it on an iPhone, an Android, an iPad, and other tablets. Determine what aspects of the user experience are particularly cumbersome or difficult. Test how easy it is to share a job opportunity or other agency information. Keep an eye out for unnecessary clicks or inefficiencies. Be mindful of lengthy text or areas that are otherwise difficult to read.
Visit the competition
Take a look at other staffing agencies and recruiters in your area to get a sense of how you stack up. Do they have a flexible, easy-to-use mobile site or are they stuck in the Dark Ages of Flash and fixed fonts? What other mobile-friendly tactics do they use? Be on the lookout for strategies you can borrow and improve upon as you create your mobile strategy.
Develop a mobile strategy
While optimizing your site for the mobile user is crucial, it's only part of the story. Rethinking the candidate's experience from start to finish with the mobile user in mind takes more than just a responsive website.
Mobilize your team
One of the best ways to understand the mobile experience is to take part in it. To provide the level of engagement today's talent expects, in the format that is most accessible and convenient to them, staffing agencies and recruiters need to be mobile-connected themselves.
Staffing and recruiting are also collaborative. Empowering your team with mobile technology will help speed and improve the process.
Provide informative, useful content
A good way to keep your talent continually engaged is to provide short, useful content. Blog posts, articles, white papers, and infographics chock-full of the information your candidates want will keep them coming back to your site again and again. As an added benefit, the interviewing tips, performance strategies, and industry education you provide will create better candidates and savvier employees.
Keep in touch with text
Text is one of the biggest assets in taking business mobile. Texts are read more frequently and responded to more quickly than emails. Millennials will make up 75% of the workforce in the next 10 years, and many not only prefer communicating through text, but expect businesses to be text-ready.
Automate your candidate experience with regular text updates. Use text to confirm receipt of applications, verify interview schedules, and send along relevant opportunities to a targeted group of candidates. You can even add a personal touch by sending candidates weather and traffic updates the morning of interviews or sending a reminder of the names and titles of their hiring panel.
Make networking social
Social and mobile go together like milk and honey, creating a kind of recruiting utopia.
Today's job seekers spend a good portion of their time on their mobile devices on social networking sites. Mark Zuckerberg reports that the average American spends up to 40 minutes per day on Facebook alone. Many of those users aren't just looking for videos of otters holding hands — 76% of recently surveyed employees found their current position through Facebook.
Along with a flexible mobile-optimized website, easy-to-use Facebook, LinkedIn, and Twitter sites can be valuable resources for job seekers to interact with staffing agencies. Explore and evaluate your social media metrics with the same careful consideration that you examine your website. Look at how people interact with your social media presence and how it can be improved.
Lather, rinse, repeat
Once you've implemented a mobile strategy, continue to monitor your site visitors, survey your talent, interact with your websites, and monitor your social media presence. A good mobile strategy is flexible and evolving. It will be responsive to trends and to the quickly changing needs of today's job force.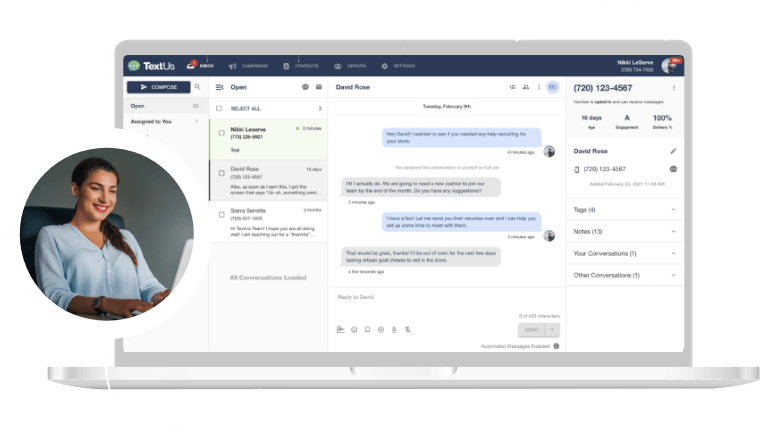 Get a TextUs Demo
Learn how thousands of businesses use TextUs everyday to communicate in real-time.