Our Top 8 Most-Read Articles of 2018
We love year-end lists. From the best books, movies, and memes to the weirdly specific lists (2018 best weird dog names, anyone?), year-end lists help us remember what we loved and learned in the last year and to find new gems.
So here's our contribution: our most-read articles of 2018.
Loyal Source, a staffing firm largely serving government clients, knew that phone and email outreach wasn't working. Their candidates stopped responding to calls and were increasingly opting out of emails. With Baby Boomers aging out of the workforce and Millennials aging in, texting has become the preferred method of communication for more and more of Loyal Source's contacts.
By integrating business-class texting platform TextUs with Bullhorn, their existing applicant tracking system (ATS), Loyal Source improved their response rates, slashed sourcing time, and boosted productivity. Find out how here.
As recruiters and salespeople, we spend an enormous amount of time and energy reaching out to our candidates and leads. And, in an era of robo-calls and constant spam, your contacts can spot BS from a mile away. Poorly written and automated emails get deleted and cold calls from unknown numbers are ignored. We don't even cold call our friends anymore, so why would we cold call our customers?
Think about it. Even with your friends, you shoot them a quick text and say "Hey! Let me know when you have 15 mins to chat?" This puts them in control. They respond when they can and let you know when it's best to start a conversation.
By bringing conversational text messaging and cloud voice software together, you can build relationships on your customer's terms. Read all about it here.
We're extremely excited to announce that TextUs debuted on the Inc. 5000 list at #573, making us the fastest-growing text messaging platform in the country.
As you probably know, this huge honor is given to the small businesses that achieve the most impressive growth trajectory over a three-year period. TextUs grew 886% from 2015-2017, earning over $2.4M annually. And we're on track to double our growth again in 2018. Read all about it here.
Sourcing qualified candidates can be a tedious task. It's a constant battle to make sure you sync the best candidates with the best positions — at the right time.
Here at TextUs, we've seen firsthand how putting opportunities in front of candidates at the right time is an easy way to generate warm leads. One of the most successful ways we've seen this done is by including text options on job listings on Craigslist, CareerBuilder, Indeed, and other job board sites. This works well when you're sourcing for both hourly gigs and specific trade positions.
Here's how to make your job postings text-friendly and convert more candidates.
You use Multimedia Messaging Service (MMS) all the time, probably without thinking too much about it. Whenever you text a funny GIF to your friends or a breathtaking pic of the sunset, you're tapping the power of MMS.And just as SMS text messaging can superpower your business communication, MMS has effective business applications, too.
Here are the top 7 ways to use MMS for your business.
We're excited to announce that TextUs has partnered with Staffing Referrals, the only referral management software built for the staffing and recruiting industry, to help recruiters get more referrals through text messaging.
By providing staffing and recruiting firms with a white-label referral management platform similar to those used by Uber, Lyft, and Airbnb, Staffing Referrals helps their clients scale their referral programs. Since launching last year, their software has captured hundreds of referral leads and saved clients thousands in administrative costs.
This new partnership helps companies get more leads by combining referrals, the most effective source of qualified leads, with texting, the most effective form of candidate communication. Now your staffing firm can combine the power of the texting with customized referral links to effectively track referrals, quickly share job opportunities, and grow their pool of qualified candidates with ease. Find out more here.
Sometimes, the right message is all it takes to get a meeting with your contacts. And text messaging is the perfect medium for setting appointments. It helps you ask simple questions and get quick answers back, just what you need to fill your calendar.
Here are 9 text messaging templates to help you book meetings faster with your contacts.
Nowadays, it's expected that businesses use text messaging. In fact, 64% of customer prefer text messaging over voice when it comes to customer service. Because texting for business has become the norm, you can use it much in the same way you would phone or email to get a conversation with a prospect going. The biggest difference? That's right — people actually read their text messages.
Here are text message templates to help you kick off a text conversation with a prospect. Use these out of the gate to build a connection, provide value, and set up the meetings that lead to closes.
---
Looking for more great articles? Check out two of our most popular articles of all time — Case Study: SMS for Business – Short Codes vs Long Codes and 9 Text Message Templates for Businesses.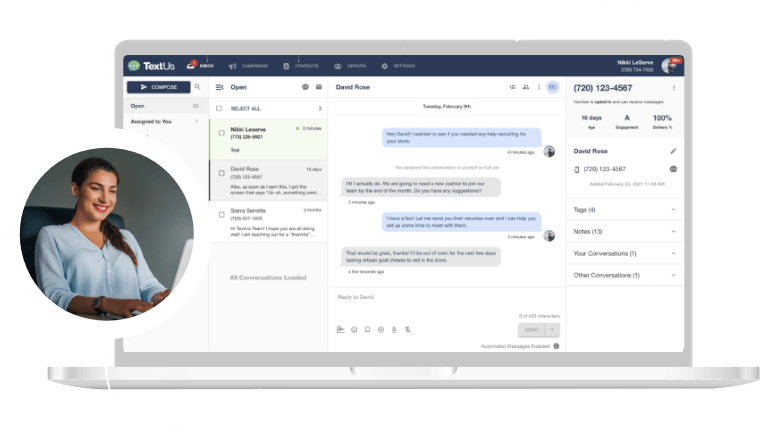 Get a TextUs Demo
Learn how thousands of businesses use TextUs everyday to communicate in real-time.