Over 375 Staffing Firms Partner with TextUs to Accelerate Growth in 2018
Business text messaging platform helps recruiters at 375 staffing firms instantly connect with hard-to-reach talent and close candidates faster
BOULDER, CO — January 2, 2018 — TextUs, the leading business-class text messaging software, announced today that 375 staffing firms now use the platform to communicate with candidates. TextUs is the fastest-growing software solution built for the staffing and recruiting industry.
"Using TextUs has been a game changer," said Sheldon Arora, CEO of LiquidAgents Healthcare. "Text messaging is the primary way nurses, allied workers, and doctors communicate, so texting is much more effective than email for getting in touch with candidates — it's more concise, direct, and immediate."
Martin Vidal, President of Trusted Nurse Staffing, said, "Our clients love being able to text message. TextUs gives us a leg up on the competition."
"Over the past couple of years, we've been looking for a solution that brings our communication strategy to another level. We found that in TextUs," said Baljit Gill, Founder & CIO/COO of TalentBurst. "TextUs has helped us in every aspect of our business."
Why do staffing firms choose TextUs?
Improve candidate response rates by up to 800% over emails and phone calls
Eliminate time wasted making phone calls and leaving voicemails
Combine the power of text messaging with easy-to-use software
Send text messages from your business phone number
Analyze text communication in many ATS platforms
TextUs President Ted Guggenheim said: "We're proud to bring the power of business-class text messaging to so many staffing firms. In the past year, we've made our platform even more powerful for the recruiting industry, adding more advanced texting analytics, expanding Group Broadcast features, and integrating with popular ATS software. We're looking forward to adding some exciting features in 2018 that will help take our staffing and recruiting clients to the next level."
Among TextUs's staffing industry partners are:
Accountable Healthcare Staffing
Advanced Group
Crown Services
Delta Locum Tenens
Elwood Staffing
Emerald Health Care
Focus Staff
GrapeTree Medical Staffing
Integrity Staffing
LiquidAgents Healthcare
TaleMed
TalentBurst
The Select Group
trustaff
Trusted Nurse Staffing
About TextUs
TextUs is the leading business-class text messaging software. It is changing how businesses communicate with their leads, candidates, and customers. With eight times the response rate of traditional communication channels, TextUs empowers professionals to communicate better and get business done faster. Visit www.textus.com and connect with the company on Facebook, Twitter, and LinkedIn.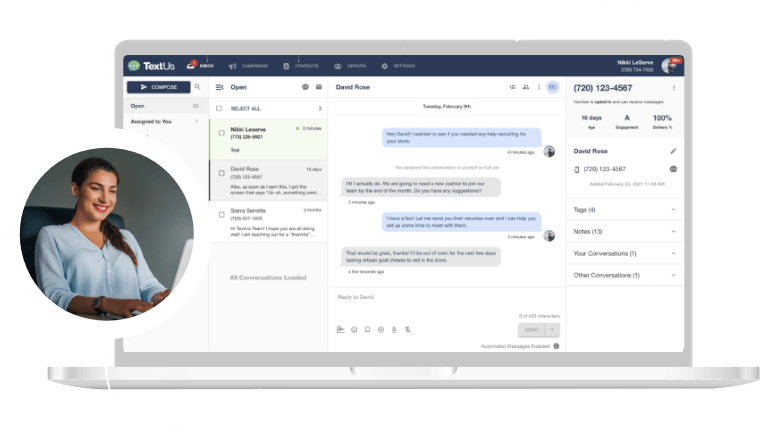 Get a TextUs Demo
Learn how thousands of businesses use TextUs everyday to communicate in real-time.