Introducing TextUs Emojis, Message Personalization Update and More! [Product Update]
This week's update is all about experience. You'll find that we've improved a favorite feature – personalized messages – and included a new addition to TextUs by introducing Emojis!
Introducing: TextUs Emojis
Why use emojis? It's an easy way to add personality and emotion into your texts! Keeping your text messages short and sweet is key when communicating directly to your contacts' personal phones and emojis allow you to efficiently express yourself.
While we don't recommend that TextUs users overly use emojis, you have them as an option should you decide to add a lively extra touch.
How to: Add an Emoji to your TextUs Message
Character Count Limits
We've added an extra layer to the character counter you'll find below the message content field. Text messages are meant to be kept as concise as possible, so we've built in a character limit that will help you manage the length of messages being sent. You'll now be notified when your message is over 420 characters (three complete text messages at 140 characters each).
This helps to prevent issues with how messages are ultimately delivered by phone carriers to your end contact. Since some providers may split the messages and deliver out of order, this will give you more control over the end result.
Personalization Update
One of the most commonly used features within TextUs is the ability to add a contact's name into the messages (especially Group Broadcasts!). We've taken this personalization to the next level by allowing you to add contact details without needing to create a template first.
You can now access the personalization feature when creating a Broadcast message or managing your templates.
Using the bracket shortcut will still provide the dropdown menu to select the field you'd like to select, so no need to completely change your habits. Think of the personalization feature as an added bonus!
How to: Add Contact Personalize to Broadcast Messages
Group Name Update
You'll now find that no two Groups can have the same name. This will help to avoid confusion about which Groups contain which Contacts.
Adding a number (for example: Group 1, Group 2, Group 3) or date to the end of your Group name can add that distinguishing factor while still keeping you organized with your Groups in alphabetical order.
Should you try to create a Group with the same name as a previously created Group, you'll receive a notice, so there's no confusion between your Groups.
---
As always, if you get stuck or have any questions, we're here to help! Don't hesitate to reach out to our Support Team at support@textus.com.
– The TextUs Team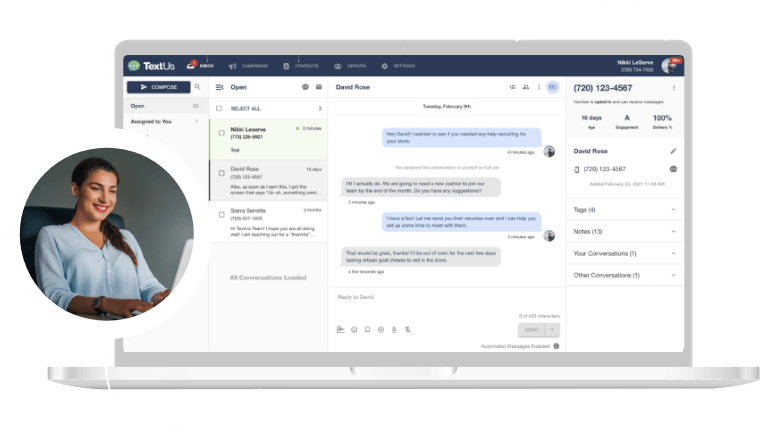 Get a TextUs Demo
Learn how thousands of businesses use TextUs everyday to communicate in real-time.