Recruiters: Still Calling Candidates? Here's A More Effective Mobile Recruiting Approach
97% of text messages are opened in the first five minutes after they are sent, according to Bullhorn (via Smashfly), so it's no surprise that jobseekers are embracing mobile recruiting. You've probably noticed candidates haven't been super excited about a ton of phone calls from you. This is because the average jobseeker isn't using his or her phone to make phone calls anymore.
Text messages have a high open rate and the delivery method is fast. This means job seekers can act quickly on opportunities in a competitive market. If you're a recruiter and you haven't been tapping into this communication method, you may be missing out.
Andrew Kimmell of TextUs.Biz says he has several recruiters using TextUs.Biz, a service which enables businesses and professionals to add two-way, text messaging service to their existing business landline (or VoIP) phone number. TextUs.Biz is just one of many SMS services available for businesses.
"Many customers are seeing an 8x increase in response rate due to the 98% read rate of a text message. Candidates love it because they don't have to cringe at that unknown number calling, and emails are easier to let slip by without feeling bad about responding," Kimmell says.
Services such as TextUs.Biz have primary home bases allowing recruiters to manage many conversations at once from a computer and access all of their account settings like Auto-Relpy, Signatures and Message Scheduling/Templates.
Are we telling you to add another communication method into the mix? Nope. You're already on your computer throughout the work day and data shows that candidates are on their phones searching and applying for jobs too.
Won't text messaging be annoying to candidates though? According to a study by BluePipes, 71% of travel nurses agreed that they get too many calls from recruiters.
Text messages give the recipient the opportunity to respond whenever and wherever they want, lowering the likelihood of annoyance. Maybe you're thinking text messaging seems unprofessional. Just like email communication, there are standards in dialogue and messaging format.
If you're having trouble communicating with candidates both passive and active, it might be time to drop the TrimLine phone and get down with messaging jobseekers.
Want to chat about mobile recruiting? Contact Staffing Robot today! Fill out our contact form. Don't call us — we don't use phones for making phone calls anymore.
For more information on text messaging for businesses, check out this infographic by TextUs.Biz or try it out today!
via Staffing Robot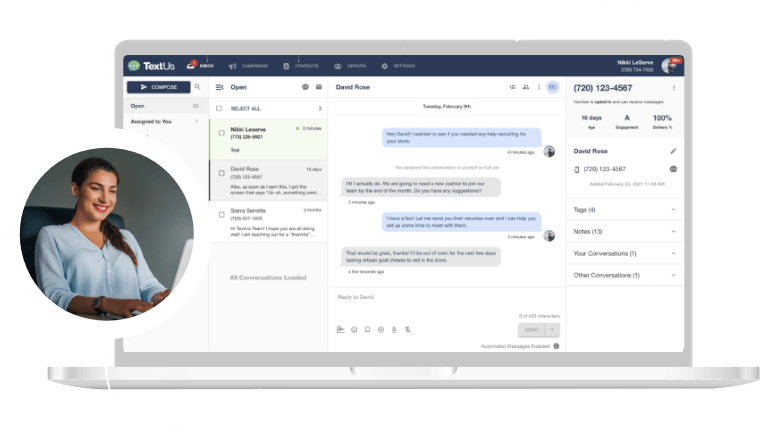 Get a TextUs Demo
Learn how thousands of businesses use TextUs everyday to communicate in real-time.