Text Messages as Content: How to Use Business Text Messages to Deliver Value
But text messages can do more than that. Just like with email and social media, you can use text messages to deliver valuable content.
Here are three ways to use text messages as content.
1. Link to blog posts and other content on your site
Email marketing, such as through newsletters and drip campaigns, is a top way to engage your audience with content. Why not do the same thing with text messages? If you publish a blog post that would be valuable for your customers or prospects, send them a text with the link.
2. Create drip text messaging campaigns
If you use a text messaging platform like TextUs.Biz, you can even schedule drip text message campaigns. Set up a series of three or five texts that provide valuable information to your audience or help move them down your sales funnel. It's like a drip email campaign, but much more difficult to ignore!
3. Use relevant hashtags (judiciously) for easy searching
Hashtags have come to mean a lot of things — on social media, they are commonly used for emphasis or commentary as well as for joining a conversation. But hashtags can also be used in text messages for organization and searchability. Especially if you are sending content or information that someone might need at a later date, include a relevant hashtag. For example, if you're a recruiter texting candidates about job opportunities, tag your messages with #JobOp. This will enable the recipients to easily search their text messages in the future.
The one thing to keep in mind before implementing any of these ideas is to be respectful of your audience — make sure the information you are sending is truly valuable and don't send it uninvited. Remember that sending a text message is like dropping a message directly into someone's pocket. Always get permission before you start sending texts, and always provide a way for people to opt-out.
Ready to make texting part of your content strategy? Try TextUs.Biz for free today.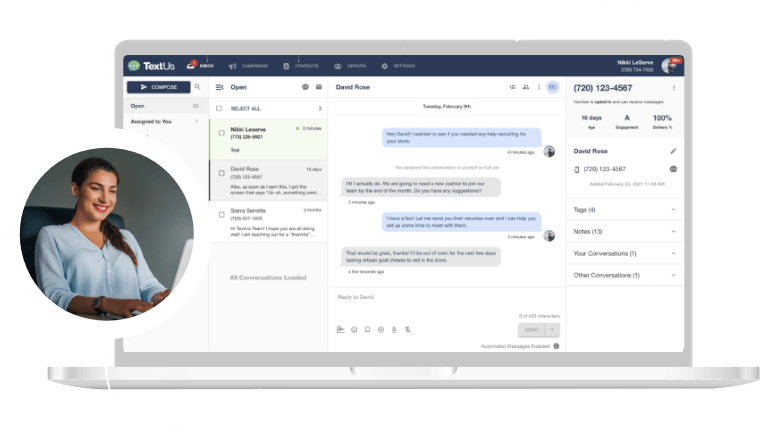 Get a TextUs Demo
Learn how thousands of businesses use TextUs everyday to communicate in real-time.