TextUs Success Sessions at the Crown Services Annual Top Performer Event
TextUs was recently invited to attend the Crown Services Annual Top Performer event in Orlando, Florida, and we couldn't have been more thrilled to present a few of our enterprise customer success sessions!
We couldn't wait to speak with all kinds of Crown Services recruiters from different regions, and share with them what we've learned about texting as a business tool for staffing and recruiting.
We had the opportunity to hold several presentation and discussion sessions with these recruiters, and here is some of the data we were excited to share with them:
According to this article from OneReach:
Texting is the most-used app on smartphones, and 97% of Americans use it at minimum once a day.
Texting is the most common cell phone activity in America, with over 80% of American adults partaking.
90% of all text messages are read in under 3 minutes.
And, according to a Gallup Poll on American texting activity:
The US is responsible for approximately 45% of the world's text volume.
On average, Americans text twice as much as they call.
Clearly, the majority of Americans love texting.
So, what do we now know about the texting habits of Americans?
Texts are "more convenient" and on their own schedule (76%)
Texts are "less disruptive than a voice call" (63%)
They "prefer to text vs call" in general (53%)
They "never check voicemails" (19%)
During these sessions, we got the recruiters from different offices and regions talking with each other about what has worked for them in terms of finding and keeping the best people in the business.
We loved learning from them, and sharing our own tips and knowledge. Here are the three main pieces of info we received from our sessions:
The TextUs Scheduled Message feature is a great tool for recruiters of all types. No matter what industry you're in, the ability to schedule out a message ahead of time is a real time-saver.
Using the Chrome extension on Careerbuilder to reach out immediately to candidates is one of the absolute fastest and simplest ways to begin the hiring process. It is quick, effective, and easy to use.
At one Crown Services office, we learned that a follow-up survey policy had been instituted that was proving to be extremely useful. By giving a survey to each potential candidate who came through the office, they were able to more quickly identify any processes that could use improvement, and implement those improvements as needed. We would highly recommend this approach, as its benefits were found to be so positive!
TextUs also suggested a number of tips and tactics for the event participants to implement:
Use text messages to communicate with employers when they have more immediate staffing needs.
Having an easy way to send reminders to new hires to turn up on jobs can't be overvalued. Use TextUs to send friendly reminders of all kinds!
Building good relationships is important; TextUs makes that step easier. Keep in touch with the contacts you want to maintain positive relationships with.
Retaining good workers in a competitive marketplace is extremely valuable. Be sure to use your good relationships with those solid contacts to your full advantage, because good people can be hard to find.
You can't always qualify people by text, but you can absolutely get those quick, technical questions out of the way. (Location, hours, pay, etc.) This allows you to more quickly assess the potential candidates interest and availability, which allows you to determine whether to spend that extra time on an interview.
Finally, TextUs was honored to stick around for a special dinner, to witness some awards and socialize with all Crown Services people.
Want to learn more about how to get your team texting, or find out how to schedule one of our success sessions? Visit our website here, or give us a text or call anytime at 303-442-3223.
Want to learn a little bit more about business texting software for staffing and recruiting? Watch these 5 Can't-Miss On-Demand Staffing and Recruiting Webinars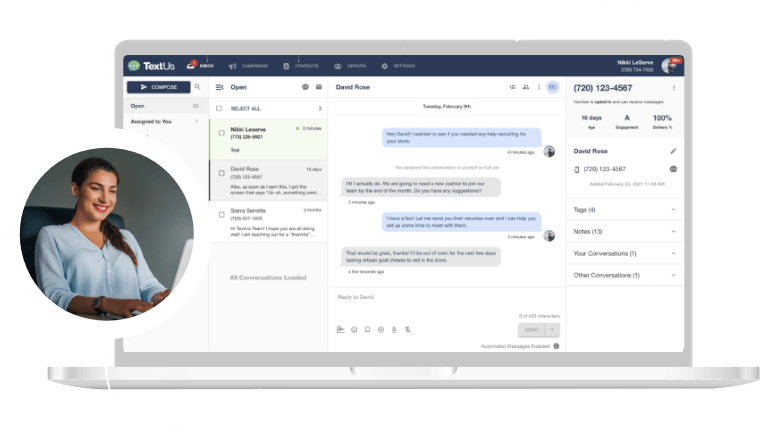 Get a TextUs Demo
Learn how thousands of businesses use TextUs everyday to communicate in real-time.