TextUs.Biz: Messages for Business – iPad App
TextUs.Biz – Messages for Small Business is the ONLY App that lets you turn your 10-digit, landline into your business text number. So now you can tell your customers, "Call us or text us . . . it's the same number!"
TextUs.Biz Messages can send and receive texts with ANYONE's text capable cell phone. Your customers do not need to download an App or have an iOS device. They simply text your business phone number, just like they text their friends!
The opt-in, Group message functionality allows your business to create groups of customers that are interested in receiving high-value offers, discounts and information about events from your business, via text message. Email marketing goes unopened or sent to spam, while 98% of text messages are viewed!
TextUs.Biz Messages is intuitive and easy to use. Once your account is created and your phone number activated, you can instantly begin sending AND receiving texts with your customers from your iPad. TextUs.Biz offers a browser-based version of the app, as well, that you can use from your computer.
So try it out and become a "Text Friendly Business" today!
Features:
– Use Your Existing Business Phone Number To Send AND Receive Texts
– Send and Receive Texts With Anyone's Cell Phone
– Manage Your Text Conversations From Anywhere
– Keep track of Customer Conversations for Future Reference
– No App is Required by Your Customers
– Auto-reply for after-hours inquiries
– Easy to Learn and Train Staff To Use
– Create ToDo Reminders Directly From a Message Thread
– Web-based Version Syncs All Messages and Contacts With the iPad App
– Import Names and Numbers From Your iPad Contacts
– Broadcast Messages To Groups of Customers or Staff
– Receive Customer Feedback via Text Message
– Efficiently Communicate With Your Employees throughout the day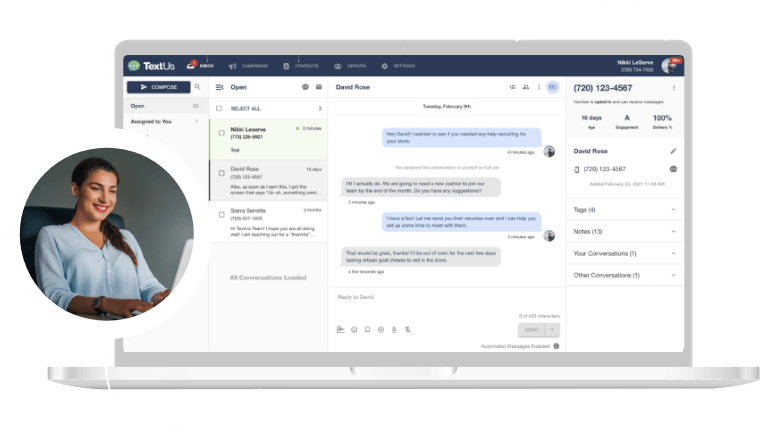 Get a TextUs Demo
Learn how thousands of businesses use TextUs everyday to communicate in real-time.