2021 Planning Series Part 2: Are Your Communication Tools Responsive and Engaging Enough?
Part 2: The Case for Mobile First Communication
We've said it time and time again.  The best place to reach people is where they already are: on their phones.  And this is no different when it comes to business communications.  The average person picks up their phone 58 times a day.  Over half of those times are during normal work hours.  So, it would make perfect sense to drive a communication strategy around tools that are easy to adopt, because they're already in use in your stakeholders' day to day lives.
While there are many ways to deliver important messages across your organization, not all communication methods are created equal.  Cutting through clutter and noise has become increasingly difficult in today's digitally driven, mobile-first world.  Engagement must be at the forefront of your communication strategy if you expect to be effective in delivering your message.  SMS is a far more engaging form of communication versus email and phone calls, achieving upwards of a 40% response rate while the latter see only 5% and 3% respectively.
How are organizations leveraging a mobile-first communication strategy to better engage with customers, employees and?  Consider these 4 simple ways to improve communications through use of texting:
Quickly convey short messages, tasks and reminders
Oftentimes, a quick task, such as a reminder to complete paperwork en route to closing a home loan, or to submit hours ahead of payroll processing are best conveyed via a short text message rather than getting buried in heaps of emails that may go unread.  Texting can easily overcome these communication challenges with concise messaging and real time response.
Vanessa Salerno, Client Support Coordinator at the Kelly Zitlow Group of Cornerstone Home Lending notes, "TextUs us to engage with our clients in the format they want and has made our process more efficient. We can answer quick questions and avoid phone call tag or missed emails."
Ensure message deliverability for emergencies and crisis communications
Text messaging can play a major role in aiding crisis management as it allows for a universal channel to disseminate important information.  Closing the office due to an incoming storm?  Many employees may not get to their inbox to see that email before getting into their car and heading to the office.  They are, however, highly likely to see a text as 97% of American Business Professionals are within 3 feet of their mobile phone 24 hours per day.
Utilize SMS for regular employee check-ins
Simple check-ins with your team can aid in driving overall workplace engagement.  Sending a check-in text during employee onboarding or distributing a short survey to collect feedback on how your organization is performing in certain areas will allow your team members to quickly give feedback, thus giving you better tools to implement process improvements throughout the organization.  Ochsner Health learned this first hand.  Bruce Weinberg, Assistant Vice President, Nursing Workforce Management said, "We were checking in with staff before and after shifts to make sure they were safe and had everything they needed. We augmented on-site leadership teams by "virtually" rounding on them, coaching them, and supporting them over text — never being face to face. We would have never been able to do that without TextUs.
Texting improves scheduling and workforce management
If scheduling each week is a part of your business process, doing so quickly and effectively can be a major challenge if you are constantly waiting on responses and availability.  Text messaging can easily bridge that gap by allowing for faster response time and adjusting for conflicts, availability and last minute shift changes.
SMS can play a critical role in the overall communications structure of an organization, but the case for a mobile-first, text-driven strategy certainly doesn't stop there.  TextUs customers are not only finding that they can connect with people better and faster, but are experiencing spikes in overall productivity as a result of the time savings.
Jesse Zimmerman of Bluewater Staffing notes, "People do not have time for meetings, emails, we had to adapt to keep in contact. Using TextUs allows us to speak with people across the country the best way possible. Almost everyone in the world has a smartphone and uses text as a means to communicate. We can see an easy 20% ROI with TextUs if not more."
When asked about productivity, Zimmerman goes on to say "We have been able to double and triple the amount of people we are speaking to each day.  We are able to connect with people faster, easier and track that communication across all users."
As 2021 is fast approaching, mobile will continue to lead the way in how we communicate, especially as workforces have shifted further into a more permanently remote setup.  Now's the time to begin looking at how texting can help drive engagement, response rate and overall productivity.
Interested in learning more?  Contact us today to schedule a demo.
Next week, in our third and final installment of the series, Be More Human: Lead With Engagement, we'll highlight best practices for how personalization drives more engagement and improves productivity even further.
Missed Part 1 of the series? Check it out here.
Or take a peek at the infographic below for a quick-read summary.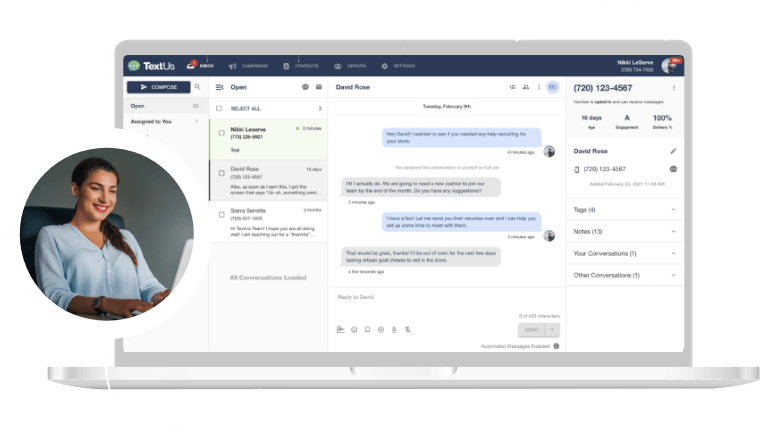 Get a TextUs Demo
Learn how thousands of businesses use TextUs everyday to communicate in real-time.