5 Productivity Hacks for Recruiters
To keep up with your talent, you not only need to be a great communicator and job matchmaker, but you need to be as efficient as possible. Here's how to tighten up your search process.
Do Your Homework

Before you begin your search, front-end thoughtful research. You can waste hours chasing your tail if you don't have a firm idea of what you're looking for.
Read and analyze the job posting.
Keep a detailed list of your client's needs.
Engage in smart, in-depth, focused industry research.
Zero in on top performers in the industry and find candidates with similar credentials and interests.
Check out industry conferences and organizations to get a handle on what matters most.
Search smarter, not harder
Once you have a strong understanding of what you are looking for, master the art of searching well.
Don't get hung up on the resume. Resumes aren't novels. They aren't designed to be read carefully. Scan for pertinent info
Use the resume as one factor but not the absolute truth in sourcing.
Check out candidates' online profiles.
Avoid getting lost in overly generic searches. Don't search for a "nurse" or a "manager." Hone in on precisely what you want: "ICU travel nurse" or "software development manager."
Keep on top of the sourcing tools to automate your search. Here are a few examples:

ZipRecruiter

– the candidate matching powerhouse.
Jobr – the Tinder of recruiting that lets you swipe right on your next star candidate.
Work4Labs – the targeting tool that separates the Facebook wheat from the chafe.
Assess fit before the interview.
Don't waste candidate and client time with a poor fit, especially one that could've been easily identified beforehand. Look closely at your candidates and listen to what they are looking for before you secure them an interview. This will save you a lot of time and improve your recruiting efficiency.
Take advantage of templates.
Chances are, you find yourself writing a lot of similar emails and text messages to different candidates. Shave minutes off your correspondence each time by working from templates.
Following up to an inquiry.
Hey [FIRST], just following up on your message about our open [JOB TITLE] position. I'd love to schedule a quick phone call to see if the job would be a good fit for you. Do you have time this afternoon? Look forward to speaking to you! Thanks, Jude
Touching base about an interview.
Hi [FIRST], I'd love to schedule you for an interview with [COMPANY] for the open [JOB TITLE] position. We have 3 availabilities next week: [DAY] at [TIME], [DAY] at [TIME], or [DAY] at [TIME]. Which of these would work best for you? Thanks, Jude
Putting out feelers about interest in a position.
[FIRST], we have an open  [JOB TITLE] position I think you'd be perfect for: [LINK]. If you're interested, when would be a good time for me to call to chat about it? — Jude
Thanking a candidate for their time.
[FIRST], I just wanted to send a quick note to thank you for taking the time to chat with me. Looking forward to finding you the perfect position! Give me a call or shoot me a text if you have any questions. Have a good day! Jude
Now, you don't want to be generic or forget personalization! Templates provide a great starting point, but your power as a recruiter comes from one-to-one communication. Be sure to edit templates with personalized information, like the appropriate name, position, fun references, and customized content.
Unplug.
Nothing kills productivity more than chasing every social notification, email alert, and Slack ping that comes up on your computer screen. While you need these tools to stay in touch, you also need a break from them to do your job well. Schedule time every day to unplug.
Snooze your social media accounts. Check your social accounts at scheduled times each day rather than always keeping them open
Ignore your inbox. Turn off notifications for an hour or two. Inform your colleagues of your schedule so they come to expect your absence from email at certain times. For Gmail users, install

InboxPause

to help you take a break from the e-deluge.
Step away from Slack. Close Slack entirely or set your status to Away to avoid constant interruption.
Unitask.
Studies show that multitasking isn't just inefficient. It shrinks your brain and costs the world an estimated $450 billion annually. That is a hefty price tag for a strategy that doesn't even get things done faster!
Instead, become a master of unitasking.
Schedule time each day to focus entirely on a single project. If possible, arrange for someone to answer your phone during these hours.
Discuss strategies for more uninterrupted work time with your colleagues. If everyone prioritizes unitasking, you can support each other in carving out time to hyperfocus.
When you are on the phone with a client, avoid checking your email or searching for a resource to send them after the call. Instead, focus entirely on them. This will not only improve your productivity and save your brain — it'll make you a better recruiter.
Keep the tabs or windows you have open down to a minimum — focus only what you are working on in the moment.
Be tidy! Cleaning off your work desk, emptying out your inbox, and streamlining your desktop will help you minimize distraction.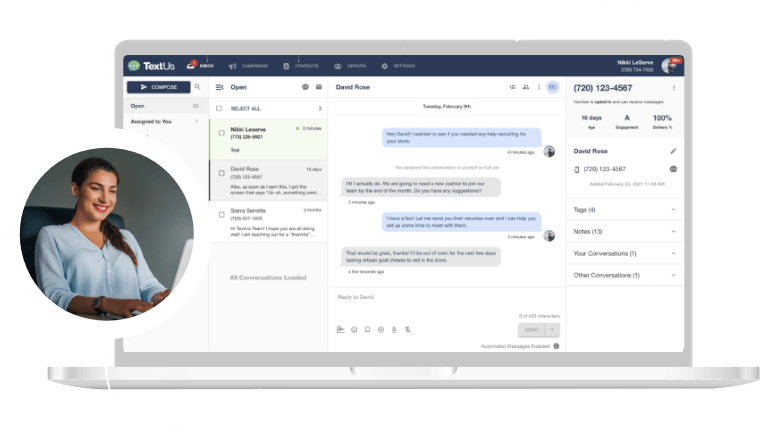 Get a TextUs Demo
Learn how thousands of businesses use TextUs everyday to communicate in real-time.