5 UX Tips to Increase Product Adoption
Have you ever really wanted to love a product or a concept, built up hype, and when you went to test it out it was difficult to use and failed your expectations? Sometimes a well-intended product doesn't work the way a user wants and it decreases the likelihood of continuing use and widespread adoption.
Texting UX increases engagement
We've come a long way in texting and messaging.  From rapidly hitting the "2" key to get the letter "c" and repeating that process until you get a short-form message ready to send to currently being able to send a text from a computer or phone to multiple people and have AI predict which words to send.  
There was a time when email was the more instant response because users found it easier to type an email than text.  When UX developed an easier way to text, adoption grew and now it's more common that people text or send messages and it's more convenient.  Most people receive text notifications rather than email so they prioritize responding.
TextUs UX can produce 10x higher response rates  
TextUs research shows a 40% response rate for texts versus a 4% response rate for emails. The key to more engagement and response with your customers, employees, and candidates is to have as many people as possible texting.  
Consider this: If 1 out of 10 people use texting but the other 9 continue emailing, the group will only have an average response rate of 7.6% (1 user will get 40% and the other 9 will get 5%). If 9 out of 10 people use texting and only 1 continues emailing, the group will have a 36.4% average response rate.
So, how can your organization achieve 10 times faster response rates and increase adoption? The answer is UX – making it easy for users to navigate your product and use it.
Top 5 features of UX
TextUs is continually improving our UX and has recently released a new mobile app for an improved and native texting experience.  We believe in the power of UX so much that we have a dedicated role to help us achieve success. Our Lead UX Designer outlines the top 5 points that create an amazing user experience below.  
Put the customer first 

The key to creating a positive user experience starts with understanding the user and putting the customer first.  Knowing which features your customers most desire to make their lives easier is the foundation of building a quality experience.  

TextUs is customer-focused at every step of the process.  Speed is the top priority for many of our customers.  We are constantly looking for ways to increase speed and functionality so that customers can improve their workflows.  Satisfying this need ensures that more users will adopt texting as a top communication tool.  

Discover each persona 

UX finds the balance between overall functionality that enough users will require but also creates key personas to address specific needs.  While speed is central for TextUs customers, our platform runs on a desktop app, mobile app, and Chrome extension. 

Different customers have different needs and because of that, they use our products differently.  Not all features are necessary depending on the platform and can impact speed.  TextUs monitors this usage and adjusts the user experience and interface accordingly. 

Build with purpose 

Once you understand the customer needs and specific personas or use cases, you can build with a purpose. When customers are central to the process all departments know who they're building for and which problem they are solving.  Turning requirements into wireframes and then moving to UI and engineering becomes seamless knowing what the customer wants.  

"We don't build things just to build; we validate to make customer's lives easier."
Nikki LeServe, Lead UX Designer

Continually seek feedback 

Each iteration should incorporate feedback from teams and customers to achieve the highest quality.  Once you add a new feature, do you monitor to see if people are using it or find spots where they may be having trouble, and is there a new opportunity for UX to develop a better path? For TextUs, we always look to see how quickly our users can send campaigns.  

Be transparent 

UX forms a different relationship with customers.  Transparency builds trust and helps with the adoption of the product.  When customers feel as though you are listening to them and building to improve their experience, lives, and business, they respond.  

When collecting customer feedback, you may notice what they think is a need is actually different.  UX seeks to understand and find the right solution while walking through that with the customer.

"We're not just selling you something and showing you the roadmap, you are involved in it."
Nikki LeServe, Lead UX Designer

UX makes software more personal. Listening, building, and iterating based on customer's needs helps users connect with the product and increase use.  With TextUs, we know you want to reach people quickly and efficiently.  TextUs UX eliminates barriers to business texting to increase response rates.  No one wants to strike a key three times to get one letter just like they don't want messages to get ignored.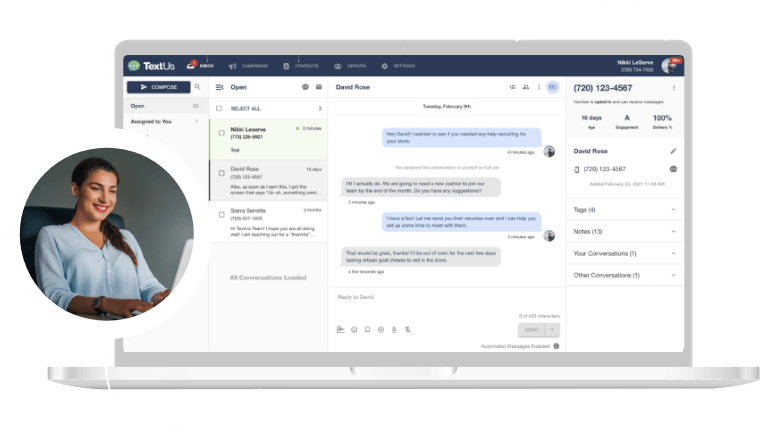 Get a TextUs Demo
Learn how thousands of businesses use TextUs everyday to communicate in real-time.