Are Your Competitors Placing Talent Faster Than You?
Your team works hard to source candidates, connect with top talent, and fill open positions as fast as possible. The race to scoop up talent is real, and you know that if your team isn't the first one out of the gate, your odds of winning plummet. But, do you know how your team compares to industry averages for days to close?
According to the recent State of Staffing Industry Benchmarking Report, the average days to close across all verticals in the staffing industry is 30.5 days.
Source: 2018 Staffing Industry Benchmarking Report
Corporate HR and per diem gigs are filled the fastest at just two weeks on average, while hiring for sales takes the longest, averaging nearly three months (84.2 days).
How does your team compare? If you're like a lot of staffing executives, you may be feeling behind. Just take a look at these answers from your peers in the staffing industry about their biggest day-to-day challenge:
Time
Time to fill
Sourcing speed
Filling jobs in the shortest possible time
Speed of the industry and finding enough time to do it all
Managing the fine balance between "speed and quality"…
Effectively managing our fast-paced scaling and growth
Identifying qualified talent fast for our clients.
Ability to adjust quickly and advise on the moving pendulum within the healthcare industry, supply shortage, and driving efficiencies in recruitment and operations.
This year, the challenge has been that the market is completely candidate driven. It's hard to pass this information on to the client to encourage them to hire fast, and provide the best possible compensation plan. A lot of candidates have fallen out or taken other offers after accepting verbal offers from our clients. This has occurred more times this past year (2017) than any other time in memory.
Getting candidates to respond, getting clients to act quickly
Make sure your team is aligned
Think of your favorite sports team. When they are doing well, each player is performing their own role well, and they are all fluidly working together towards a common goal. This kind of alignment allows a team to move as quickly as possible, without miscommunication, thwarted expectations, and wasted energy slowing them down.
Myla Ramos, CEO of SearchPros Staffing says, "To remain fast-paced and on the mark, you need to have internal checks and balances. These come in the form of detailed, shared processes that everyone follows, from the greenest recruiter to the founders. It doesn't matter what tools you use, as long as you have buy-in from the entire team. We make sure everyone is on board and that we all have a shared picture of what successful follow through looks like."
Automate your outreach efforts
By automating the rote or tedious parts of the recruiting process, you free your recruiters to focus on the stuff that real matters: the human connection.
"Our inbound marketing platform helps us to actively communicate with prospects and clients and to ensure that everyone is on the same page," says Kendley Davenport, CEO of Source4Teachers. "It also has significant analytic capabilities that help us gain further insight into how to best contact our prospects and leads. We recruit faster and we recruit higher quality candidates because of the sophisticated, segmented data the platforms provides."
Despite the urgent need for automation, 36% of staffing firms still do not use automation to speed their communication.
Use a multichannel communication strategy
Today, the candidates you want are going to be inundated with phone calls. To get their attention, you need to use a variety of tools to get ahold of them. Today's successful firms use a combination of email, text, and social to get talent's attention.
Davenport says, "Our text messaging software and other communication mechanisms allow us to talk to a lot of people quickly. Utilizing a multichannel approach — text, email, and phone calls — allows us to have an ongoing dialogue with all our employees."
"We have a very significant push to leverage technology to communicate with our target audience," says Bill DeVille, CEO of Health Carousel. "We know it's not always convenient for our clinicians to talk on the phone. It's crucial that we communicate in ways that satisfy our clinical staff. So, we do a lot with email, text messaging, and social media."
Stay mobile
To remain quick, your team can't be tethered to their desks. And they need to be readily available to leads and candidates, even when they are out on the field or in meetings. Give your team the mobile tools they need to succeed.
"We make sure the technology we use helps us to work faster, more effectively, and more efficiently," says DeVille. "So, we're 100% mobile, which frees our team from their desks. We have the latest computer systems, which helps us work faster and more efficiently. And we use marketing automation software, which keeps our messaging on point and expands our outreach."
Guide your team with a clear, uniting vision
An inspired team has superpowers. They will run on passion. By clearly articulating and emphasizing your company's values, you can keep your team energized and lightning fast.
Harry Youtan, Group Managing Director, Americas of Phaidon International says, "We have a clear vision and we strive to be inspirational for all of our employees. Phaidon truly is a rocket ship that moves forward with incredible speed and clear vision every day. We are shaped by our core values in all the talent we pursue: loyalty, character, and ability. As a result, our service, delivery, and speed are much better than our competitors."
Looking for more on what the fastest growing staffing firms do differently? Check out the 2018 State of Staffing Industry Benchmarking Report.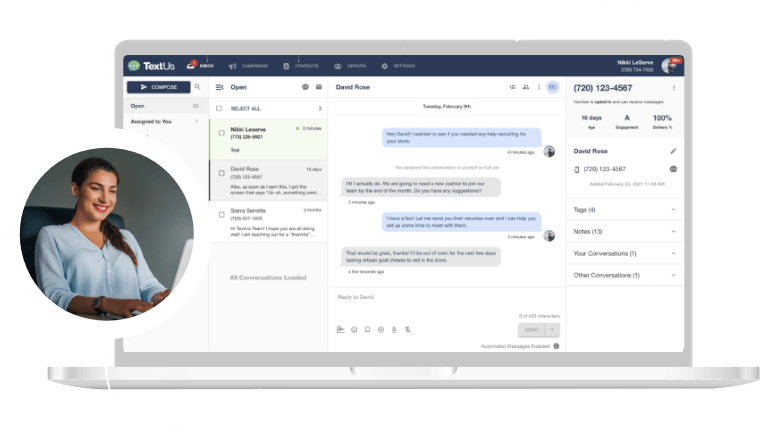 Get a TextUs Demo
Learn how thousands of businesses use TextUs everyday to communicate in real-time.