A recruiter's job is about more than hitting quotas, building up the database, and beating out the competition. Increasingly, recruiting is about building relationships, nurturing stronger talent, and creating best-fit connections for candidates and clients.
To do that, you have to be at the top of your game. We talked to some top recruiters in the industry to find out the key to their success.

They are creative when it comes to sourcing
Rather than simply being satisfied with the status quo, the best recruiters push themselves and each other to think of innovative ways to make new connections (and foster old ones).
Drew Studenic, Healthcare Recruiter at Medical Staffing Options, a recruitment firm specializing in travel and permanent placement nurses, says they think outside of the job board box. They find "candidates outside of Indeed, CareerBuilder, and Monster. Since we compete with other companies for the same resumes on the 'big three' job boards, we know that what will take us to the next level is finding the candidates that may not have their resumes posted."
Brittany Burress Burcham, Certified Staffing Professional at the Hamilton-Ryker Company, an industry leader in industrial, administrative, and IT staffing, sources from past candidates. She said, "one of the keys to our success is that we go into our database and pull reports of people who have been inactive for more than a few months, or even a year, and just cast a net to see what we catch."
They send these candidates a quick text message, "something simple like 'Hey, it's Hamilton-Ryker, we're just checking in with you to see if you might be interested in work. Haven't heard from you in a while.'"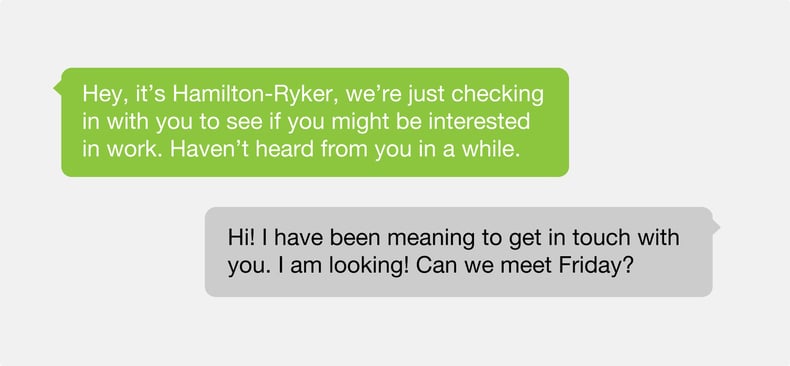 Here are some other creative sourcing ideas:
Throw a recruiting party or other event.

Host an industry-relevant contest to draw out go-getters.

Hook into local Meetups focused on careers and networking.

Look for talent, even when you're off the clock. Your barista might be searching for a nursing job, or your dry cleaner's daughter might have just been let go.

Dig deeper into your search results. Great candidates might be on page 18.

Visit colleges and universities to connect with top talent before they graduate.
They are proactive in seeking referrals
The best recruiters aren't shy when it comes to seeking referrals. They know that candidates' friends, colleagues, coworkers, and larger networks are likely chock full of job seekers and passive candidates.
Burcham taps existing candidates for referrals, too, noting that she sometimes "adds two or even more candidates from texting with one person."
Studenic also incentivizes referrals. "We offer a competitive referral bonus and will send out mass media advertising this bonus to try to get people to refer their friends."
They are innovative communicators
Top recruiters don't have time for voicemails. They know that in this competitive market, the best talent is online, on social media, and on their phones. They go where the talent goes and focus their energy on social media and mobile communication.
They are social studs
Studenic reflected on the power of social media, both to edge out the competition and to increase brand awareness. "We use social media to its full potential — Facebook, LinkedIn, Twitter — to target forums and groups of target candidates and get our name out there."
Well-branded Facebook, Twitter, and LinkedIn sites provide a united front for interested candidates. They can learn who your firm is, what opportunities you have for them, and suss out if the connection is a good fit. The best recruiters don't use their social presence just to post jobs. They connect, interact, respond, post, and most of all, provide value. They educate and engage prospects, from the first click until they land that dream job.
Check out more tips on how to make the most of your social recruiting time.
They are texting titans
Effective recruiters know that top talent uses their phones to search for jobs, not to make calls. The best way to keep in touch with them is through text.
Caleb English, Chief Operating Officer for The Right Solutions, a nurse-owned and -operated staffing company, prefers texting to phone calls. He says, "Text response is more effective than voicemails."
English also notes that texting is "beneficial in establishing the best time to contact an applicant. Texting doesn't always facilitate an in-depth conversation about a career, but it does allow the opportunity to set a follow-up plan."
Savvy recruiters know that texting is more effective than email, too. Studenic finds "a return rate on our text messages of 1 in 4 – our return on emails is about 1 in 25."
Studenic credits some of this success to the anatomy of texting: "you can delete an e-mail without reading it, but you can't delete a text without at least looking at it."
Texting also brings prospects in the door. Burcham observed that simply texting candidates enticed referrals to drop on by. Texting "increases the walk-in traffic to our office from those who heard that we texted someone about job openings."
They listen
Steven Covey, famed author of 7 Habits of Highly Effective People, says, "Most people do not listen with the intent to understand; they listen with the intent to reply."
The best recruiters listen to understand. They keep their ears open for what candidates want in a job, what their strengths and weaknesses are, where they are seeking development, and what's most important to them. They pay close attention when clients tell them what they need in a new hire, what went wrong in the past, and what they hope for the future. Recruiters who listen are able to make better placements, reduce turnover, and keep both candidates and clients happier.
Alissa Henriksen, Chief Recruiting Officer and Talent Search Strategist at Grey Collaborative, says, "Every recruiter needs to be able to listen to all the details of the position. These details are what will lead you to the ideal candidate. In the end, strong listening skills will allow the recruiter to fully understand the position and find the right candidate."
They are engaged and responsive
Responsiveness and engagement are two of the most important traits to candidates. According to CareerBuilder's 2015 Opportunities in Staffing study, candidates are most satisfied when a "recruiter gets to know them on a personal level and is able to establish a solid communication process." While 97% of recruiters believe they "set expectations about how best to communicate with them throughout the process," only 51% of candidates agreed. What's more, 95% of recruiters believe they worked to know the candidates as a person, but only 48% of the candidates agreed.
The best recruiters set clear expectations for communication with candidates and meet those expectations. They work throughout the job search process, and even after placement, to make talent feels seen and heard. They respond promptly to all questions, thoughts, and concerns, and their candidates know their staffing firm has their backs. They ask the right questions, listen to the responses, and work to understand who their candidates are and what makes them tick.
They are honest and open
Covey also believes in the power of trust. "When the trust account is high, communication is easy, instant, and effective."
Studenic agrees: "Our most successful recruiters communicate openly and honestly with applicants. The most important step in the recruiting cycle is establishing honesty and delivering through action. Words are a dime a dozen, following through on what is discussed is priceless."
They are tapped into the latest technology
The workforce relies on and is informed by technology. Recruiters need to master the latest trends to stay ahead of the curve.
"For one of our recruiters to manage 30-40 temps working on assignment at once is a daunting task – luckily technologies such as TextUs have helped us to stay in constant communication with our temps without having to miss a beat," Studenic says. "We can manage all the conversations at once on one screen and that makes communication significantly less overwhelming."
Looking for more on what makes an awesome recruiter? Check out our article on communication best practices for recruiters.