Higher Education is Feeling the Squeeze: How to Leverage Familiar Resources
Moody's has reported that colleges and universities will face economic challenges in the upcoming year. As you close out your budgets and plan for the next year, what resources can you use that won't squeeze your budgets even more? 
Wage inflation, labor shortages, and hiring pushes are expected to impact higher education. Some industries where advanced degrees are not required, such as retail, have faced labor shortages and increased their wages and benefits to drive employment. Because of the economic uncertainty right now, some students who may have thought of higher education, might look to make money and enter the workforce instead. 
Public schools have received additional funding, but it still pales in comparison to inflation and rising costs of goods and services. Private institutions rely on tuition, and with the dip in enrollment in recent years plus the impact of the pandemic regulations, recovery has been slow.
Schools that received part of the 77B federal funding during the pandemic noted that most have spent that money and will be out of those funds by the end of 2022.
"With the pandemic relief funding drying up, some institutions will be left with multiyear structural budget deficits that will potentially result in weaker credit quality."

– Moody's analysts
While the long term effects of most institutions seem stable thanks to strong endowments, colleges and universities may tighten their budgets in order to preserve and prepare for the upcoming school year.
Resources for colleges and universities facing budget restraints
Don't neglect current students, alumni, and trustees 
No one appreciates only receiving communication when someone needs something. One of the biggest marketing and communication mistakes at the beginning of the pandemic was the bombardment of emails sent from any newsletter you opted into. From reaching out with updates about regulations, to informing about closures, to asking for donations – people were receiving notifications at alarming rates and became fatigued. 
These updates were important. People needed to know about closures and details about regulations they had to follow; however, receiving communication from a company you may have forgotten about sends the wrong message. Especially if you are asking for donations, making sure your engagement is strong is important. 
It can be tempting to look for new resources when you are trying to raise money and increase enrollment in higher education. One thing you can learn from other industries in communicating during a squeeze, is that knowing your audience and having relationships matter. New students, donors, and alumni who have never engaged with you may be reluctant to support the school. If you look at your CRM or database and find that you've been communicating regularly during good times and bad with students and alumni, those folks may be most likely to contribute.
Increase operational efficiency 
When you face budgetary constraints, hiring more than likely will also get frozen. You may not be able to hire as many people – if any at all – to accomplish goals. When this happens, staff may take on multiple roles and become overworked – leading to burnout. They may also not be working within their skillset and what takes longer for them actually isn't productive at all. 
Staff can use technology to leverage their skills and become more efficient and productive in their jobs. Not all tech is created equally – you will want to make sure that the tools you have in place are user friendly and help staff increase their operational efficiency. 
College-aged students in higher education and alumni who are millennials will appreciate the tech embracement. They are more likely than older generations to respond to tech than they are to more traditional forms of communications like direct mail, email, and even voicemails.
Innovate realistically 
Tech can help you achieve your goals and bridge the gap between stressed employees and success. But when you are facing budget cuts, you must prioritize what is realistic. Tech can offer many "bells and whistles" or "shiny objects" that may appear attractive and be "nice to have" but not a need. 
Oftentimes, tech can be expensive to implement, train, and embrace across a company. The more bells and whistles you add and the more innovative you get, you may find yourself waiting awhile on a ROI. You cannot afford to try every shiny object when  budgets are squeezed. 
Look for a technology solution that is easy to implement and will help you start seeing success as soon as possible. Identify a few objectives that you want to achieve with your communications in order to find a solution that works for you. Try looking for an actual solution to your problem – not just a tool. A tool is a "nice to have" but may not help you achieve success when you're on a budget.
Who can use texting in higher ed?
College Admissions 
You can keep track of where applicants are in the admissions process via text. Easily reach out to know where incomplete applications stand, if candidates are ready to commit, and schedule interviews. All of this information syncs with your CRM so that you and your colleagues know exactly what your numbers look like for the upcoming year. Especially at a time when some colleges and universities have seen dips in enrollment, texting can be a great touchpoint and way to communicate with candidates. You can increase your operational efficiency by incorporating texts instead of playing phone tag or having emails end up in spam. You will also appeal to the younger generation who will appreciate the innovation and accessibility. 
Fundraising
Texting is a great resource for building relationships with donors. You can update current and potential donors about how money is being spent so they can see their money in action. You can also create campaigns and segment donors by their donation level, recent activity, and interests or allocation preferences so that you are targeting the right people with a meaningful message. Texting lets you invest in your current donors and not forget about their past and current impact. 
Alumni Relations 
You can keep alumni engaged and informed about campus events and improvements with texts. Optimize your messages by creating campaigns by graduation milestones, organization involvement, or regional locations. Keeping alumni active and engaged may also lead them to become donors and help contribute to the future of the institution. If you are reaching recent grads who are GenZ or millennials – they will appreciate the innovation to stay connected via text and you will be reaching a large group who may not have engaged in the past. 
Current Students 
Whether you need to welcome students back to campus, schedule advising meetings or check-ins, or send information about events and activities, you can use texting to reach current students where they already spend time – their phones! This generation of current students has grown up with their phones and depend on them for everyday tasks and communication. They will definitely be easier to reach via text and you can increase your operational efficiency by getting them to respond faster with text. 
As you plan your upcoming budgets and reconcile your current fiscal year, consider how to best leverage resources already at your disposal.  Current students, alumni, and donors should not be put on the back burner. If you haven't been engaging with them consistently, start today – text is a great way to do that in a convenient and polite manner! 
You may not be able to hire as many people as you would like for the upcoming school year, but evaluate which technology can help you. Texting is a platform that many people are already familiar with and using on a daily basis. Implementing across the different departments will be easier than learning an unfamiliar software program.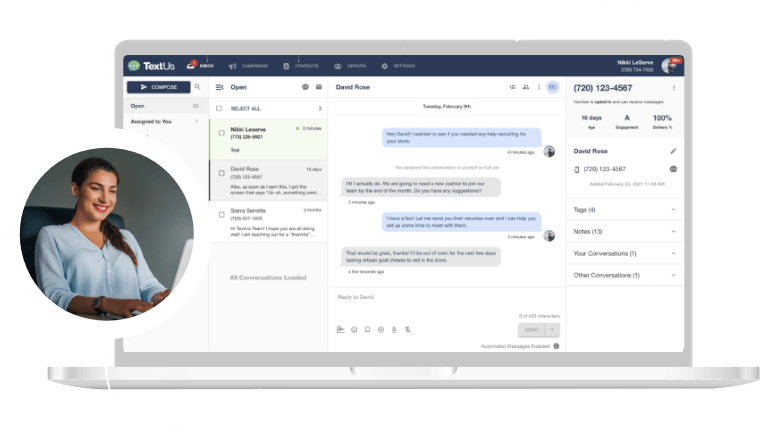 Get a TextUs Demo
Learn how thousands of businesses use TextUs everyday to communicate in real-time.