How Recruiters Can Use Texting to Accelerate Sales
In the hyper-competitive scramble for talent, the fastest firm is top dog. You want to turn prospects into candidates and leads into clients, and you want to do it all faster than the firm down the street.
Speeds up your follow up
You likely know from your personal life that the fastest way to get a response from someone is to text. And the facts back this up: texting is more efficient than calls or emails.
Need more speed? Check out our blog on getting timely responses from prospects.
Increases your response rates
You can easily imagine a candidate texting interest in a position while waiting in her dentist's lobby. Or a potential client confirming an appointment while stuck in a cab.
Text messaging is as close to a guaranteed communication as you can get these days. Drew Studenic, a healthcare recruiter at Medical Staffing Options, notes that texting is effective because your candidates can't even delete a text without seeing its content.
Because it's easy, convenient, and quick, your team will not only be more efficient with text, but you'll hear back from more of your prospects and leads, too.
Interested in more on increasing response rates? Read our blog on how to get people to text you back.
Helps make personal connections
In the war for talent, it's important to stand out from the crowd. From light industrial staffing to executive recruiting, candidates want a "recruiter [who] gets to know them on a personal level and can establish a solid communication process." As a brief, informal communication mode that is delivered right to your prospect's pocket, text messaging encourages the kind of communication that builds loyalty.
Our research shows that fast-growth firms use text messaging to provide personalized, one-to-one communication. They use the casual feel of text messaging to their advantage to establish connections and speed along the sales process.
Want more? Check out our blog on making business texts personal.
Boosts referrals
Referrals from your current candidates are a great way to grow your business.
Brittany Burress Burcham, Certified Staffing Professional at Hamilton-Ryker, found that a single text message that includes a referral request can boost a firm's candidate pool by two or even more candidates. Burcham even found that text messaging increased walk-in traffic from new candidates who heard Hamilton-Ryker was texting about jobs.
So there you have it — how texting can help you accelerate your staffing firm's sales cycle. Looking for more on how to make texting work for your team? Check out our blog on why you should text candidates more.
PS. You can get your team texting with a 30-Day pilot of TextUs.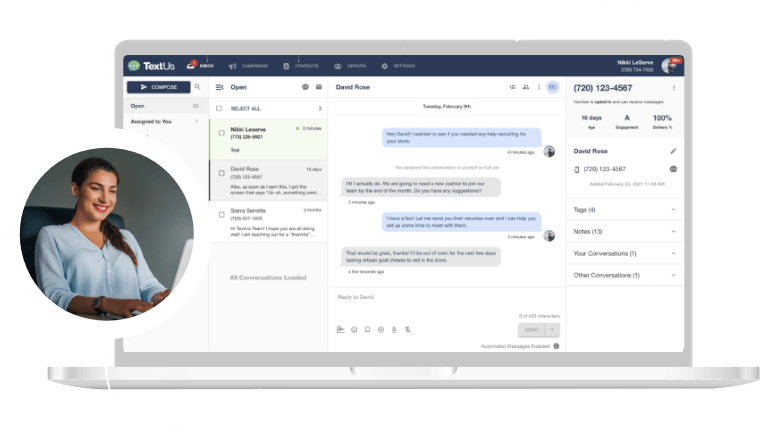 Get a TextUs Demo
Learn how thousands of businesses use TextUs everyday to communicate in real-time.