4 Reasons to Start Texting: How TextUs Improves Healthcare Staffing [TESTIMONIAL]
Now more than ever, efficiently managing a busy workforce, particularly in healthcare, has become paramount as frontline workers are serving their communities. With the power of texting for workforce management, healthcare companies and staffing firms are finding it more effective to manage shifts and place workers by communicating quickly via SMS.
TextUs has helped many healthcare firms get quick responses from their employees, candidates and team members, meaning they can book shifts faster and get healthcare workers quickly placed so they can be out serving their communities.
4 Reasons to start texting for better workforce management
Whether in healthcare or another industry, businesses and organizations are learning that texting candidates, employees and customers is improving organizational communication strategies.
Why?
Here are 4 simple reasons:
Timeliness: On average, texts are read within 5 seconds of receiving them.
Engagement: Text messages get responses faster, averaging 90 seconds, and improve overall engagement.
Acceleration: Increase speed to market and ensure your clients can serve their communities faster.
Teamwork: Improve your team's ability to collaborate by keeping all conversations in one place on the TextUs platform.
What are our customers saying?
Read on in the infographic below to see why TextUs is improving business communication for customers in the healthcare industry.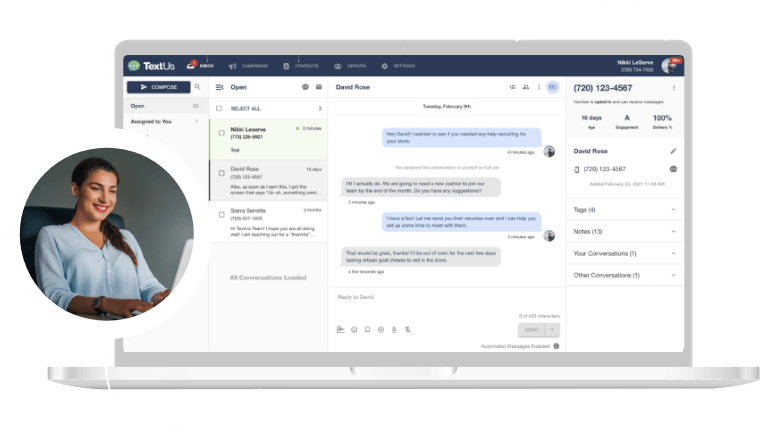 Get a TextUs Demo
Learn how thousands of businesses use TextUs everyday to communicate in real-time.