Are Your Communication Tools Responsive and Engaging Enough? Follow these Tips to Drive More Engaging Conversations in 2021
Having a Multi-Channel Approach
Perhaps it goes without saying, but the past years have been ones of rapid, unforeseen and transformative change.  What bears reiterating, however, is that it's safe to say no one was prepared for the seismic shift that a global pandemic would have on every aspect of our lives.  In particular, we've been thrust into rapidly adopting digital workplace transformation, as many businesses were forced to shift their entire workforces to remote-only, in what seemed like an instant.
And this trend doesn't look to be slowing down any time soon. More than two thirds of companies intend to make the shift to work-from-home permanent, according to a survey from Business Insider.
Budget increases in technology are at the forefront of companies' strategies as they look to be increasingly successful in a remote work environment.  In fact, a Gartner Study indicated that IT and Technology would see the largest increase in budget across all other business disciplines.
So what does that mean for communication?  In what looks to be a more permanently dispersed workforce, multiple touchpoints will be crucial to ensuring an effective communication strategy.
Due to their low engagement rates, it's no longer just about phone and email.  Now more than ever, businesses are relying on alternative methods of communication to support real-time conversations. Tools like Slack, Zoom, Microsoft Teams, and text messaging have improved the way businesses communicate with their staff, partners, customers and clients because they are much more engaging.  These additional touchpoints achieve better response rates, encourage follow up on other channels and also improve engagement overall as they allow for higher quality, more engaging conversations.
In addition to traditional communication mediums like email and phone, adopting a strategy that utilizes text messaging can help streamline business processes and improve engagement.
What are the benefits of utilizing text messaging in your communication strategy?  Here are 3 simple reasons to start considering texting:
SMS is literally everywhere

As we are increasingly a mobile-first society, so too, are our workplaces.  While most adults own a cell phone, not all of them are smartphones with internet access meaning reading an important email may require getting to a computer. Most phones, however, can receive text messages.

97% of American Business Professionals are within 3 feet of their mobile phone 24 hours per day and look at it on average 150 times daily(Source: Hubspot, Morgan Stanley, Technology and Internet Trends).

Real-time response

This has become extremely important.  In today's ever-changing world, quickly disseminating information is paramount.  Such things as crisis communication, instant updates and attention to other critical matters can't wait in someone's email inbox to be read.

The average person takes 90 minutes to respond to an email while a text message takes only 90 seconds to get a response.  In addition, only 20% of people will answer calls they don't expect.  On the other hand, texts are read in 5 seconds on average  (Source, Finances Online). 

Better engagement

If responses are important to your communication strategy, the viability of text messaging cannot be overstated.  It's about meeting people where they already are: on their phones.

Text messaging gets upwards of TEN TIMES response rate over phone or email, making it a generally more productive form of communication versus other technologies.

Aultman College learned this firsthand as they adopted text messaging into their strategy to be able to communicate faster and smarter. "It's made it fast and easy to communicate and get a response versus emailing the same students over and over with no results," says Deanna Woolf.  She goes on to note, "College staff use it to complement other communication methods, and sometimes, they want us to text over anything else because they know it will get noticed or elicit a response.  Our students are busy with school, families and work. They often can't pick up the phone to talk during our office hours. But they can text us back easily."

"It's made it fast and easy to communicate and get a response versus emailing the same students over and over with no results." Deanna Woolf, Aultman College
As organizations plan for the technology needed to effectively communicate, text messaging needs to be more than a consideration, but rather a necessity.
The Case for Mobile First Communication
We've said it time and time again.  The best place to reach people is where they already are: on their phones.  And this is no different when it comes to business communications.  The average person picks up their phone 58 times a day.  Over half of those times are during normal work hours.  So, it would make perfect sense to drive a communication strategy around tools that are easy to adopt, because they're already in use in your stakeholders' day to day lives.
While there are many ways to deliver important messages across your organization, not all communication methods are created equal.  Cutting through clutter and noise has become increasingly difficult in today's digitally driven, mobile-first world.  Engagement must be at the forefront of your communication strategy if you expect to be effective in delivering your message.  SMS is a far more engaging form of communication versus email and phone calls, achieving upwards of a 40% response rate while the latter see only 5% and 3% respectively.
How are organizations leveraging a mobile-first communication strategy to better engage with customers and employees?  Consider these 4 simple ways to improve communications through use of texting:
Quickly convey short messages, tasks and reminders

Oftentimes, a quick task, such as a reminder to complete paperwork en route to closing a home loan, or to submit hours ahead of payroll processing are best conveyed via a short text message rather than getting buried in heaps of emails that may go unread.  Texting can easily overcome these communication challenges with concise messaging and real time response.

Vanessa Salerno, Client Support Coordinator at the Kelly Zitlow Group of Cornerstone Home Lending notes, "TextUs us to engage with our clients in the format they want and has made our process more efficient. We can answer quick questions and avoid phone call tag or missed emails."

Ensure message deliverability for emergencies and crisis communications

Text messaging can play a major role in aiding crisis management as it allows for a universal channel to disseminate important information.  Closing the office due to an incoming storm?  Many employees may not get to their inbox to see that email before getting into their car and heading to the office.  They are, however, highly likely to see a text as 97% of American Business Professionals are within 3 feet of their mobile phone 24 hours per day.

Utilize SMS for regular employee check-ins

Simple check-ins with your team can aid in driving overall workplace engagement.  Sending a check-in text during employee onboarding or distributing a short survey to collect feedback on how your organization is performing in certain areas will allow your team members to quickly give feedback, thus giving you better tools to implement process improvements throughout the organization.  Ochsner Health learned this first hand.  Bruce Weinberg, Assistant Vice President, Nursing Workforce Management said, "We were checking in with staff before and after shifts to make sure they were safe and had everything they needed. We augmented on-site leadership teams by "virtually" rounding on them, coaching them, and supporting them over text — never being face to face. We would have never been able to do that without TextUs.

Texting improves scheduling and workforce management

If scheduling each week is a part of your business process, doing so quickly and effectively can be a major challenge if you are constantly waiting on responses and availability.  Text messaging can easily bridge that gap by allowing for faster response time and adjusting for conflicts, availability and last minute shift changes.

SMS can play a critical role in the overall communications structure of an organization, but the case for a mobile-first, text-driven strategy certainly doesn't stop there.  TextUs customers are not only finding that they can connect with people better and faster, but are experiencing spikes in overall productivity as a result of the time savings.

Jesse Zimmerman of Bluewater Staffing notes, "People do not have time for meetings, emails, we had to adapt to keep in contact. Using TextUs allows us to speak with people across the country the best way possible. Almost everyone in the world has a smartphone and uses text as a means to communicate. We can see an easy 20% ROI with TextUs if not more."

When asked about productivity, Zimmerman goes on to say "We have been able to double and triple the amount of people we are speaking to each day.  We are able to connect with people faster, easier and track that communication across all users."

"Almost everyone in the world has a smartphone and uses text as a means to communicate." Jesse Zimmerman, Bluewater Staffing.
Now's the time to begin looking at how texting can help drive engagement, response rate and overall productivity.
Be More Human: Lead With Engagement
Conversations are the easiest, most personal and fulfilling way to get anything done" Isn't that the truth?  We tend to agree wholeheartedly.  And conversations these days need to be more than simply transactional.  At the bookends of every conversation are humans.  So why would we disseminate information as if we were robots?
Humanizing your communication strategy means leading with language that drives engagement.  In addition, delivering that language through channels that are easy to adopt or are already in use, will encourage response and thus, lead to higher levels of engagement.
So what does that really mean?  Simply put, it's about delivering the right message to the right person at the right time.  Often, we know the message we want to send and who should be receiving it.  But when time is of the essence, are you leveraging the right channels to communicate effectively?  Additionally, do those channels add that human element that makes it likely to generate action or response?
If you need a timely response (or a response at all), email may no longer be cutting it.  Particularly, in today's remote-heavy working environment, driving engagement is all the more challenging.  Did you know the average professional has more than 200 emails in their inbox?  They will receive up to 120 new ones each day, while only responding to about 25% of them (Harvard Business Review).  On the other hand, as many at 68% of people say checking, sending, and answering text messages is the activity that they're most engaged with on their phones throughout the day (G2).
Consider the benefits of texting to drive your human-centered communications forward.  Lead your effort with two-way conversations in mind, not just a dead-end delivery of a single outbound message. Here are 3 tips to be more human when it comes to utilizing SMS in your communication strategy:
Be authentic

Authentic, human-centered conversations drive more engagement.  Rather than sending messages with dry language and no emotion, consider utilizing personalization and a more conversational tone.  Business communication doesn't have to be stuffy and boring.  Don't be afraid of emojis.  As humans, we rely heavily on nonverbal cues when it comes to authentic conversations.  In today's digital, remote-working world, we are having fewer face-to-face conversations. Create richer, more meaningful conversations with a simple smiley face every once in a while.  You'll find this simple addition goes a long way 😊.

Less is more

We seem to always be on information overload as a society, making it even more difficult to cut through the clutter.  At TextUs, we've found that the most effective texters actually have 14% fewer active conversations which allows them to  personalize better, resulting in upwards of a 3x better response rate. They also send out 25% fewer messages in total.  Focus your messaging to be only the most pertinent information.  Be concise, but friendly.  Chances are, you'll get the response or action you're looking for.

Be proactive

We've found that the most successful texters proactively reach out 89% more than others.  And if you're concerned about being too intrusive, not to worry.  Studies show that 84% of consumers have received texts from a business before.  In fact, 60% of them want to be able to respond back to the messages they receive (G2), indicating that two-way conversations are equally important in business communications as they are in interpersonal communications.  Human-centered engagement will drive a successful texting strategy.
While the past years have brought on a time of incredible change, the power of human connection has remained strong.  As we move into the next year, communication will continue to be the cogwheel in business recovery and growth.  Connecting with customers, clients, employees and candidates using two-way, authentic conversations will drive overall engagement and thus, productivity.
Take a peek at the infographic below for a quick-read summary of the above post.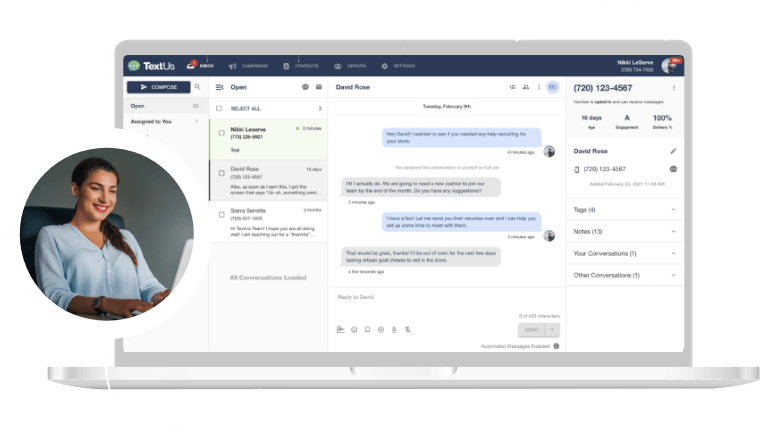 Get a TextUs Demo
Learn how thousands of businesses use TextUs everyday to communicate in real-time.