Is Your Holiday Retail Hiring Complete?
'Tis the season to digitize your retail hiring efforts.  Retailers are getting an earlier start at seasonal hiring — with many stores announcing big hiring pushes during the summer.  The start of the pandemic resulted in some retail stores being forced to shut down and lay off employees.  Those who were still working found longer shifts, more stress, and quit due to burnout.  Because of these challenges, retailers are leaving more time to find talent.
The Bureau of Labor Statistics reports that 721,000 retail employees quit in the month of August. The quit rate or "willingness to leave a job" was a record high of 4.7% — the national quit rate average is only 2.9%. Despite 1.2M retail jobs opening in August (compared to 739K last year), retail hiring is down from where it was last year.
With the intense competition, retailers are ramping up hiring with added benefits, increased wages, and bonuses to help entice applicants.  While these financial securities are helpful, some workers who left retail found their mental health decreasing during the pandemic.  Uncertain schedules, changing requirements, and handling customers who were angry at stances for or against masks increased stress levels.
These challenges in the retail industry have changed employee and candidate expectations.
Retail expectations during the holidays
Consumers have redefined their expectations for how they want to receive information and shop especially during the holidays.  The customer experience must be fast and convenient. Consumers want to do their own research and pick up at the store or they want to order online if free shipping is available. Access to information and goods is essential during a crisis and as people juggle their lives and duties.
These expectations for how consumers want to experience the holidays by embracing digital transformation translates to how retail workers want to get hired and improve their willingness to stay at a job.  Candidates want a digital experience that is convenient for them.  Texting allows you to reach people where they already are: their phones. You can apply texting throughout the entire retail process — from recruiting, to training, to scheduling shifts, to checking in on staff mental health.
TextUs during the holidays
One Textus customer in e-commerce knows the struggle of retail hiring during busy months! During non-peak months, the talent team would talk to between 30-40 people a day.  Many emails were ignored and the never-ending game of phone tag was real.  Instead of spending all day chasing people and playing phone tag, the retailer is now able to spend 30 minutes texting.
Gearing up for seasonal hiring this year, the customer sent twice as many texts. That's twice the communications and effort at hiring without twice the effort! Texting lets you focus on other priorities, giving you more time to take back your time during the busy seasons, and reaching your candidates in a convenient way that is good for their schedules too.
In an industry that is being pinched from labor shortages and large demand, retailers can turn to texting to help ease the pain.  We have seen our retail customers use texting to help recruit and hire their employees (both seasonal and full-time), but they also use TextUs to simplify the onboarding and training process.
For external communications, texting lets you market and communicate to your customers on a platform they are already using.  You can also use texts to collect feedback and provide customer service.
You might not be able to control the supply chain and cargo ships or mandates on masks and store policies, but you can find ways to lessen the burden by embracing a tool with which you and your applicants are already familiar.
Don't lose out on quality applicants because you weren't able to reach them quickly enough or able to offer them convenient ways to communicate with you.
If you feel behind on your holiday hiring, texting can help you make up time and quickly hire for the season.  Schedule a demo today!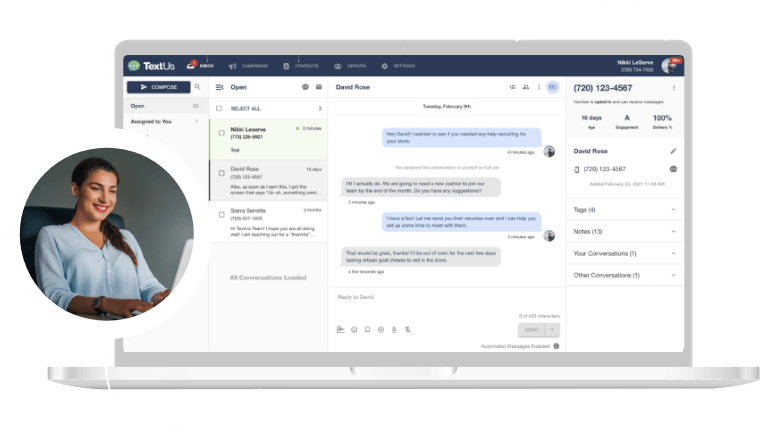 Get a TextUs Demo
Learn how thousands of businesses use TextUs everyday to communicate in real-time.