Sales and Recruiting Software: Are You Ready for the Future?
In some industries, technology adoption may still be optional. But for sales and recruiting, it's an absolute imperative. The average American now owns four digital devices and spends 60 hours per week consuming content on those devices. That's more than a full-time job.
In this new tech-driven world, companies need equally tech-driven sales and recruiting processes. Consider these statistics:
As technology becomes an even more dominant force in our lives, these numbers are likely to increase. Are you ready?
To help individuals and companies prepare for the tech-enabled landscape of today and tomorrow, we've gathered together 27 of our favorite digital tools for sales and recruiting.
Here are a few of them:
TextUs
TextUs.Biz is a two-way text messaging software for business. Text messaging has 8x the open rate of email and an impressive 35% response rate. With TextUs.Biz, you can chat directly with your sales and recruiting prospects, manage contacts, and schedule and send text messages from a single dashboard.
Key Features
Two-way real-time text messaging
Accessible via computer or iPad
Multiple conversation management
Multi-user login for teams
Auto reply
Signatures
Message scheduling
Contact management
Notes
To-dos
Message priority
---
Jobbee, from Staffing Robot, is a quick and easy tool recruiters can use to post jobs online. It integrates with your applicant tracking system and can send email or text message alerts to your candidates. It's also mobile, so candidates can browse job postings using whatever device they prefer.
Key Features
Centralized job board posting
Mobile job board
Email and text message job alerts
---
Sidekick by HubSpot is a free email tool that is invaluable for keeping track of sales and recruiting contacts and communications. This tool allows you to view information about your contacts in your inbox, track the emails you send, and schedule emails to go out in the future.
Key Features
Contact management
Email tracking with live notifications
Email scheduling
---

Like these tools? Download our free pdf to discover many more great sales and recruiting software applications that will help you grow your book of business.
---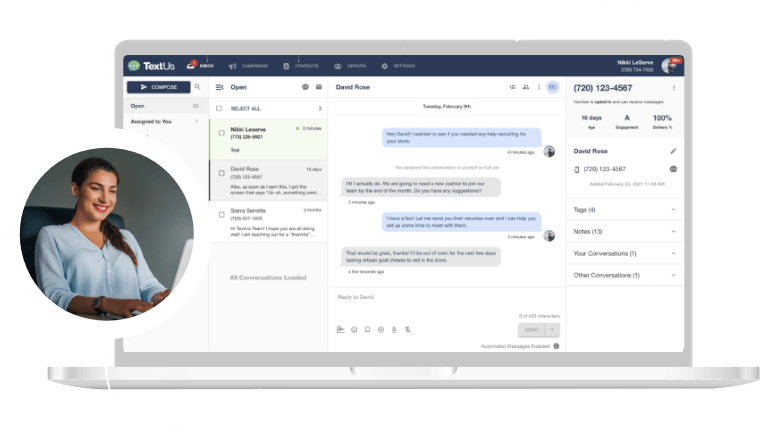 Get a TextUs Demo
Learn how thousands of businesses use TextUs everyday to communicate in real-time.