StaffingHub COVID-19 Pulse Survey: How the Pandemic is Impacting the Staffing Industry
We're proud to announce the release of StaffingHub's COVID-19 Pulse Survey, which provides data on the impact of the pandemic on business revenue, strategy, and workforce management.
Key findings include:
Staffing firms have laid off 30% of their workforce due to the pandemic.
Firms anticipate 9.5% average annual revenue losses in 2020, though some verticals, such as travel nursing, expect to grow.
Despite challenges, just over 70% of respondents believe that the industry will come back stronger after the pandemic.
The industry is anticipating big revenue losses in Q2: 15.4% average industry-wide, though most verticals anticipate bouncing back from that throughout the rest of 2020
Healthcare-focused staffing firms are, on average, seeing less revenue loss, though that varies even within the vertical: travel nursing agencies expect to see 16.4% growth on average in 2020, while locum tenens agencies anticipate a 14.2% revenue drop.
45% of staffing firms reported layoffs due to COVID-19
"The world has changed so much and so quickly, it's hard to recognize," said Caitlin Delohery, Editor in Chief of StaffingHub. "We built this survey because we wanted to help staffing firms start to make sense of how the pandemic is directly impacting their teams, their candidates, and their business."
StaffingHub surveyed over 330 staffing professionals in the first week of April to discover the early impact the COVID-19 pandemic was having on the staffing industry. The report also includes a list of staffing-specific COVID-19 resources provided by industry suppliers to help ease the impact of the pandemic.
"We've been looking for a way to give back to the industry since the pandemic started," said our CMO and cofounder Andrew Kimmell. "We're proud to work with StaffingHub and other suppliers to share resources with the industry."
"The COVID-19 pulse survey provides valuable info on how the pandemic is affecting the industry," said Staffing Referrals president David Folwell. "What's really beautiful to see is how positive the industry is about the future. Things may be tough right now, but we'll come out on top in the end."
The survey results are part of StaffingHub's State of Staffing Benchmarking Report, which will be released in early May.
You can grab your copy of the Staffing Industry COVID-19 Pulse Survey here.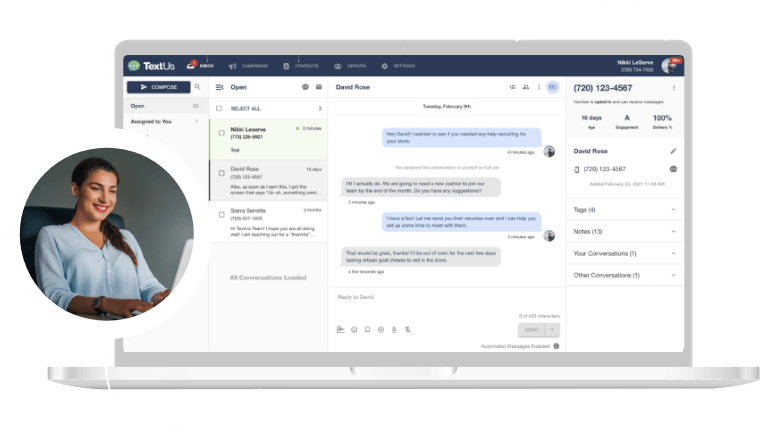 Get a TextUs Demo
Learn how thousands of businesses use TextUs everyday to communicate in real-time.