StaffingHub's 2020 State of Staffing Report: Find Out How Fast-Growth Firms Succeed and How the Pandemic is Impacting the Industry
We're excited to share StaffingHub's 2020 State of Staffing Industry Growth Benchmarking Report and COVID-19 Pulse Survey, sponsored by TextUs. This is the fifth year that TextUs has sponsored the State of Staffing Report and look forward every year to the insight StaffingHub offers to the industry.
StaffingHub connected with hundreds of staffing professionals across the industry to help you gain insight on the tools, tactics, and strategies that help firms grow faster.
What's more, they followed up last month to learn how the industry is reacting to the pandemic, to help you understand how to move forward during these strange times.
Here's what they discovered about how priorities, tactics, and strategies have changed in the past few months:
Before the pandemic:
Finding talent was the most challenging obstacle
Automation and positive candidate experience are key drivers of success
Firms across the board say texting outreach improves the candidate experience.
During the pandemic:
Many staffing firms have been forced to make deep layoffs to keep businesses open
Learning how to work remotely is a requirement for all staffing firms
Most staffing firms believe they will emerge from the pandemic stronger than before
"When the pandemic began, we knew we this year's report couldn't reflect business as usual," said Caitlin Delohery, Editor in Chief of StaffingHub. "We hope that this report will provide some insights to help your firm come out stronger and to make sense of our uncertain times."
StaffingHub surveyed over 200 staffing professionals in Q1. Seeing that it was critical to understand how firms are adapting to the new reality, the publication reached back out to the industry and surveyed over 330 staffing professionals specifically exploring the impact of COVID-19. Here are other findings:
TextUs was rated one of the top 10 most valuable platforms in the staffing industry
Alongside ATSs and LinkedIn, TextUs was rated as one of the top ten most valuable overall platforms by staffing firms in 2019. TextUs was the only communication tool chosen by respondents.
Firms say texting improves the experience for candidates and clients.
The staffing industry values all aspects of the texting experience — improving candidate, client, and brand experience and improving customer response rates ranked as most impactful.
For the fourth consecutive year, firms that respond faster also grow faster.
It's no surprise the speed is important, but over the years, we've seen again and again that it's the staffing firms that are quickest to get back to candidates that see growth.
What's more, respondents also reported that text messaging was beneficial in improving customer response time, so if you want to get in touch fast, text is the way to go.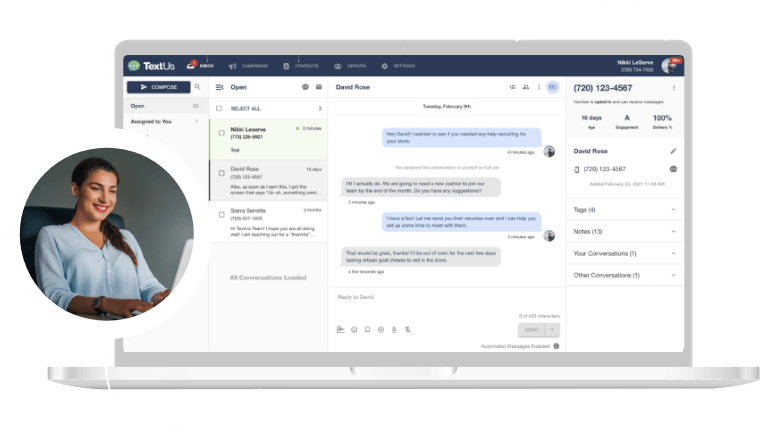 Get a TextUs Demo
Learn how thousands of businesses use TextUs everyday to communicate in real-time.