TextUs and Textkernel Partner to Help Staffing Firms Source and Contact Candidates Faster
Combine next-level searching and matching technologies with automated business-class texting to fill open positions with top candidates before your competition. This new partnership is directly available from the Bullhorn ATS. 
We're proud to announce that Textkernel, a specialist in machine intelligence for matching people and jobs, and TextUs will be joining forces to help staffing firms automate candidate sourcing and outreach.
Together, TextUs and Textkernel will allow you to identify candidates who are a potential match for an open position and then reach out to those candidates automatically via text messaging, all seamlessly from your Bullhorn ATS. Instead of manually locating quality talent and reaching out to them one by one, this partnership allows you to skip the tedious work so you can focus on the important stuff: building relationships, connecting people with their dream job, and scaling faster.
Textkernel's highly advanced semantic search, sourcing and matching technology, is the only solution that allows staffing professionals to create a match based on either a job description or resume with just one single click, identifying and shortlisting your top candidates, from your Bullhorn database or external sources. No more manual sorting through legions of mismatches and poor fits to get to the top candidates who have what it takes. The seamless Textkernel and TextUs integration enables recruiters to leverage Textkernel's proprietary semantic search and match technology to source from their Bullhorn database and then contact those qualified candidates through TextUs. You'll engage passive candidates more easily, connect with hard-to-reach talent, and increase your speed-to-market.
"You'll essentially be able to generate tear sheets of qualified candidates while you sleep," said Erich Hugunin, Chief Revenue Officer of TextUs. "And the beauty of this partnership is that, through your ATS or CRM, TextUs can reach out to those candidates automatically so you'll have meetings booked by the time you wake up."
"We're excited to announce our partnership with TextUs. It allows staffing professionals not only find and shortlist and reach out to the best candidates within seconds. This enables recruiters to really scale their efforts in an efficient, yet engaging manner," said Chris Conrad, Director of Sales North America for Textkernel.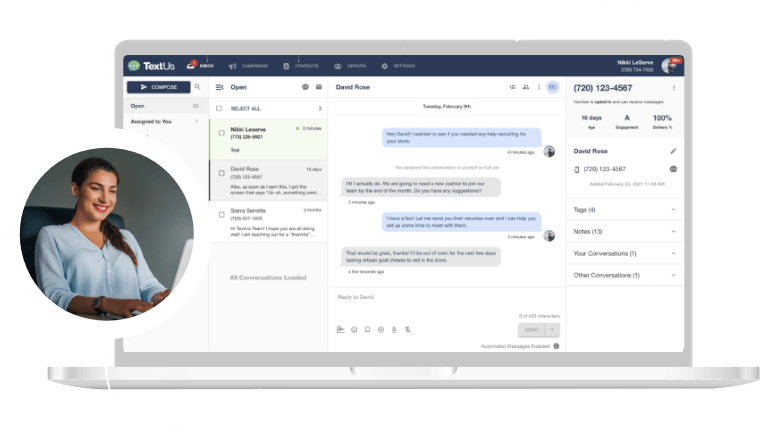 Get a TextUs Demo
Learn how thousands of businesses use TextUs everyday to communicate in real-time.