The Definitive Guide to Hubspot Integrations in 2023
HubSpot is a cloud-based inbound marketing and sales platform that helps businesses attract, engage, and delight customers by providing tools for managing websites, blog content, email, social media, and lead generation. With different hubs across sales, marketing, CMS, and support – Hubspot can do a lot to help boost your business. 
While the tool is quite robust, HubSpot has also done an incredible job of creating a vast partner ecosystem for both simple and complex integrations alike. These integrations fall into one of two categories:
Integrations built by HubSpot, which comes with built-in support
Integrations built and supported externally by HubSpot Connect partners
The integrations built and supported by Hubspot are often for large software companies that have full internal support. They are offered by providers who share HubSpot's inbound philosophy and who have a large customer base that are already using HubSpot. 
For integrations built and supported externally, Hubspot's open API allows any software company to create an integration to enhance the workflows of customers that use their software alongside Hubspot. For the purpose of this post, we will be covering integrations that fall under both of these categories!
To get the most out of your Hubspot instance, you should check out these top 11 Hubspot integrations in 2023 that are sure to save you time and boost your business.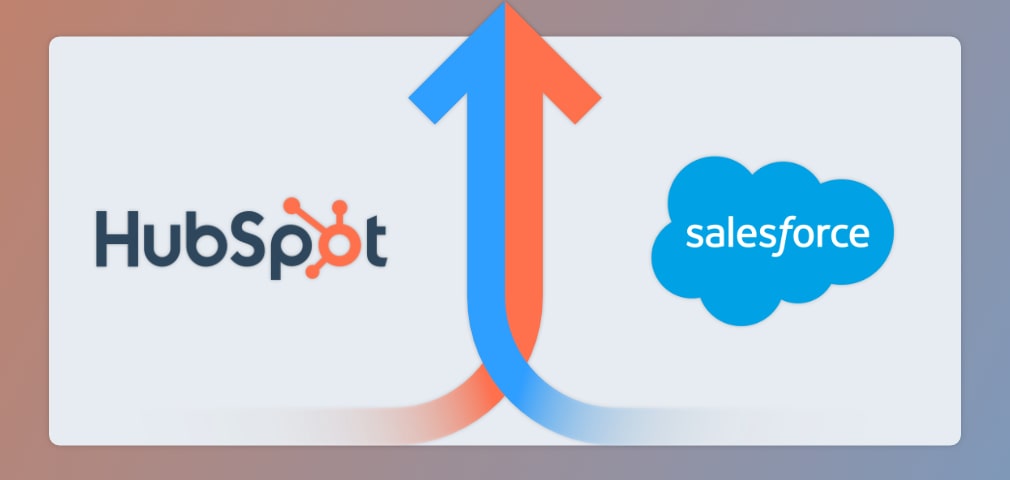 1. Salesforce
If your company does not have Salesforce, it is likely that your exec team has thought about switching over to it at one point or another. This leading customer relationship management (CRM) system helps organizations streamline and automate sales and customer service processes. HubSpot and Salesforce's works best as a 1-1 integration that combines your marketing database and your sales database, allowing activity and information to move seamlessly between the two.
With the HubSpot Salesforce integration, your sales team will consistently: 
Have the most up-to-date lead and contact information. The 1-1 sync between Hubspot and Salesforce ensures every new lead created through inbound or outbound marketing is in both CRM systems.
Track real-time opportunities and deal progression from creation to close.
Set up workflows and lead scoring to ensure every lead that comes in is getting multiple touchpoints to nurture them through the sales cycle.
2. Slack
Slack is the internal communication tool of choice for large and small organizations all over the world. One of the main reasons behind Slack's popularity is its support for hundreds of integrations including HubSpot CRM. Like Hubspot, Slack has done a stellar job of creating and fostering this partner ecosystem, making both softwares extremely easy to use.
Integrating Slack with the HubSpot CRM offers conveniences like:
Adding tickets in your HubSpot database directly from Slack.
Search for previously made HubSpot tickets within Slack and pull that information from the CRM to Slack.
Sync all your HubSpot notifications to selected Slack channels, so you never have to worry about missing an urgent notification
3. SurveyMonkey
Survey Monkey is a leading online survey tool that allows you to gather feedback from your customers and prospects. Like google forms on steroids. Integrating these two tools can help you gather valuable insights, track customer feedback, and make data-driven decisions.
With the SurveyMonkey and HubSpot integration, you can:
Collect feedback directly from within HubSpot: Use forms and surveys created in SurveyMonkey within your HubSpot account to gather feedback from your customers and prospects.
Seamless data transfer: All survey responses are automatically synced with HubSpot, eliminating the need to manually transfer data.
Track customer feedback: Monitor customer feedback over time to identify areas for improvement and measure your progress.
Improve lead scoring: Integrate survey data into your lead scoring process to prioritize the leads that are most likely to convert.
Use data to inform decision-making: Use the insights gathered from your surveys to inform your marketing, sales, and customer service strategies.
4. TextUs
Shameless plug here. TextUs is a business texting platform that allows you to communicate with customers and prospects via text message. With email open rates declining and the younger generation's opposition to picking up the phone, more people are resorting to texting to communicate in a business setting. 
With the TextUs and Hubspot integration, you can add outbound texts within your automated Hubspot workflows to ensure you are communicating with customers where they are at, their phones. And by adding two-way texting to Hubspot, you can send a quick 1:1 message to any prospect at any time. TextUs will also automatically keep track of all texts sent to your customers or leads and log them back to your CRM.
Have interest in checking out this integration? Let us know here!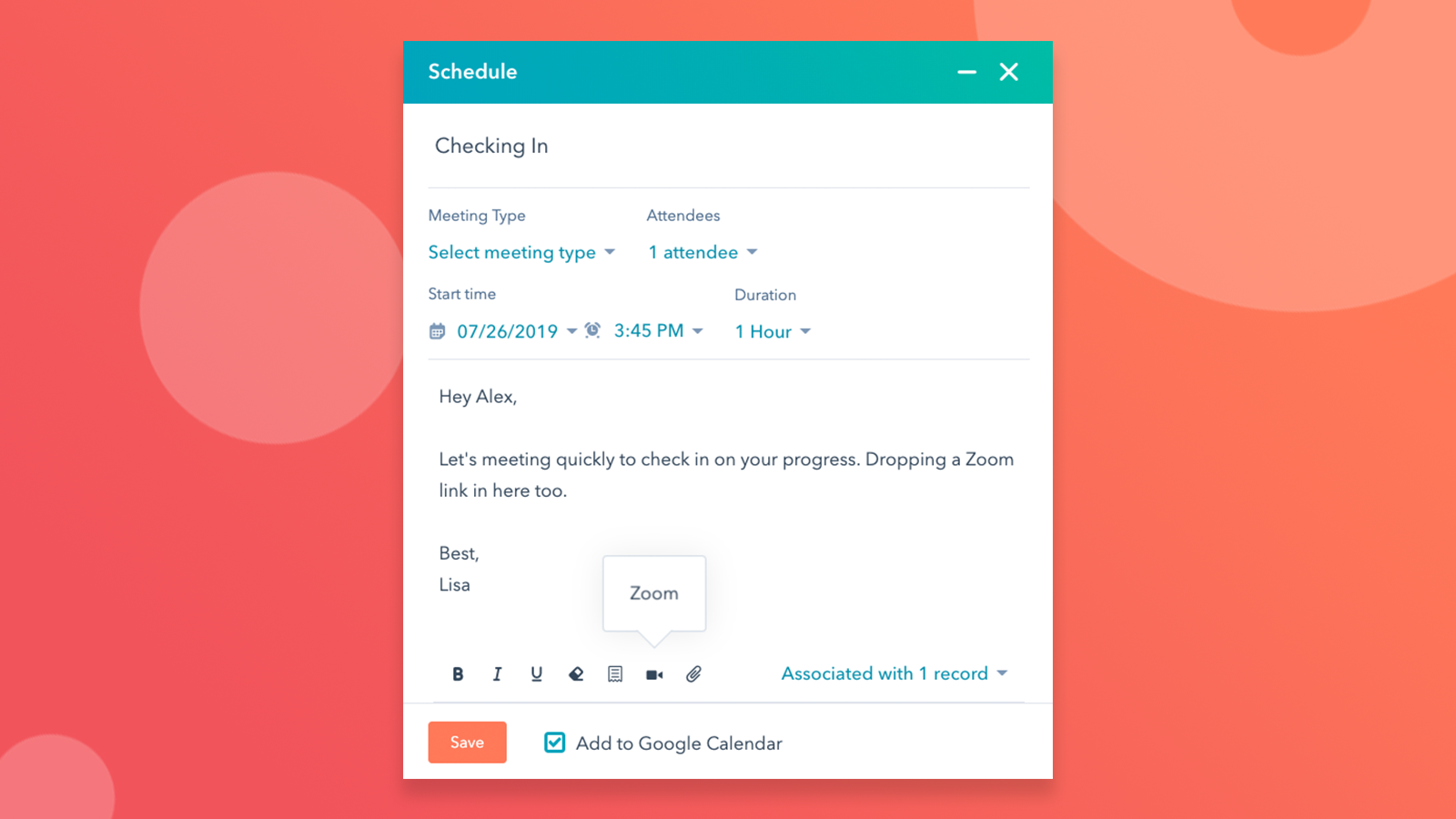 5. Zoom
If you don't use Zoom, did you even go through a pandemic really? Zoom is a leading video conferencing tool that allows you to conduct virtual meetings, webinars, and demos. 
With the Zoom and HubSpot integration, you can:
Conduct virtual meetings from within HubSpot: Schedule and start Zoom meetings directly from your HubSpot account.
Automated data transfer: All meeting information is automatically synced with HubSpot, eliminating the need for manual data entry.
Improved lead tracking: Use meeting information to inform your lead tracking process and prioritize leads that are most likely to convert.
Personalized customer experiences: Use meeting information to personalize your interactions with customers and provide a seamless experience.>
Increased efficiency: Streamline your sales process by conducting virtual meetings directly from your HubSpot account.
6. GotoWebinar
If you don't use Zoom webinars, there is a good chance you use GoToWebinar. This webinar platform allows you to host virtual events and engage with your audience in real-time. While webinars are not as popular as they once were – they are still a valuable tool in the marketing function.
With the GoToWebinar and HubSpot integration, you can:
Keep track of all registrants, attendees, and no-shows automatically synced with HubSpot, eliminating the need for manual data entry.
Improved lead tracking: Use webinar information to inform your lead tracking process and prioritize leads that are most likely to convert.
Personalized customer experiences: Use webinar information to personalize your interactions with customers and provide a seamless experience.
7. Gong
Gong has become a mission critical software for sales teams all over. And Now with two-way functionality, the Gong integration is definitely a top 10 sales enablement integration for Hubspot! Gong gives you an unfiltered view into your customer conversations, across calls, web meetings, and email. When you combine your HubSpot CRM data with Gong, you get unparalled visibility into how your reps are interacting with your customers and what's going on in your accounts.
With the Gong and hubspot integration, you can:
Replicate the behavior of your top performers
Push Gong data into HubSpot for streamlined visibility into deal insights.
Supercharge your pipeline reviews
Drive collaboration across the account team
8. LinkedIn Sales Navigator
LinkedIn Sales Navigator is a powerful tool that helps sales teams target, understand, and engage with leads and prospects. From company news to lead search and InMail, it's a goldmine of useful features for sales reps. With the HubSpot-LinkedIn Sales Navigator integration you can unlock access to all of these tools directly from the HubSpot contact record.
With this integration, you'll gain access to helpful LinkedIn Sales Navigator information right from the contact record, including:
InMail | Send InMail directly from the contact record
Icebreakers | View shared connections, experiences, and interests.
Get introduced | Ask a mutual connection for an introduction to your contact.
Related leads | Quickly find other leads at the same company and add them to your Sales Navigator leads list.
9. Docusign
With DocuSign, users can create, send and track DocuSign envelopes directly from HubSpot, creating a more complete picture of a contact, company or deal inside HubSpot. Now, your team can track the status of these documents without having to leave HubSpot. This gives more visibility into where a deal or contact actually is on their customer journey.
Integrating these two systems reduces friction for sales teams who previously needed to leave HubSpot to generate and send a DocuSign envelope. Now they can do this directly from the contact, company and deal record and keep moving.
10. Ring Central
While Text is king, calling is not dead! RingCentral allows you to sync contacts from the personal phonebook without manual data entry or messy, time-consuming imports.
Here's what you get with Data Sync by HubSpot:
Two-way sync: Data is shared between RingCentral and HubSpot in real time
Default field mappings: Set-up is quick with out-of-the-box field mappings already created for you
Historical syncing: Your existing data will sync right away, and updates will sync as they happen
11. Calendly
Schedule appointments and manage your availability directly from HubSpot. Improve the performance of your outbound prospecting with Calendly. With our easy-to-use interface, close more deals and increase your sales velocity by scheduling meetings with leads at the peak of their interest, all while maintaining an accurate and updated sales CRM, automatically.
With the Calendly HubSpot integration, you can:
Embed Calendly on your HubSpot website and use Calendly scheduling links in HubSpot emails
Create leads, contacts, and activities in HubSpot when a meeting is scheduled
Update activities on the contact in HubSpot when a meeting is rescheduled or canceled
Collect information from custom questions and add to HubSpot contacts
Track and measure activity from Calendly in HubSpot
By integrating any of these tools with HubSpot, you will improve your productivity, increase efficiency, and grow your business. Interested in growing your communication strategy with TextUs? Let us know by grabbing a demo here!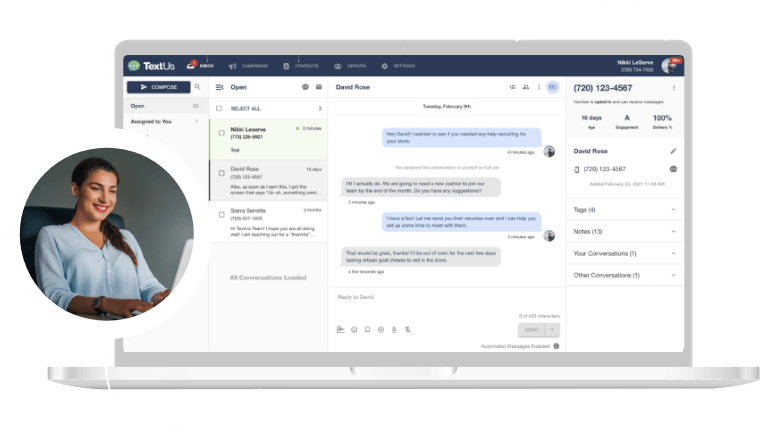 Get a TextUs Demo
Learn how thousands of businesses use TextUs everyday to communicate in real-time.