7 Ways to Use MMS for Business
And just as SMS text messaging can superpower your business communication, MMS has effective business applications, too. Here are the top 7 ways to use MMS for your business.
#1. Send and receive photos
Smartphones have become the primary way most people take pictures. That means that when your customers are shopping, attending conferences, or networking, they use their phone to take photos of products, informative presentations, and even business cards. Because it's native to your customer's phones, MMS is the most convenient way for them to share those pics with you.
#2. Receive pictures of documents
Gone are the days when you needed to wait to receive a document by mail or fax. Sometimes, the only thing standing between your customer and the service they need is a little piece of paper.
And sometimes, the only thing you need to close a deal or move someone through the funnel is a signature.
Through MMS, your customers can send you pictures of the documents you need to keep your business moving. Here are just a few examples:
Proof of purchase
Receipts
Contracts
Certifications
Time sheets
For any legally binding document, you still want a physical or verified e-copy. But, pictures of documents sent via text can shorten the sales cycle and speed customer service.
#3. Send images with links
Your text images can do more than share information or serve practical purposes. Like email and internet images, you can use your MMS images to entice your contacts to interact with your website or connect with valuable resources that will help move them down the funnel. For example, you can send a promotional image linked to a landing page via to gather more info about your prospects.
#4. Send and receive screenshots
One of the difficulties of our increasingly remote world is that it can be tricky to easily show clients what you are looking at. From troubleshooting product issues to guiding customers through demos, many business functions work best if you and your contacts are looking at the exact same screen.
MMS allows you to send and receive screenshots easily so you can be sure you and your clients are on the same page.
#5. Send simple instructional images
Like screenshots, instructional images are an easy way to make sure your prospects and customers are looking at the right aspect of something to reach a solution. You can also send these images to a group of people if they are all facing the same step or issue at the same time.
#6. Send custom map images
Sometimes, map apps aren't nuanced enough to direct clients precisely to where they need to be. Sometimes "third floor" of a sprawling conference center is not specific enough to make sure you can connect with a valuable prospect. With MMS, you can send custom map images to eliminate confusion and help you put your best foot forward.
#7. Make them laugh with gifs
To build relationships with your prospects and customers, don't skip the fun! A well-timed gif is worth 1000 words — and hopefully some laughs. Send a gif to say happy birthday, to congratulate someone on a career milestone, or just to say hi.
Looking for more info on how to engage your contacts? Check out the Definitive Guide to Business Texting.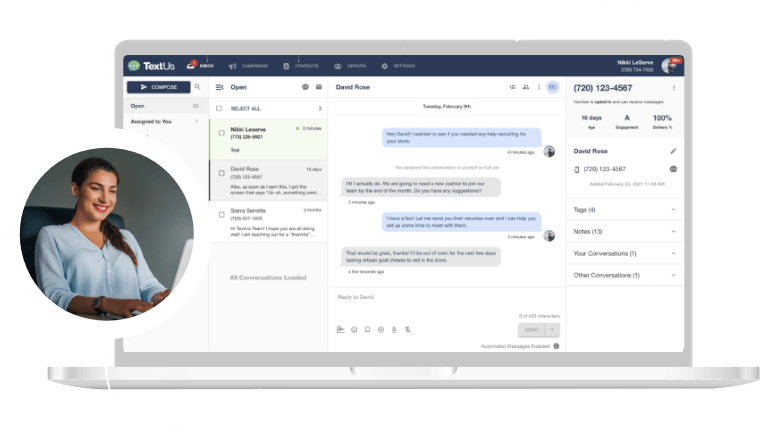 Get a TextUs Demo
Learn how thousands of businesses use TextUs everyday to communicate in real-time.