How to Build Your Brand with Link Shorteners
Did you ever receive a link and wonder "is this spam?" Maybe you didn't know the sender or the "from" was simply something like "John Smith" who could be anyone. When you don't know the person or company trying to communicate with you, you are less likely to click or engage – especially since spam links have become so popular. 
Or, do you find yourself hovering over the link to check out the URL and if it is from a company you recognize? Sometimes when you do this, you can only see a shortened link – maybe it looks something like this: bitly.com/hahjgno23871. Even though link shorteners are popular and most of the time reputable brands use them and they land on a useful and wanted page, you may still question the path if you can't verify who is sending it.
The best way to make sure your links are clicked and help your engagement is to create a branded link. Branded links receive up to 39% more click-throughs when compared to generic short URLs. By including your brand domain or subdomain to personalize your tiny URL, you will establish greater trust with the recipient of the links since it's already tied to your brand – this increases the chance users will click on the link. 
The business SMS community has tackled eliminating spam with phone numbers used in a text message by implementing 10DLC.This move from short-code numbers that are unrecognizable to longer 10-digit numbers that are similar to personal numbers aims to establish brand reputation and eliminate spam. Your links should do the same. 
Consumers are looking for strong brands and trusted companies more than ever. Branded short links and 10DLC are building in that direction in the telecommunications industry. 
Benefits of branded, short URLs
Building brand awareness and equity with your customers and industry is a great benefit to using branded short links, but there are other benefits – especially when implementing short URLs in your SMS campaigns. 
A branded, short link is easier to read and stands out
This will not take away from other content in the message and instead will serve as a bold call-to-action. A good SMS platform will have an appealing UI and you don't want a jumbled link to add clutter to that. 
Short URLs require less characters for campaigns
This means you won't hit your character limit in your text messages. We have seen in our data that SMS has better engagement and responses when messages are shorter than 160 characters. 
Branded links let users search for your message quicker
If users need to revisit a link, they can look for it by your brand instead of a mix of random letters or getting lost with other generic links from different brands. 
Branded, short URLs are the perfect balance of professional and personal
The short nature makes them professional and clean in appearance. The branded part builds a personal relationship between your company and the user. Our data shows that the more engaging SMS campaigns include a balance of professional and personal touch. People want to trust you and be called by name but also want a credible brand.
Tips when using short links
Don't make links too short
You want links to be readable and not take up all of your character limits, but you also want to build your brand awareness. Make sure the link still lets users know who you are and what the link will be directing them to in order to establish credibility and positive user experience.
Be consistent across the company
In order to achieve a strong brand reputation, all members of the company must be consistent in the message, look, and feel of the brand. This includes how you send short links. If marketing is sending out branded URLs to build brand equity, then sales starts sending generic links, and account management sends long links – the user is going to not only take part in a confusing user experience, but they may also question why the company is so haphazard and disjointed in their actions. Consumers are paying extra attention to details and this is impacting their ability to use and buy products that don't meet their needs. 
Utilize UTM tags in your destination URL
If you're using a tool such as Google Analytics to track metrics across your various marketing channels, you can use UTM parameters within your longer destination URL to more accurately attribute web traffic to your short links or campaigns.
Track link performance
Even if you aren't using UTM, you will want to track performance metrics such as click through rates that can help you compare campaigns and find the messages that stick. 
We looked at 9M texts that our users have sent to analyze the do's and don'ts and the best SMS practices. In addition to learning that less characters and tone balance of professional and personal yielded better responses, we also learned that when generic links were used earlier on in a relationship and weren't branded, they did not yield as high a response rate or click through rate. 
Some industries benefit from links and we noticed that in real estate for example, sharing links to listings or paperwork from a trusted broker or agent had high responses. The same is true for HR or recruiting when you know the sender and are anticipating signing training or new hire paperwork.
By sending trusted, white labeled links to your audience, you can increase link click-throughs and boost the impact of your SMS marketing.
Knowing the benefits of branding and the need our customers have, TextUs offers built-in branded link shorteners. This functionality allows you to customize the brand that displays in your short links and easily add them to your SMS campaigns without needing a third-party tool. TextUs also tracks link click through rates so you can better measure the performance of your SMS channel.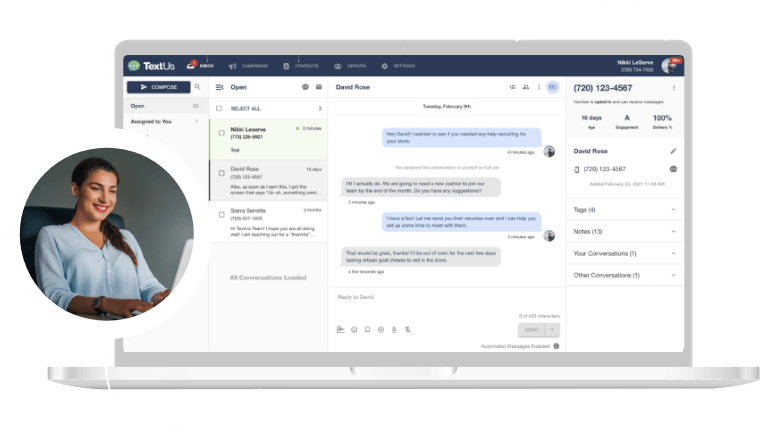 Get a TextUs Demo
Learn how thousands of businesses use TextUs everyday to communicate in real-time.