Call or Text Us: Why You Need to Text Enable All Your Business Phone Numbers Today
Think about how you communicate with your friends and family. Chances are, you don't spend much energy wondering if a phone number is textable – every friend, family member, acquaintance, and kids' soccer coach that you communicate with has a single number that you can call or text without thinking about it.
Communicating with your business should be just as straightforward – it's what your customers expect. Here's why you should enable texting for all of your team members.
It empowers your customers to move easily between phone and text
Text enabling your business number eliminates a decision point for your clients — they can click your number and text you without giving it a second thought. When they're ready to call, they can click right from your text conversation without missing a step.
What's more – because so many phone numbers are textable, separate text numbers also add an extra hassle for your audience. Customers may assume that your number is textable, which means you'll lose any texts that are sent your way – they'll be lost to the ether. And you won't even know you missed something.
It allows multiple users on your team to manage texts to a single phone number
Another drawback to a siloed text messaging number is that it may have limited functionality when it comes to sending and receiving text messages. If all text messages are going to a single inbox, your team may lack the insight and speed they need to keep up with your audience.
A textable business number means that your team can all field incoming text messages. This means no customer left behind — if a rep is sick or on vacation, another member of your team can jump in and make sure your business keeps running as usual.
It makes your phone calls more effective
Think about how much of your sales team's time is spent making phone calls to folks who just don't want to pick up. Nowadays, most people don't even accept unscheduled phone calls from their friends and family. It's no wonder that your team is having a hard time getting through to strangers!
A text-enabled business number helps you warm up those phone calls. Instead of cold calling, you can send a quick text that identifies a good time to connect for a call.
Hey Sam, This is Sara from ACME Co. I wanted to introduce myself as your point of contact and see if you're available for a quick 5-min call this afternoon?
Sam can pick the time that works best for him — Sara gets the phone call she needs without interrupting a lead's day. What's more, if Sam is up to talk right when he gets the text, he can also easily click on the number Sara texted from and be instantly connected for a call.
It saves valuable time
Bottom line – your customers want their interactions with you to be easy, fast, and clear. Instead of fumbling around, trying to figure out which is your phone number and which is your text number, they want to click a button and start a conversation with you. And they want to do this on their time, which might mean shooting off a quick text while they're in line at the bank.
It helps you build relationships
Business texting is still a relatively new frontier, so customers may be more suspicious of a dedicated text number, worried that it will bring more spam into their lives. A text-enabled business phone number adds another level of trust between you and your audience.
Your number then becomes just that – your number. Seeing the same number in both texts and calls lends authenticity to your customer relationships. They can communicate with you the same way they communicate with everyone else in their lives.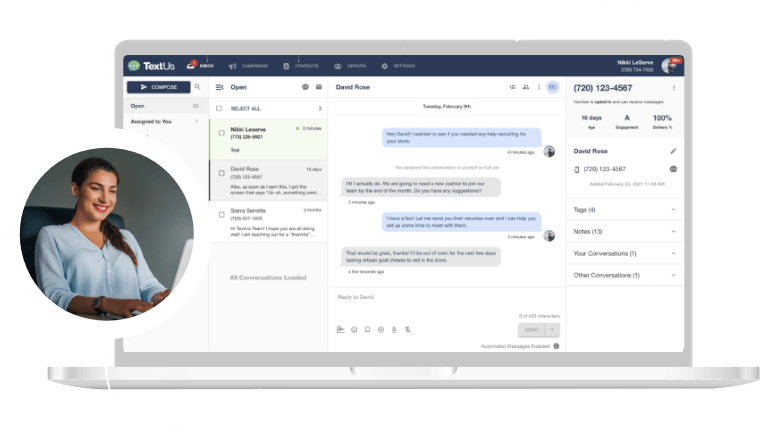 Get a TextUs Demo
Learn how thousands of businesses use TextUs everyday to communicate in real-time.