How to Text from a Landline Without Impacting Your Voice Service
Think about how you communicate with your friends and family. Chances are, you don't spend much energy wondering if a phone number is textable – every friend, family member, acquaintance, and kids' soccer coach that you communicate with has a single number that you can call or text without thinking about it.
Communicating with your business should be just as straightforward – it's what your customers expect. You should text enable your business phone number to allow for landline texting.
What happens when you text a landline?
Can you text a landline? If you do, can landlines receive text messages? The answer is yes if you have a text enabled landline. Landlines can't send and receive text messages on their own, though, you need a text message platform or tool that will allow you to do so.
Business texting works best when we text-enable landlines so your contacts can reach you on a phone number they already know.
Why you should text enable your landline
1. It empowers your customers to move easily between phone and text
Text enabling business phone numbers eliminates a decision point for your clients — they can click your number and text a landline message without giving it a second thought. When they're ready to call, they can click right from your text conversation without missing a step.
What's more – because so many phone numbers are text-enabled and people are used to sending text messages, having a separate text number adds an extra hassle for your audience. Customers may assume that your landline is text-enabled, which means you'll lose any texts that are sent your way. And you won't even know you missed something.
2. It allows multiple users on your team to manage landline texting to a single phone number
Another drawback to a siloed text messaging number is that it may have limited functionality when it comes to sending and receiving landline text messages. If all landline messages are going to a single inbox, your team may lack the insight and speed they need to keep up with your audience.
A text-enabled business phone number means that everyone on your team can field incoming landline messages. This means no customer will get left behind — if a sales rep is sick or on vacation, another member of your team can jump in and make sure your business keeps running as usual.
3. It makes your phone calls more effective
Think about how much of your sales team's time is spent making phone calls to folks who just don't want to pick up. Nowadays, most people don't even accept unscheduled phone calls from their friends and family. It's no wonder that your team is having a hard time getting through to strangers!
A text-enabled business phone number helps you warm up those phone calls. Instead of cold calling, you can send a quick to text landline message that identifies a good time to connect for a call.
Here's a good prospecting text message example:
Hey Sam, This is Sara from ACME Co. I wanted to introduce myself as your point of contact and see if you're available for a quick 5-min call this afternoon?
Sam can pick the time that works best for him — Sara gets the phone call she needs without interrupting a lead's day. What's more, if Sam is up to talk right when he gets the text, he can also easily click on the number Sara texted from and be instantly connected for a call.
4. It saves valuable time
Bottom line – your customers want their interactions with you to be easy, fast, and clear. Instead of fumbling around trying to figure out which is your phone number and which is your text number, make sure your landline can receive texts. If customers can text a landline, they can just click on a button when they are ready to start a landline message with you. And they can do this on their time, which might mean shooting off a quick text while they're in line at the bank.
5. It helps you build relationships
Business texting should eliminate spam that emails are prone to—because of email spam, consumers may wonder who is texting them if they don't see a name. A text-enabled landline adds another level of trust between you and your audience. If customers are already familiar with calling you on a certain number, the landline message will be easier to recognize.
Your number becomes just that – your number. Seeing the same number in both landline texting and calls lends authenticity to your customer relationships. They can communicate with you the same way they communicate with everyone else in their lives.
How to text enable your landline
The easiest way to text enable landlines is to use a text messaging platform. Because of the technical and regulatory issues associated with telecommunications, having a trusted third party to help make this process easy is a benefit! Here's the technical jargon of how landline texting works…
We an agreement with our SMS gateway provider that allows us to text-enable most landlines using our SPID (Service Profile Identifier). This process involves letting NetNumber, who routes all long-code (10-digit number) SMS messages through the various cell carriers, know that the owner of the number has given us permission to act as their Service Provider's limited agent for the sole purpose of SMS message origination and delivery. This permission is provided to us in the form of an LOA from the owner, or the service provider, of that 10-digit number.
The provisioning process to activate the number does not in any way affect the voice communication, IVR, plan, carrier or any aspect of the voice service. The SMS capability works "over the top" of the voice platform. This capability has actually existed for a number of years (think Google Voice) but is just now coming to the forefront of B2C communication.
How do you know if a number is textable?
While you are taking the time to text-enable your landline, you may be wondering if your contact numbers are mobile numbers that are textable or if they are landlines. This becomes especially important for prospecting.
Phone numbers entered into TextUs are read by our system to try to determine whether they are a mobile number that is able to be texted or not! However, due to many different factors, we are never 100% sure whether a number is textable or not until a message is sent.
You can determine whether a landline is text-enabled by looking at the symbols to the left of your contact's phone number in their Contact Info tab or in your Contacts tab.
If you see a cell phone with a check mark, this means you've texted this number and the message was delivered successfully.
If you see a cell phone without a symbol, this means that we are confident that you should be able to text this number. However, we cannot confirm that the number is a cell phone.
If you see a cell phone with an "x," this means that this number is not able to be texted.
If you see a question mark, this means that our system does not recognize the number. In this case, the phone could be either a cell phone or a landline. Regardless, we recommend sending texts to these numbers to see if they will be delivered successfully!
You want to make sure that the business text messages you send are valid and working! Especially if you are limited to the number of messages or contacts you can send to—you don't want to waste your time or money on invalid numbers. You want to make sure that text messages get to your landline and you also want to make sure that your texts are delivered to your contacts!
Want to text-enable your landline? Get in touch and we will help you check this off your list.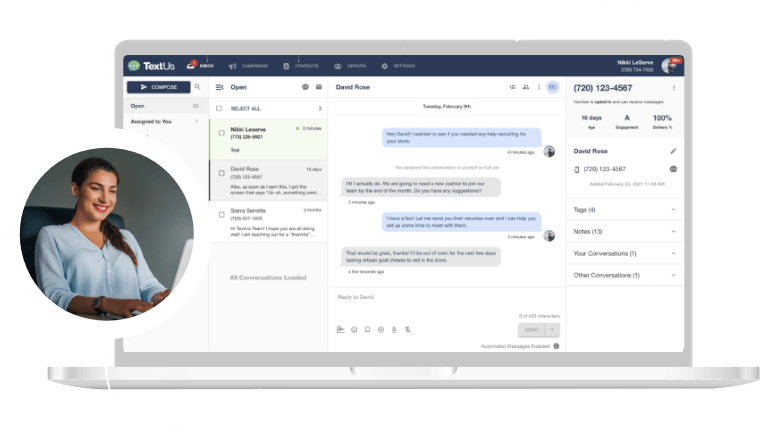 Get a TextUs Demo
Learn how thousands of businesses use TextUs everyday to communicate in real-time.