How Temp Talent Recruiters Save Time and Get Ahold of Candidates Faster with TextUs
For Temp Talent, a boutique staffing firm headquartered in Sydney, Australia, speed is crucial. Theirs is a fast-moving business — and speed to placement is essential for keeping their candidates and clients happy.
Temp Talent was already ahead of the game in adopting text messaging as part of their recruiting process. People weren't answering phone calls anymore, so text messaging was crucial to moving relationships — and their business — forward. But their recruiters were using their individual cell phones to text. This caused a variety of problems:
Texting multiple candidates info about an opportunity, interviews, or a timesheet deadline was time-consuming on the small screen
Recruiters had to log their text outreach manually into their CRM
Leadership lacked insight into messaging
So, when Temp Talent realized their recruiters were wasting a lot of time — and missing opportunities — by texting from their smartphones, they knew something had to change.
"It was really time-consuming, copying and pasting messages to multiple candidates and manually logging our text messages," said Shelley Richardson, Administrator at Temp Talent.
When Temp Talent implemented TextUs, their recruiters started saving a lot of time on outreach — but that was just the beginning. They also gained insight into their entire recruiting process through the TextUs and Bullhorn integration. And they improved their candidate experience by opening new avenues to nurture talent.
Here's how.
Improved efficiency and moved faster
Before TextUs, Temp Talent recruiters would save contacts onto their devices and type messages in on the small screen. If recruiters wanted to send a group text message, they would have to copy and paste any messages from contact to contact on their smartphones. In a business that moves as quickly as staffing, this wasted time meant slower outreach and lost opportunities.
"I'm constantly texting people," said Richardson. "TextUs makes it a lot easier to just text away, right from your desk. I save a ton of time every day."
With TextUs, recruiters can send group text messages with just a few clicks, reaching out to top talent in seconds.
Streamlined the timesheet process
Most staffing firms struggle when it comes to getting their candidates to turn in timesheets on time. As a result, a lot of staff time is drained by tracking down employees who haven't turned in their hours.
Temp Talent was no different. It could take up a lot of administrative time on Monday afternoons trying to get ahold of those with late timesheets.
TextUs changed all that. By scheduling text message reminders to go out Sunday afternoon, Temp Talent saw an increase in submittal rates.
"It's really helped out Monday morning when the timesheets are due, and we're usually chasing them down. It's helped get a lot of them submitted, and it's definitely helped with our payroll."
Improved candidate experience
Creating a real, engaging candidate experience can be the difference between getting a new hire and losing them to the competition. Candidates want to hear from their recruiters — not just when they're deciding between firms or landing a new gig, but also when they're at their assignments.
Temp Talent uses TextUs to schedule a text message to go out right before a candidate's first shift. "We send a text that says, 'Good morning — have a great first day! Let us know if you need anything.' It's simple, but it's an effective way to let candidates know that we're thinking about them."
Logged communication seamlessly into Bullhorn
By eliminating the use of individual devices, Temp Talent improved the consistency of their messaging and avoided the "black box effect" that arises when management lacks insight into employee communication.
Because TextUs integrates seamlessly into Bullhorn, all of Temp Talent's text outreach is logged into their ATS. If there's ever a miscommunication or dispute, they have a backup of all communication and can refer to the record.
What's more, Temp Talent has been really impressed with TextUs' customer service.
"The setup and training were very straight forward, clear, and really simple," said Megan Swan, Operations Manager at Temp Talent.
"The customer service is the best of any software program we use," said Richardson. "I'm a big believer in the importance of strong customer service, and TextUs delivers every time."
Since its inception in 2011, Temp Talent has remained a specialist boutique agency that focuses purely on temporary recruitment across the business support functions of the corporate world and in particular, the real estate & property sectors. Their team has worked in business support and real estate/property roles across Sydney and London and has a combined 30 years experience in doing so.
Temp Talent places your receptionists, administrators, secretarial and personal assistants on assignments starting from one day through to ongoing cover at all levels.
They love what they do. They believe in honesty and have a fine-tuned strategy behind perfectly matching candidates with clients to avoid inconsistency. The relationship they build with their clients and candidates is a long term one, so you will find a fresh approach to recruitment when dealing with Temp Talent.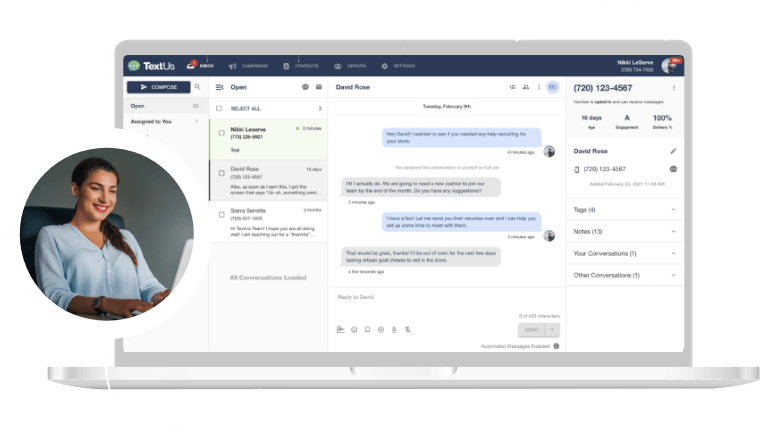 Get a TextUs Demo
Learn how thousands of businesses use TextUs everyday to communicate in real-time.