Travel Nurses Inc., an OR Nurses Nationwide Company, Leverages TextUs to Support Rapid Growth During Pandemic Era
Staffing nurses across the country is no easy task.  When coupled with a global pandemic and increasing hospital needs across all nurse specialties, the challenge of speed to market is ever more prevalent.  Travel Nurses Inc. (TNI) has seen this firsthand as the skyrocketing needs for specialty nursing staff has exploded in recent months.
A nurse-owned and nurse-operated healthcare staffing company, TNI specializes in staffing specialty nurses and allied professionals to fill staffing needs in healthcare facilities across the country.  The company was founded by two women, both OR nurses, to focus on the staffing needs of the healthcare industry and in their own words, "to provide patients with exceptional care by staffing elite healthcare professionals from all specialties in their ideal locations and facilities."
There's no question that the ever changing environment that a global pandemic brings, coupled with the fast paced nature of healthcare staffing, that TNI needed to find a method of communication that would facilitate higher productivity and faster placements.  They have experienced a stage of rapid growth and need to support their business needs with better communication tools.
Enter TextUs.
When TNI began leveraging text messaging to better communicate with their candidates, they noticed an immediate impact on their placements and speed to market.  Previously, they were relying on traditional messaging channels, like phone and email, but were not seeing great results.  This meant making a lot of calls and leaving voicemails, often unreturned, or going back and forth multiple times to get the response they needed.   Alternatively, they leaned on sending email blasts but continually saw low engagement and lack of response.  It simply wasn't working and the team at TNI was spinning their wheels without much return on their efforts.  In an industry where time is of the essence, this way of communicating wasn't cutting it.
The team began to leverage TextUs for one-to-one messaging and SMS campaigns.  They immediately found it was much easier for recruiters to go throughout their day and integrate texting into their workflow, saving a ton of time previously spent playing phone tag, or sending emails with long response times.  The healthcare industry moves fast, and TNI needed their business to move fast along with it.  TextUs helped them keep pace.
Today, Travel Nurses Inc. notes that texting is the primary form of communication preferred by nurses.  They estimate that at least half of their placements involve text and recruiter productivity has skyrocketed as a result of text messaging.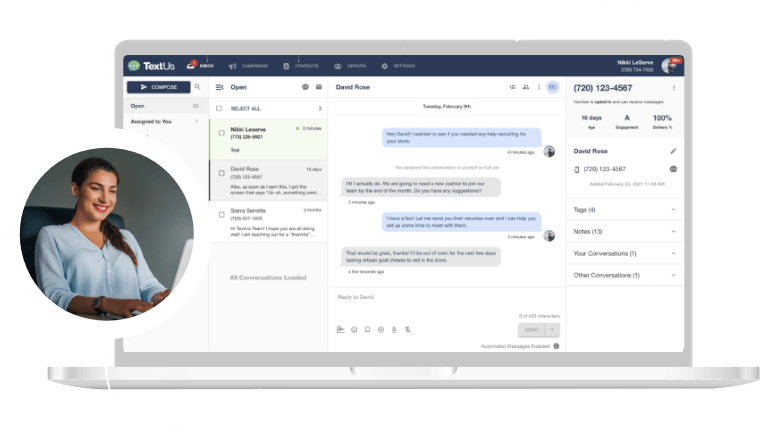 Get a TextUs Demo
Learn how thousands of businesses use TextUs everyday to communicate in real-time.