How Barilla Uses TextUs for Employee Engagement
Barilla is an Italian family-owned food company. Established in 1877, it's now an international group present in more than 100 countries. In Avon, New York, Jen Gregory is the HR manager in charge of a 160-person team in one of Barilla's plants. Gregory, along with an HR generalist and recruiter, are admins on the TextUs platform which they use to communicate with the rest of the 160-person team.
Business texting from a personal phone is problematic
Barilla sends out periodic surveys to employees to find ways to innovate and grow. Gregory says communication is one focus area for opportunities. The team started to brainstorm ways to get to people quicker. Employees all had Gregory's personal phone. She prides herself on being available at any time, but thought that there had to be a better way to manage employee communications other than using a personal phone for business. 
The HR team at Barilla was looking for a way to get mass communication out more efficiently and quickly. Not everyone appreciates group text messages. The reply-all's with a 160 person team can quickly add up! Once you factor in employees who may be on a night shift or early shift, you can have messages coming in while you are trying to rest up for your work shift. 
During COVID, Gregory's personal cell phone was the direct line if HR needed to get out information about plant updates quickly. It's difficult to individually call all employees and make sure they get the same message at the same time. 
Email wasn't working as well for the team either. Barilla HR experienced low engagement rates and discovered that emails may not have even been opened. Because employees are working in a plant, they tend to be on their feet instead of sitting at a desk. Email was a barricade because some people would have to remember passwords to log into it. If they did log into their email, it may be after a shift was done, so they would miss important and real-time updates. 
 Barilla needed to find a way to get out mass information in a format that employees would actually receive.
TextUs makes texting employees easy
The recruiter at Barilla had previously worked at a company that used TextUs. When Barilla started to consider mass SMS as a communication tool, TextUs was one of the first text messaging platforms considered. Since the TextUs platform is easy to use, the team at Barilla adopted it quickly. 
Since using TextUs, Gregory says that she sees more responses and in a faster time than with the emails. One of the favorite ways the team uses texting for HR is with giveaways. After a team meeting, HR will send an SMS asking for a response to be entered into a drawing to win a prize. The HR team also uses text messaging for mass announcements such as open enrollment or when leadership is coming into town.
"It's a great tool to communicate with employees. TextUs is easy to use so we started communicating right away with text messaging." -Jen Gregory, Barilla HR Manager
In addition to sending mass text messaging for open enrollment, events, factory closings, and other important employee information, Barilla uses text messaging to schedule overtime and shifts. The HR team creates different contact groups within the TextUs platform and when supervisors tell them what they need to fill, HR can send mass text messages and get an immediate response — which means immediate shift coverage and productivity. 
Before using TextUs, Barilla had a variety of communication methods, with email incorporating about 95% of how they engaged with employees. Another form of communication included posting bulletin boards in the break rooms and hallways, but not everyone was guaranteed to receive the same message at the same time. To help with consistent messaging, Barilla holds quarterly in-person meetings, but these take time to strategically plan and prepare. Gregory says TextUs lets them be more intentional when they want to get a message out to everyone without having to put together a slide deck, prepare talking points, and wait until the quarterly meeting — they can quickly send a text message.
Barilla wants to expand SMS lines for recruiting
Barilla is primarily using TextUs for HR activities not including recruitment, but with the success so far with employee engagement, and the fact that the recruiter is the one who was familiar with TextUs before using it, Barilla is in the works to add an additional second line exclusively for recruiting and onboarding. This will keep their phone numbers branded separately for employees and for candidates. While you can have separate numbers for different parts of the HR cycle, multiple users have access to the same inbox so the whole team can know exactly which text messages are communicated and when. 
In addition to better responses than with email, Gregory says that the TextUs support has been a huge benefit. Even though the platform is easy to use, the Barilla HR team finds the training, best practices, and resources like webinars and HR SMS templates helpful in creating their campaigns. The favorite feature of the HR team is the TextUs quality indicator that lets the team know how the message sounds and will tell them if it's getting too long or using too many emojis! 
Barilla has a mission to produce food that they would be proud to serve their own family. TextUs has a similar value by using the text messaging platform for its own HR activities. Whether it's to boost employee engagement, send important information, or recruit new employees, mass text messaging is a great addition to the communication mix.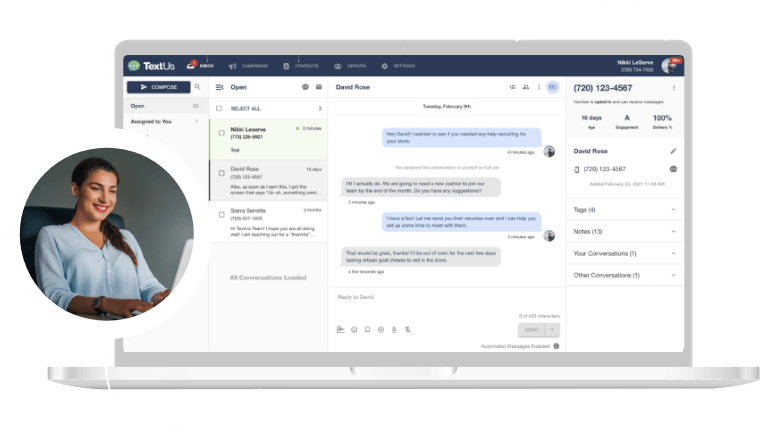 Get a TextUs Demo
Learn how thousands of businesses use TextUs everyday to communicate in real-time.