IT Staffing Firm Meridian Technologies Improved Response Rates by 240% and Increased Submissions with TextUs + Bullhorn
Meridian Technologies, an IT staffing firm, knew the power of texting. "If you're not texting candidates, you're behind the eight ball," said Justin Van Tassel, Director of Recruiting, Talent Acquisition, Training & Development.
Their recruiters were using their personal cell phones to text with prospects and candidates and seeing great response rates over email and phone outreach alone.
But not everyone was comfortable using their personal cell phones, and as a result, Meridian wasn't able to adopt text messaging company-wide. What's more, when the staffing firm was using a BYOD (bring-your-own-device) model, management had zero insight into the quality, frequency, and efficacy of text outreach. This left a big hole in their analytics.
By adopting the business-class text messaging software TextUs and integrating it with their Bullhorn ATS, Meridian boosted submission rates, increased response rates by 240%, saved recruiters time, and gained transparency into their candidate outreach strategy.
The Challenge
Meridian Technologies wasn't satisfied with bundled or BYOD texting solutions.
"Some of our recruiters were texting with their own devices and getting great results," said Van Tassel. "But a lot of our recruiters just weren't comfortable using their personal cell phones."
The staffing company considered using the solution built into their phone service but found its features lacking. "We're a metrics-driven company, and we needed a text messaging solution that gave us the analytics we need to grow," said Van Tassel. The stripped-down capabilities of the texting bundled with their tech suite left them wanting more.
The Solution
With TextUs + Bullhorn, Meridian Technologies improved team text adoption, boosted submission rates and increased response rates by 240%.
After seeing a demo of TextUs, Van Tassel adopted the platform, which was already integrated with their existing ATS, Bullhorn. With TextUs, Meridian saw an uptick in team adoption of texting, and the staffing firm saw widespread improvements in response rates.
"The speed of response with TextUs is the only way we get through our call lists," said Van Tassel. "We went from hearing back from 2 out of every 10 candidates when we sent emails or left voicemails to getting responses from 48% of candidates via text."
"TextUs allows us to screen people more quickly and weed out folks who aren't looking for a position or who aren't a good fit."
Unsurprisingly, this 240% increase in response rates led to improved submission numbers. "It's not just anyone we're hearing back from. TextUs allows us to screen people more quickly and weed out folks who aren't looking for a position or who aren't a good fit. As a result, we've improved our submission rates with TextUs," said Van Tassel.
Text messaging also boosts the efficiency and response rate for Meridian's emails and phone calls.
Meridian uses text messaging to get their candidates to respond to emails and phone calls that would otherwise go ignored.
"We are very focused on speed to market and aim to get candidates submitted within the first 24 hours of receiving a job order," said Van Tassel. "So, it's crucial that all our touchpoints are as effective as possible. We send a brief text just to schedule a phone call or to follow up on an email. It boosts the power of the other forms of communication, so that with text, people actually respond to email and answer phone calls, too."
What's more, text messaging with TextUs has changed Meridian's email and voicemail strategy.
"TextUs has even helped us shift our email strategy. People don't even read their emails anymore," said Van Tassel. "So, we have started basically texting via email, too. I train people to put as much information in their subject lines as possible, so candidates don't even have to open the email."
"One tactic that's been really effective for a lot of our recruiters is sending a text the minute a call goes to voicemail. TextUs functions as a kind of visual voicemail for us," said Van Tassel.
Together, TextUs + Bullhorn give Meridian a clear picture into the outreach tactics that work for their candidates.
"The TextUs + Bullhorn integration increases transparency between our team members because all texts are automatically logged in the Notes section of a candidate record. If a recruiter is out and a candidate has an urgent question, it's easy for anyone to read back through text conversations and jump right in to help," said Van Tassel.
"The integration has also helped with quality control. Our managers can read through previous text conversations to make sure candidates are receiving consistent attention and that our recruiters are following up in a timely manner."
TextUs + Bullhorn improved recruiter efficiency
Meridian recruiters work more efficiently with TextUs + Bullhorn. "Our recruiters would be really unhappy without TextUs + Bullhorn," said Van Tassel.
Consolidating all candidate outreach information in Bullhorn helps recruiters get a clear picture of what their candidate's need, when they'll be ready for a new position, and how to hit their goals. TextUs multiple software applications — from the Chrome extension to the mobile app — provide an attractive ease of use that Meridian really values.
"Texting with Bullhorn + TextUs is just so easy," said Van Tassel. "I don't know what our team would do without it."
About Meridian Technologies
From general IT support staff to hard-to-find niche talent, Meridian has developed proven strategies to consistently deliver exceptional professionals who simply thrive on finding solutions to big challenges. The people we
provide are the best, the brightest and the most eager—and able—to solve your problems.
At Meridian, we believe that why we do what we do is every bit as important as what we do. And our why is fairly simple: We have a passion for solving problems. We were founded by business people who just happen to be technologists. So we see IT problems as business problems. And nothing gives us as much satisfaction as solving those problems. It's what we love. It's what we do. And we think we're quite fortunate in being able to say that!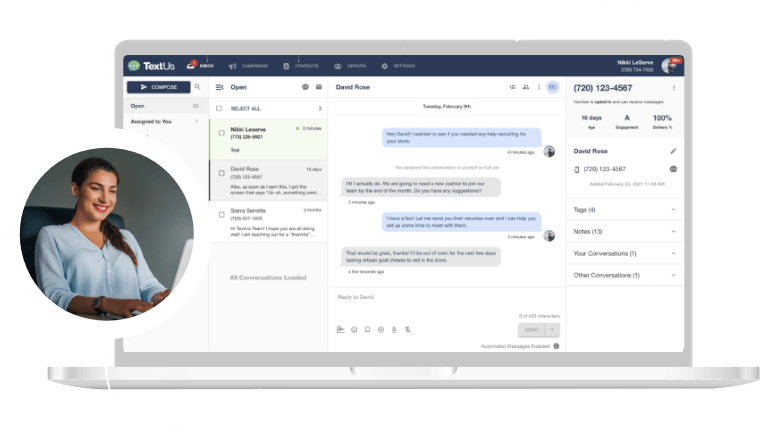 Get a TextUs Demo
Learn how thousands of businesses use TextUs everyday to communicate in real-time.