trustaff Increases Speed to Market in Healthcare Staffing During COVID Era Using TextUs
In the uber-competitive field of healthcare staffing, trustaff, like many others, wants to improve its market share in the travel nursing space. In an effort to deliver high quality, dependable healthcare professionals to facilities across the country, trustaff must quickly and efficiently deliver candidates where they're needed most. This meant increasing their texting resources to meet the growing urgency due to COVID business demands.
How did texting improve trustaff's speed to market?
In years past, receptionists spent all day on the switchboard, answering calls and moving candidates through the funnel. However over the past few years, trustaff has seen calls dwindle drastically.
Though business is booming, what used to be upwards of a couple hundred calls a day has decreased significantly. In today's digital-first world, trustaff noticed that people aren't inclined to talk on the phone anymore–and this is especially true in the healthcare industry, where schedules can vary greatly.
They knew their communication strategy needed to pivot. It had to meet people where they were: via text, on their phones.
Once trustaff started texting candidates to communicate better and faster, they saw open and response rates that they say, "blew email out of the water," and were seeing an average response rate of three times greater than that of a traditional job email.
Once the pandemic struck, text messaging became even more critical for trustaff, as jobs can open and close within minutes. Reaching candidates quickly can be the make-or-break moment in getting a nurse to a healthcare facility in need.
It goes without saying that text messaging has elevated trustaff's business in very meaningful ways, by cutting the lag time associated with traditional forms of communication and getting candidates placed faster.
Because TextUs integrates and adds notes directly into trustaff's CRM, they are able to see which interactions and placements include text messaging. They modestly estimate that half of every placement begins with a text. At times, as many as 80% of their placements start with a text.
"It has revolutionized the recruiting process"

ANDY HARTMAN, MARKETING DIRECTOR AT TRUSTAFF
Not only has it supercharged their recruiting, but trustaff has identified additional ways in which they can leverage TextUs outside of just initial placement. Since using TextUs for things like timesheet notifications, they have noticed a drastic reduction in administrative workload, having cut out time for making reminder phone calls.
They've also found it to be a useful tool in customer service, utilizing their 800-number to receive questions and requests and responding via text to those needs in real time. This helps drive loyalty within their customer base and overall, helps in providing a higher level of service.
In a world where COVID has put more urgency on healthcare staffing and business demands, trustaff has leveraged text messaging to drive their recruiting efforts forward and meet increasing needs for their healthcare partners.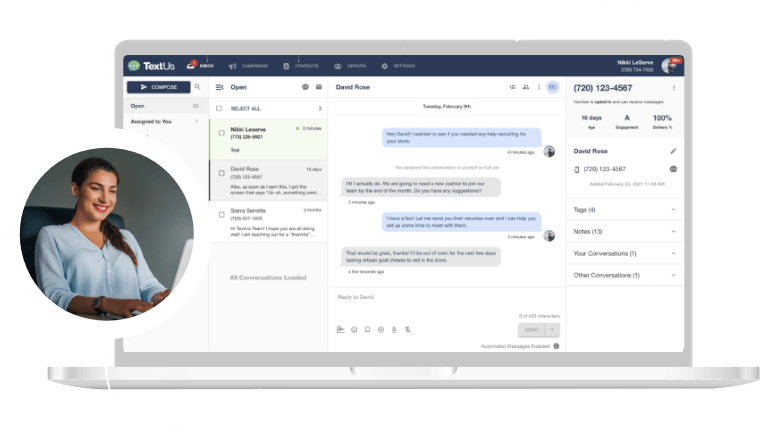 Get a TextUs Demo
Learn how thousands of businesses use TextUs everyday to communicate in real-time.