Ochsner Health Achieves an 80% Response Rate, Responds in Real-Time to Pandemic Needs, and Improves Employee Experience with TextUs

Ochsner Health, the largest nonprofit healthcare system in Louisiana, has been providing high-quality patient care since 1942. They employ over 26,000 employees and over 4,500 employed and affiliated physicians in over 90 medical specialties.
At any given moment, Ochsner may need to get a hold of a nurse working in critical care at one of their hospitals, a patient care tech in another, and a med-surg nurse in yet another. They have a small, powerful leadership team that coordinates staff assignments, and this team's challenge has always been: how do they stay in touch with their healthcare employees?
What's more, in this outreach, time is essential. They typically have a team of float nurses scheduled for a shift who won't know their specific assignment until a couple of hours before the shift starts. It's imperative that Ochsner's staffing team gets a hold of the nurses quickly and effectively, not just to keep business running smoothly but to keep their patient care top-notch.
Ochsner had tried many solutions to tackle this outreach problem. They knew texting was the most effective way to get a hold of busy medical professionals – a nurse can't pick up a phone call when she's on the floor, but she can likely respond to a text.
But not all texting is created equal. At one point, the Ochsner team was texting from mobile devices.
It makes your thumbs ache just to think of it.
"I thought, there has to be a better way," said Bruce Weinberg, Assistant Vice President, Nursing Workforce Management at Ochsner Health. The staffing firms they partner with recommended TextUs and after demoing a few platforms, Ochsner opted for TextUs, too.
And they're glad they did. With TextUs, Ochsner Health got an 80% response rate on their text messages, improved their healthcare employees' experience, gained insight into conversations, and communicated rapidly changing information in real-time during the pandemic.
Here's how.
1. Improved response time and achieved an 80% response rate from healthcare professionals
Ochsner adopted TextUs in February 2020, and they started seeing the benefits immediately. Leadership connected with staff faster, communicated more effectively about shifts, and boosted their response rates.
Ochsner also improved their response time with TextUs. With the leadership team's ability to access incoming conversations and share the responsibility of fielding inquiries, they reduced lag time and reduced their average response time from three hours to under an hour.
2. Seamlessly managed multiple conversations among team members while working remotely during the pandemic
Then the pandemic hit. Many leaders and support staff had to work remotely to limit the spread of the virus. This meant that the team needed to coordinate a new communication strategy for handling an influx of staff communication, all while newly working from home.
"We were checking in with staff before and after shifts to make sure they were safe and had everything they needed. We augmented on-site leadership teams by "virtually" rounding on them, coaching them, and supporting them over text — never being face to face. We would have never been able to do that without TextUs."
During the pandemic, Ochsner found they needed a secure way to communicate even more frequently with staff, often about critical issues.
"Given the current pandemic, TextUs has enabled us to communicate quickly to hundreds of our staff about work assignments, address issues day and night, and stay connected even with our remote team members," said Weinberg. "This application has been instrumental in how we communicate with our frontline employees."
3. Communicated in real-time about ever-changing pandemic conditions
As with many crises, field conditions on the ground were changing frequently, particularly at the beginning of the pandemic. The Centers for Disease Control and Prevention (CDC) issued new guidelines often, as research into the virus was constantly evolving and impacting healthcare. Ochsner needed their staff to be up-to-date with information that could affect their health and the safety of their patients.
"Email is not always the fastest form of communication for our clinical staff. Our staff are constantly on their feet, dressed in personal protective equipment (PPE), and sometimes caring for multiple patients at a time. During this pandemic, we have seen things changed multiple times, sometimes hourly. Therefore, we determined email shouldn't be the only form of communication to provide time sensitive information," said Weinberg.
By sending a text message follow-up to crucial emails, Ochsner was able to communicate with staff like never before.
4. Improved employee experience and sped response to staff needs
Before adopting TextUs, Ochsner's outreach solutions gave little insight into text messaging. Multiple staff members could be having conversations with the same nurses, repeating information, or contradicting each other.
"I had no visibility into any conversations that were happening," said Weinberg.
With TextUs, Weinberg was able to see all conversations as they were managed by all team members. Due to this transparency, he started noticing patterns in the messages that were coming through and addressed opportunities for improvement.
"TextUs helped me a great deal because I could look and see many questions on the same issues. Then I could bring back to my team and say, 'Why are they asking so many questions about where orientation is? Have we communicated that to them in advance? How can we communicate it better?'"
With the leaders working remotely and not going into the hospitals, this transparency was crucial to maintaining consistent service, getting ahead of issues, and keeping staff happy during a stressful time.
The team was able to go above and beyond, noticing in real time when staff was struggling and reaching out proactively to meet needs.
"I was able to jump in and respond and say, 'Wow, I'm sorry you had to make such a big sacrifice. What can we do to support you? Is there anything we can do?' And that meant a lot to people, especially during these challenging times," said Weinberg.
5.Generated hero stories to spotlight frontline workers on social media (and got the attention of Oprah herself)
In the midst of all of this, Ochsner started doing hero stories on Facebook to honor their frontline workers. This was an initiative they had been trying to get off the ground for some time but weren't having any luck over email or via phone calls. Then, they started reaching out to staff over text.
"'How are you doing this,' I asked when we started getting a lot of attention for our nurses through #OchsnerHeroes. And Shannon, one of our team leaders, said, 'I'm just texting them and asking them to send me a picture of themselves in their PPE and tell me a good story,'" said Weinberg. "The stories just started rolling in with TextUs. In fact, one of the stories got shared so many times on Facebook that the Ochsner hero Amy Finnegan was interviewed by Oprah." Ochsner also had heroes featured on The Today Show, Jimmy Kimmel, and Good Morning America, among other national outlets.
In the interview, Amy was able to give national spotlight to the challenges faced by nurses in the time of the COVID-19. Being able to get a hold of people and give them the space to tell their stories can really change the way people see the world.
About Ochsner Health
Ochsner Health has been providing high-quality clinical and hospital patient care to Louisiana residents since 1942. Our healthcare family—today, comprising more than 26,000 employees and over 4,500 employed and affiliated physicians in over 90 medical specialties and subspecialties—is driven by our commitment to our mission to Serve, Heal, Lead, Educate and Innovate, and that passion is shared with every person who passes through our doors.
As Louisiana's largest non-profit, academic, healthcare system, Ochsner provides coordinated clinical and hospital patient care, all connected electronically to provide convenience for our patients, across the region by Ochsner's 40 owned, managed and affiliated hospitals and specialty hospitals and more than 100 health centers and urgent care centers.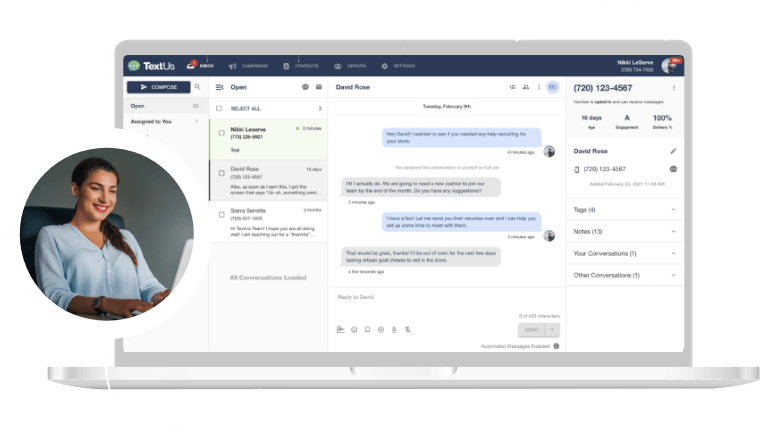 Get a TextUs Demo
Learn how thousands of businesses use TextUs everyday to communicate in real-time.