Is SMS Right for your College or University? The Top 3 Questions to Find the Right Communications Solution
Staying connected at colleges and universities can be tough. New students and returning students experience different emotions and comfort levels.
Staff balance time between courses and advising students. Admissions wonder if they will get through the deadlines and busy season. Alumni relations wants to make sure people attend events and stay connected after graduation.
How can you keep people connected from the first time they decide to attend your college or university until they are alumni?
Finding a communications tool that addresses all of your needs and brings people together is one of the most important ways to foster relationships at every level.
With a solution that includes a higher ed texting platform, we have seen how people from admissions and others in education can apply SMS to their strategy.
To be successful, we recommend thinking about and asking the following questions to make sure you have a platform that works for your college or university.
Do you need to send out mass notifications to a wide audience?

If you are looking to send out safety information or details that will affect all students and staff and need to quickly reach them, texting lets you achieve this. You won't want to waste time trying to find your contacts and figuring out if your colleagues have already sent something out and what was said.

It's important to find out which integrations the texting platform has. Each department at the college or university may have different systems in place and be working in silos. Make sure that when campus-wide communication needs to go out, you can easily see who is communicating, what message is being sent, and who is receiving the text. Integrations help make this possible.

Do you have multiple audiences with different needs?

Students may need different information about school fairs or advising than alumni who need information about their events or giving opportunities. Staff may need higher level information while prospective students will need more details to know if the college or university is right for them.

If you are able to segment your contacts and create campaigns with specific messages to each audience, you will be able to effectively and quickly reach people.

Some higher ed texting platforms will offer premium features or add-ons that will allow you to customize how you text. Make sure the features or service you pick will let you reach all of the various departments and student groups at your college or university.

Is the product easy to use?

Whether you are communicating with one large audience or segmenting messages to target the right people, you don't want to waste time trying to figure out how to use the solution.

A higher ed texting platform should help all departments and users quickly and easily send an SMS.

Understanding the key features and functions of the product will let you know if the product is able to answer the questions above and meet your needs.

If the texting platform embraces user experience (UX) then it will be easy to use and will avoid delays in implementation.

The easier a product is to use, the more adoption you will see across the college or university. We have seen up to 10x improved response rates when all departments use SMS in education.
One way to improve the student journey from recruitment to alumni is to incorporate SMS as a communications tool. Gen Z in particular finds texting to be a more preferable communication tactic than email or phone.
Customers in education who use TextUs love how easy it is to use to reach all of their different audiences. TextUs lets them customize SMS to be personal or send out group messages. We frequently bring our users into the product roadmap to gather feedback as part of the UX process so that we make sure we are building new features that customers want. One of our features, Campaigns Pro, lets users experience more media types, testing, branding, and measurement.
If you want to start using SMS at your college or university, get our texting templates and start communicating with students, alumni, fundraising, and admissions.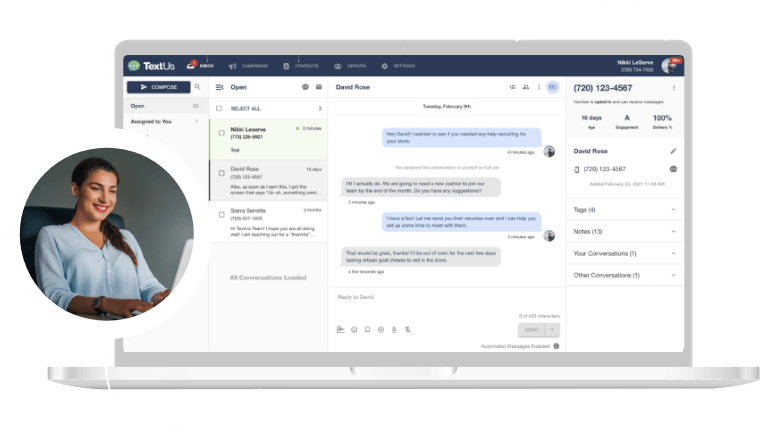 Get a TextUs Demo
Learn how thousands of businesses use TextUs everyday to communicate in real-time.