How Text-To-Join Simplifies Sign-ups and Boosts Your Subscriber List
In the world of marketing, acquiring new customers and keeping them engaged is vital to the success of any campaign. One effective approach is to use text-to-join campaigns. Text-to-join campaigns are a marketing strategy that enables customers to subscribe to your promotions and services through a simple text message. In this blog post, we introduce the concept of text-to-join, what it is, and how it can help you boost your subscriber list. We will also provide you with some text-to-join examples to inspire your next campaign.
What is Text-To-Join?
Text-to-join is a marketing tactic that allows customers to opt-in to your business promotions or service by sending a specific keyword as a text message to a short or long code. Once a customer sends the text message, they will receive a confirmation message with details about the promotion and the business. This method streamlines the process of sign-ups for interested customers as it eliminates the need for a web form or email follow-up.
Benefits of Text-To-Join
One of the main advantages of text-to-join is its high-efficiency rate, as it provides a quick and straightforward method for customers to subscribe. Additionally, using text-to-join campaigns allows companies to reach a broader audience, as SMS has a much higher open and response rate than email. This method is also cost-effective and low-risk as it allows businesses to gather contact information with minimal investment. It also enables enterprises to communicate and engage with their subscribers in a personalized way, improving customer loyalty.
Companies Who Have Used Text-To-Join Successfully
Dunkin' Donuts:
Dunkin' Donuts leveraged the fan hype for Pumpkin Spice Lattes with a mobile-only coupon campaign to drive demand for this seasonal drink. People could text the keyword "SPICE" to receive an SMS with a code for a free pumpkin and maple-flavored treat from their nearest Dunkin' Donuts store. This text to join campaign was a great success as it generated excitement, increased store traffic and customer engagement, and drove sales.
Southwest Airlines:
Southwest Airlines used a text to join campaign to give their customers a better flight experience with their Rapid Rewards loyalty program. Customers could get SMS updates on their account balances, flight status, and rewards using the keyword "JOIN". The airline made the experience more personalized and streamlined the process for their customers, resulting in increased customer loyalty and repeat bookings.
Zales:
Zales, the jewelry retailer, used a text to join campaign to boost engagement and grow their SMS database. Customers could text the keyword "JOIN" for regular exclusive deals and sales updates. The brand incentivized people to opt-in by offering a 20% discount on their next purchase with the code provided. This text to join campaign resulted in increased engagement and brand reputation, better customer retention, and improved sales.
Hydro Flask:
Hydro Flask, an outdoor lifestyle brand, used a text to join campaign to promote their Instagram content and gain subscribers. Customers could follow the brand's social media handles and receive exclusive content, tips, and offers by texting "HYDRO". The brand received many new Instagram followers and increased their social media engagement while consolidating their marketing channels and creating a better customer experience.
Applebee's:
Applebee's used a text to join campaign to track customer satisfaction and drive repeat visits. Customers could text the keyword "APPLEBEES" for a chance to win prizes or participate in surveys about their experiences. This text to join campaign allowed the restaurant chain to track customer feedback in real-time, make necessary adjustments, improve customer loyalty, and boost in-store revenue.
Effective Ways to Use Text-to-Join
Leverage Social Media
Social media is a powerful tool for connecting with potential customers and growing your subscriber base. By creating text-to-join campaigns on social media platforms, you can reach a wide audience and quickly grow your list of subscribers. Additionally, you can use targeted ads to target users who are most likely to be interested in your brand or product.
Offer Incentives
Offering incentives such as discounts or free products is another great way to encourage people to join your list of subscribers. People love free stuff, so offering something like a discount code or free sample of a product is sure to entice them to sign up for your list. You can also offer exclusive content or discounts only available to those who have joined your list as an added incentive.
Text-to-Join Contests
This type of promotion allows people to enter a contest by simply sending a text message with their contact information. The winner is then chosen at random and is typically rewarded with some sort of prize or discount. This type of promotion can be used to increase brand awareness, drive sales, and collect valuable customer data.
QR Codes
Brands can create unique QR codes that link directly to their website or signup page. These codes can then be placed on print materials such as flyers, brochures, business cards, and more. When scanned with a smartphone, these codes will take users directly to the desired webpage where they can learn more about the brand and sign up for updates.
Text List Sign-Up Best Practices
To get the most out of your text-to-join campaigns, some best practices include creating a clear call-to-action, setting expectations about the type and frequency of messages subscribers will receive, and always providing an easy opt-out option. Avoid using slang text phrases, ensure the keyword and code align with your brand, and abide by regulatory compliance.
In summary, text-to-join campaigns provide businesses with an efficient and effective way to grow their subscriber list. Using a text-to-join campaign helps businesses reach a broader audience, improve response rates, and increase customer engagement. Whether you're a restaurant, retail store, or startup, creating a text-to-join campaign can help you build customer loyalty and drive sales. By considering the above text-to-join examples and sign-up best practices, you can create a successful text-to-join campaign that encourages subscribers to engage with your business in a hassle-free manner.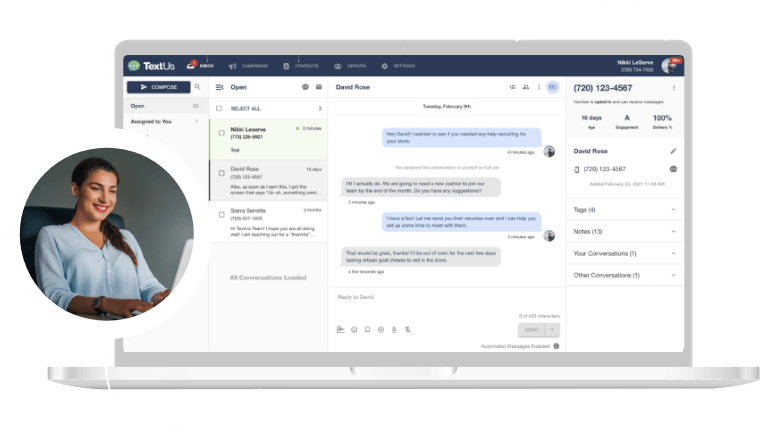 Get a TextUs Demo
Learn how thousands of businesses use TextUs everyday to communicate in real-time.