By the Numbers: How Texting Improves Staffing
Do you know your candidates' preferred communication methods? Communicating on their terms increases the chance of them responding and impacts overall speed to market and placement.
A 2021 staffing survey found that the biggest challenges recruiters in the staffing industry face today are:
Finding quality candidates
Getting candidates to respond
Getting candidates on the phone
How to Find Quality Candidates
Referrals are one of the quickest ways to find and place quality candidates. If you move your referrals to a digital platform like texting, you can set up a campaign that consistently promotes the program. It takes time to start from scratch and create a referral program, so what often happens is that you wait and do one big push a year.  It is too heavy a lift to recreate that process multiple times a year.
With texting, you can set up a recurring campaign for referrals that will give your applicants a consistent experience with your brand and it takes less time to set this up once and let it play out throughout the year!
The other great idea around referrals is even if someone isn't interested, you can text a referral link. This is less awkward than putting a candidate on the spot for a referral over the phone.
One of our customers saw two-times increase in referrals in one month and a 51% increase in referral placements.
There is a shift with recruiters moving from job boards to their database to find quality candidates.  On job boards, you compete with other recruiters and staffing agencies.
The key to success in finding quality candidates is to use what you have and build relationships through quality conversations. Those quality conversations can happen in a real-time environment like texting.
Quality Conversations = Quality Candidates
Engagement is high with texting because it's a conversation and a messaging medium. Getting candidates to respond to emails can be a challenge because that platform is only focused on one-way messaging and not on building a quality conversation in real-time.
Top reasons to include texting into your recruiting communications:
74% of consumers prefer talking to a real person than a bot
98% of messages are read on SMS compared to 20% of emails
49.7% of email is spam
10DLC will keep texting trustworthy and not allow bad actors into the ecosystem. If your emails aren't opened and your phone calls are not returned,  you can experience improved deliverability and higher throughput with texting.
How to Improve Texting Response Rates
Two factors influence response rate: the type of message & the length of the message.
The staffing industry response rate is 34.7% which is lower than other industries.
The good news is that you can control the response rate. 
Why does your industry have a lower response rate? Staffing is only incorporating conversational texts half of the time versus other industries that are having conversational messages 70% of the time over automation.
The type of message you send impacts your response rate. Conversational texting gets three times more response rates than automation.
If you look at the diagram above, staffing does better than other industries when conversational text is implemented. The staffing industry is close to 60% where others are around 50%.  Automated texts typically cap out at a 20% response rate no matter the industry.
If you start with automation, make sure you move to a real person texting to establish an engaging conversation. Try to shoot for more than 60% of your texts to be conversational to optimize engagement.
The length of your text messages also affects the response rate.  Two-thirds of messages from candidates are 50 characters or less but over 60% of staffing agencies are sending 200 characters or more to candidates.
Shorter messages have five times the response rate.
Less is more with texting — be concise and get more responses.
When are Candidates Texting?
85% of candidates respond after the first text.  You can increase that rate by sending a second or third text to those who did not respond yet (but make sure to remove those who have, so as not to spam engaged candidates).
Whats more, 70% of responses will come in within the first two hours. You must be able to see these messages to optimize engagement and master the art of conversations. Make sure your texting platform allows you to do this with either a Chrome extension where you can see texts while in your ATS or a mobile app for when you are on the go. According to our users, there doesn't seem to be a clear winner for the best day of the week to send a message; however, candidates respond quickest on Thursday or Friday.
Candidates check their phones and text throughout the day, and prefer that compared to taking a call when they may not want or be able to take a call.
Candidates are texting during the day whether they are at work or doing other things. Texting is the polite way to have a conversation.
With the demand for candidates wanting to communicate with text messaging, the key to getting the best response rate is for your whole team to adopt texting and use it consistently.
Texting can help improve your candidate communication and reach them on their terms. It's a win-win for both of you! Download the infographic to share some quick stats with your team.
Want to dive deeper with our CEO and hear from a staffing agency member? Watch our on-demand video here.
Happy texting!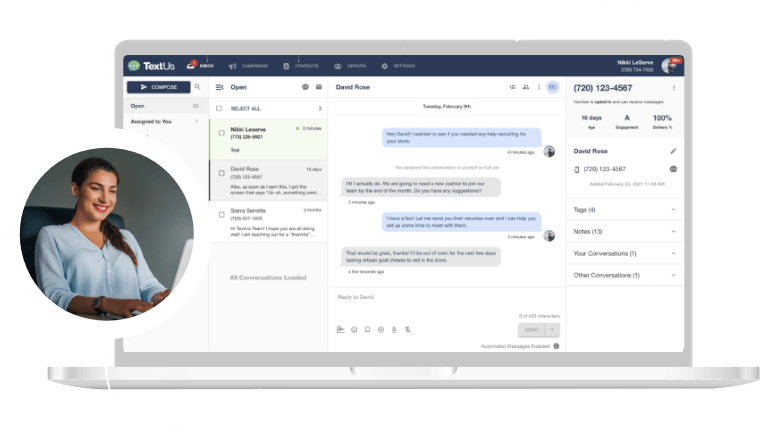 Get a TextUs Demo
Learn how thousands of businesses use TextUs everyday to communicate in real-time.