Learn More About the Power of TextUs + Salesforce [Now Available on the AppExchange]
Here at TextUs, we're building our Business Texting Partner Network with an eye towards constantly increasing the value we deliver to our customers. This is the first in a series of blog posts that will introduce you to the software and tools that make up our constantly expanding network.
Here's more on the power of the TextUs + Salesforce integration now available on the AppExchange.
Send and receive text messages from within Salesforce
You can now send and receive text messages and record them as Activities using any standard or custom object in the Salesforce platform.
Send personalized, automated, and group text messages
Not only can you send and receive text messages in your CRM, you can also send and schedule personalized group messages to up to 100 clients at one time.
Create custom text messaging templates
Salesforce users can create custom text templates for messages they send regularly to clients. They can also share these templates company-wide to help foster a consistent communication strategy.
Track and record all texting activity
Just as Salesforce customers track and record email, web, and voice call activity from within the CRM, you can now track text messaging communication, too.
Customize communication reports and boost analytics
By including text messaging data into reports and analytics you can get a holistic picture of your communication strategy. This will help you tailor your communication strategy and improve your outreach efficacy for individual prospects.
Create custom triggers and workflows
Using Process Builder you can configure simple triggers and workflows from your Salesforce accounts.
Learn more about the power of the TextUs + Salesforce integration now available on the AppExchange.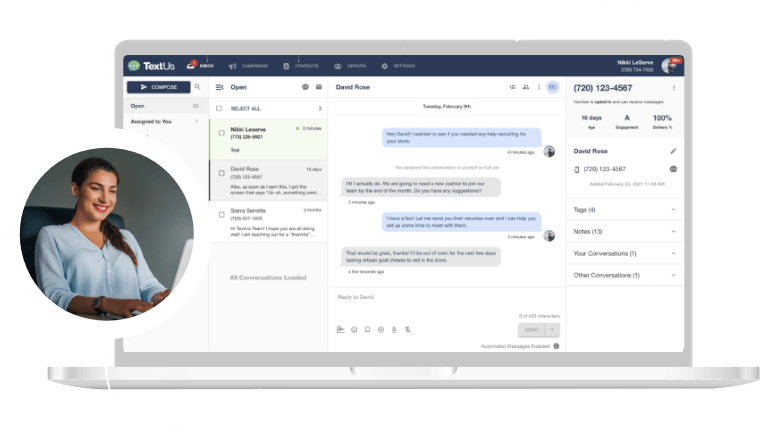 Get a TextUs Demo
Learn how thousands of businesses use TextUs everyday to communicate in real-time.