Real Estate is Booming: How Texting Can Control the Conversation
Some markets are just hot. There are cities where you don't have the luxury to wait and mull over a home purchase because someone is probably going to swoop in and take it if you don't make an offer.
Speed matters in real estate. Texting is a great match for the industry because texting excels at speed.  You can quickly send messages or campaigns – or even automate your text messages now. The speed of a reply rate for text messages versus returning a phone call or email is also faster.
While speed remains critical in real estate, the pandemic brought it to a halt, and now the rebound is booming. How has this impact affected communicating in real estate whether you are in commercial, residential, buying, selling, or a mortgage broker?
Commercial Real Estate Impact
The halt in commercial real estate was fueled by other industries closing during the pandemic.  Hotels, restaurants, retail, and many small businesses that are prime candidates for commercial real estate brokers become quiet.
The pivot to digital became necessary in all areas of life, and the real estate industry was no exception.  In an industry that relies heavily on in-person tours and evaluation, the transition is more nuanced.
Tenant communication is imperative with commercial real estate leases including multi-year agreements that can span a whole decade. Communicating changes to management, property updates, or regulations during a pandemic is essential.
"Companies can significantly increase tenant engagement by optimizing real-time updates about facilities and developing a sense of community using mobile apps. About one-half (48%) of respondents who said their company is using digital technologies, such as interactive mobile apps, to increase communication with tenants or end users, plan to increase investment on digital channels over the next year." –Deloitte Study
With facilities increasing investment on digital, text messaging stands out as a prime target. With business texting, you can instantly manage properties and tenants with information, sign paperwork, negotiate contracts, build a community, and send recurring campaigns. TextUs campaigns allow you to group by properties so you can create specific messages for each.
Residential Landscape
It's a sellers market. The demand for homes paired with low interest rates has more buyers looking than homes for sale. Bidding wars increase prices and efficient communication increases chances of closing in your favor.
Whether your clients are buying or selling, you want to make sure their offers are good and quick.  Texting communicates at a good pace, and is more likely to be seen and replied to compared to emails or phone calls.  If your client is at work they may not be able to answer your call or check their personal email. When they see a text notification from you, they are more likely to see it and respond.
Have you ever met with a client who was testing the waters and just dipping their toe in to buy or sell? Maybe they just want to talk with an expert and understand the market first but decide they aren't ready.  That doesn't help you close a deal.  You can't control when someone is ready to take action, but you can be there when they are ready. Texting campaigns keep you front of mind for buyers and sellers for just that.
What about no-shows? You schedule an appointment to view a listing, but the person never comes. You try calling but it's already too late. Maybe they say "just didn't see your email" and apologize. With business texting, you can create appointment reminders that you know a prospective buyer will see and know in advance if they won't be able to make it so you can turn your attention elsewhere and not waste valuable time.
Mortgage Lending and the Financing Journey
With a busy market, strong demand, and plenty of competition, you don't want financing to be an obstacle for your clients. Creating a strong process for communicating, explaining, and finalizing the financing process can make the difference between a deal or loss.
The more time you save by automating repeated activities, the more time you have to spend with clients — building meaningful relationships and moving them towards their dream homes.
You can easily create texting templates including:
Setting up an initial call
Thank you for a referral
Post-referral follow-up with a client
Link to paperwork
Reminders or nudging
Here are five texting templates you can use immediately in the financing journey.
Benefits to Texting in Real Estate
No matter if you work in commercial, residential, or lending, one key benefit of text messaging is the ability to follow-up with your clients and get a response.  If you find that your calls or emails get ignored or delayed responses, texting provides a better alternative.
Texting templates can also include a link to review your services to help build your reputation in the industry.  Even if you don't set up a formal review template, you may find many testimonials and positive quotes built into your messages from clients that you can use.
The real-time benefit to business texting improves your internal communications.  Everyone on your team will know where clients stand in the process so that no one is overstepping or a client gets lost in the shuffle.
While business texting easily allows you to send documents, retrieve signatures, and manage tasks, you can also use it to build relationships.  The real estate industry relies on good relationships, referrals, and a strong sense of community.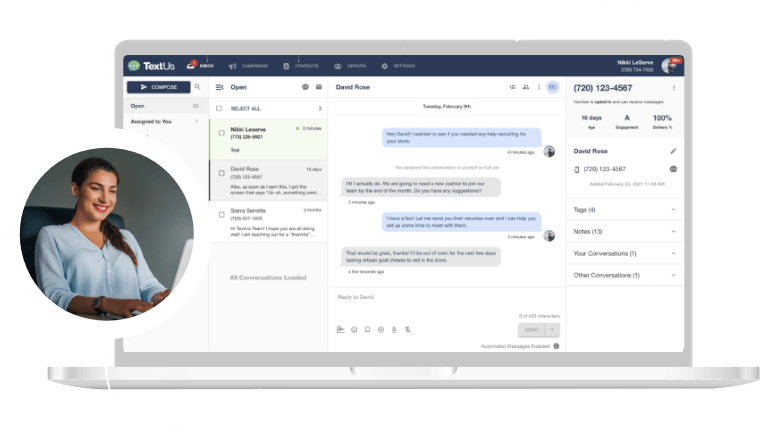 Get a TextUs Demo
Learn how thousands of businesses use TextUs everyday to communicate in real-time.