TextUs Integrates with Greenhouse to Add Text Messaging to Your Talent Acquisition Process
We're happy to announce that we've integrated with Greenhouse, the applicant tracking system and talent acquisition software that optimizes the entire recruiting process. TextUs for Greenhouse enhances your ATS experience with integrated text messaging, improving workforce productivity, increasing communication efficiency, and boosting customer engagement.
With the new integration, Greenhouse users can send and receive personalized text messages directly from their ATS to communicate in real-time with your candidates. The integration also allows users to track text touches directly from candidate profiles.
"Greenhouse represents the cutting edge of recruiting technology," said Ted Guggenheim, TextUs CEO. "Our seamless, two-way text messaging integration with Greenhouse perfectly meets the needs of every modern and forward-thinking HR department."
Greenhouse is just the kind of company we're proud to partner with, one that shares our obsession with creating a great company culture, with solving recruiting problems, and with sharing the growth. Debuting with us this year on the Inc. 5000 list of fastest-growing American companies this year, Greenhouse is devoted to solving recruiting woes for some of the biggest companies in the country, including Lyft, J.D. Power, and the Golden State Warriors.
About Greenhouse
Greenhouse is an applicant tracking system and recruiting software designed to help businesses find suitable candidates, conduct focused interviews and optimize their recruiting process. Greenhouse is an integrated platform that streamlines various recruiting activities including planning hiring processes, sourcing job applications, managing interview rounds and organizing post-hiring activities.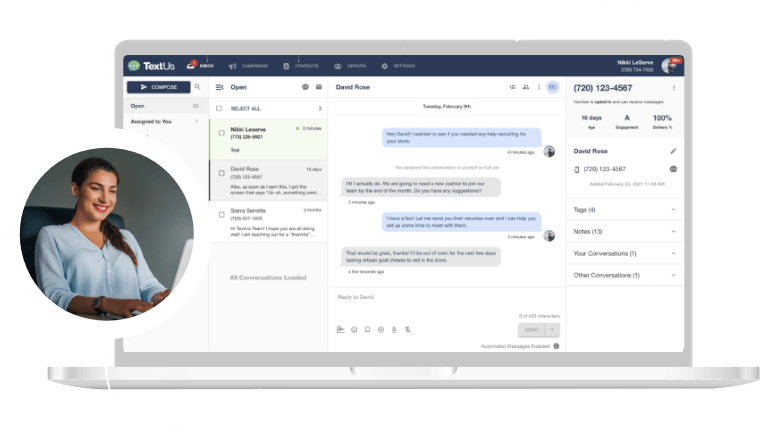 Get a TextUs Demo
Learn how thousands of businesses use TextUs everyday to communicate in real-time.