The Power of Sports Mass Texting: How SMS Campaigns Can Boost Your Sports Marketing and Sales Efforts
Sports marketing and sales differ greatly from traditional marketing and sales campaigns. Unlike other industries, sport marketing requires connecting with and engaging a multitude of fans, athletes, journalists, trainers, and countless other individuals within the sports ecosystem. With the advent of SMS marketing, sports organizations now have potent tools at their disposal that can help them reach wider audiences and boost sales and fan engagement. In this blog post, we're going to discuss the power of sports mass texting, how it has revolutionized sports marketing and sales, and how your sports organization can take advantage of it.
Why Sports Mass Texting Is Effective
Sports mass texting is an effective way to boost sales, engage fans, and foster goodwill with customers. Research shows that SMS has a 98% open rate and a response rate of 45%, making it one of the most effective channels for reaching customers. By using sports mass texting, you can reach fans with timely game reminders, ticket sales, exclusive offers, and discounts. The personal and immediate nature of SMS makes it an ideal way to connect with fans and provide real-time updates, scores, and highlight reels, all of which are essential in boosting enthusiasm and engagement.
Sports SMS Campaigns
To start your sports organization's SMS campaign, you will need to acquire fans' phone numbers and acquire their consent to receive SMS messages from you. You can also create a custom keyword, such as "SPORTSFAN," which fans can text to opt-in to your SMS campaign. With an SMS marketing platform, you can then send automated targeted messages to these fans, tailored to their demographic, interests, and location. This allows for a more personalized and effective marketing and sales campaign.
Sports MMS Campaigns
Apart from SMS campaigns, sports organizations can also harness the power of MMS, which allows for the delivery of multimedia content such as images, videos, and audio. MMS campaigns can be used to send highlights of past games, exclusive footage of athletes, specific box seats or suites, and behind-the-scenes content, further deepening fans' engagement and creating excitement around upcoming games and events.
Best Practices for Sports Mass Texting
When conducting your sports mass texting campaign, there are best practices to keep in mind. Firstly, make sure your messages are concise and to the point, while still being engaging and personalized. Secondly, ensure that fans can opt-out easily, following SMS laws and regulations. Finally, time your messages effectively, sending them at the right time to the right fans to increase response rates.
In today's digital age, sports organizations must take advantage of the latest mobile technologies to engage fans, boost sales, and foster enthusiasm around their sport. SMS campaigns provide a powerful tool to achieve these goals, with high open and response rates and the ability to personalize messages. By following best practices and emulating successful case studies, sports organizations can reap the benefits of SMS campaigns and stay ahead of the game.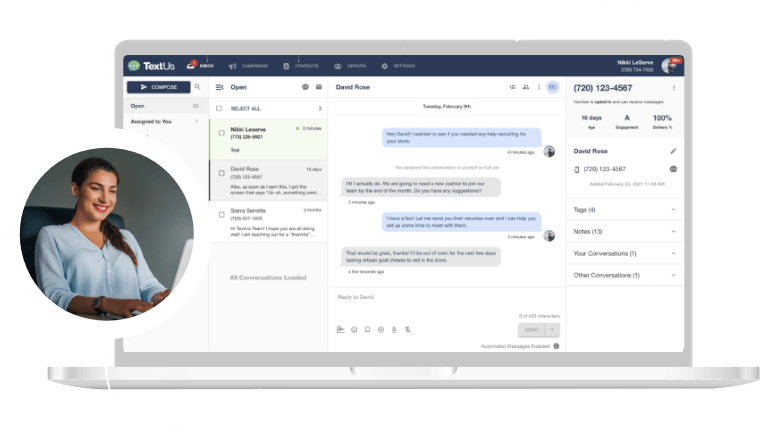 Get a TextUs Demo
Learn how thousands of businesses use TextUs everyday to communicate in real-time.