Are you leveraging your tech integrations?
Create content like you build integrations: with intent
In the world of technology, integrations are an important part of development. Users want to make sure that their tech stack complements one another so that it makes their lives and jobs easier. Engineers work hard to ensure that integrations happen in a timely manner and are prioritized by the greatest benefit and need to users. 
Whether you use a customer relationship management (CRM) system or an applicant tracking system (ATS) to manage your sales and applicant processes, having a software application that integrates will let you improve efficiency. While we develop a positive user experience for integrations so that people can easily attain results, our content management should also give readers a positive experience. 
Just as engineers thoughtfully develop software applications that will improve data integration, we should be intentional with our content and provide quality value. If software should be easy to use, content should be easy to find and consume. 
The best way to get your content in front of others is search engine optimization (SEO), which can take time to start building. Here are some of the best ways to begin thinking about SEO and content marketing from an engineering perspective. 
1. Use public announcements
When you build an integration to another tech stack, make sure you make an announcement about it. Even if it is not a true partnership with the other company, letting users know about this new integration will help you reach an audience and build your brand. By incorporating a media release to your website including the brand name and the benefits to the integration, you will begin to open up a new pipeline of people. 
Co-marketing efforts are ideal because it allows you to combine efforts and resources. This also aligns both brands to the audience and lets users understand the benefits of experiencing both solutions together. In addition to using press releases to announce the integration, you can do a joint webinar or video, write a blog series about the benefits and integration, include sales enablement materials for both teams, tagging one another in social posts, and launching a well-titled landing page. 
2. Use similar and focused keywords
If you are using a software that lets you monitor your website, keywords, and rankings, you should be following which words you rank for as well as your competitors and partners. As you build a new integration, look and see what kind of keywords and content the other company is utilizing and ranking for. This will help you to generate views to their users that are likely to benefit from your content and solutions. 
By focusing on and including keywords you can understand the search volume, difficulty, and how keywords will show on search engine results pages (SERPs). Once you see the difficulty and volume of keywords, you may want to include longtail keywords to better connect and convert. An example of a keyword for our industry is "SMS" and a longtail keyword would be "how to use SMS in business".  
"Searches of more than four words make up 95.88 percent of Google searches, meaning there are lots of clicks to be had. Because these searches are more specific, the people making them tend to have greater buyer intent." –Neil Patel
3. Use external and internal links
As you write content, you will want to link back to other related articles that you've written on your blog or site already. Backlinks are an important part of SEO but the days of randomly stuffing or linking to irrelevant content or brands can do more harm than good. Looking for content from other brands in a tech stack and linking to one of their articles will help build credibility and brand awareness to your shared users. It also increases the likelihood that their users will be a good product fit and be interested in your content.
Recent research shows that "backlinks are still critical and "pages with lots of backlinks rank above pages that don't have as many backlinks. In fact, the #1 result in Google has an average of 3.8x more backlinks than positions #2-#10." If you work with your integration partners and they are also linking to your site, solution, or blog posts, the visibility of your brand will increase.
With Google still leading in search queries and usage, Google Search Console remains one of the top ways to manage your SEO. As you build integrations and announce them publicly,  think about which keywords to focus on, and create backlinks, you will build your brand reputation and drive traffic to your solution. 

If you are currently using HR software, applicant tracking systems, or CRMs, take a look at some of our integrations. We specialize in building integrations to make communicating with candidates, employees, customers, and prospects easier for you!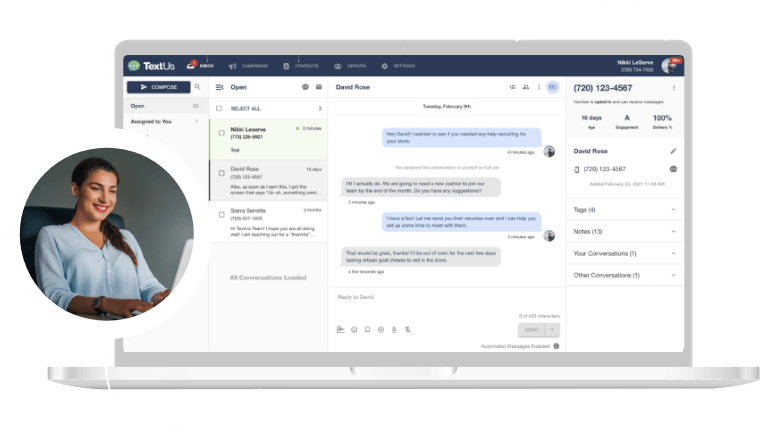 Get a TextUs Demo
Learn how thousands of businesses use TextUs everyday to communicate in real-time.