Best practices for SMS opt-outs
This is part two of managing your marketing subscriber list series. If you missed part one about how and why you should opt-in users to receive text messages from you, you can read it here. In this part, we talk about sms opt out rules, one of the criteria highlighted for compliant marketing.
Just as important as collecting permission to opt-in users, you should also make sure that users have a clear way of opting out at any given time from your business marketing communications.
What is SMS opt-out?
An SMS opt-out is a way for users to stop receiving text messages from you. It's similar to an unsubscribe. SMS opt-outs apply to marketing-related messages from your brand. It does not blacklist them from receiving transactional text messages such as for support or administrative messages regarding their account or user status.
When you give SMS opt-outs not only are you being compliant but you also are establishing a positive customer experience. Marketing and sales are often one of the first touchpoints a prospect will have with a company. If you are transparent from the beginning of the customer journey, users will have a better relationship with your brand and engagement will be higher.
You may think that offering an opt-out will decrease your numbers and chances of selling faster and in larger quantities, but by narrowing down your contact list to users who actually engage and purchase, you will be able to better tailor your marketing campaigns and see greater results for long-term success.
Is there a difference between email and SMS opt-out definitions?
Both email and SMS offer ways for users to stop receiving marketing and promotional content. While SMS uses the term "opt-out", email more commonly uses the term "unsubscribe".
One way to provide an SMS opt-out is sending a text message that says something like "Reply STOP to opt out." Keywords such as STOP and UNSUBSCRIBE sent to a TextUs account will automatically opt users out. One TextUs feature we built allows you to take an opt-out list from your database and load that into TextUs. This means that you will start out on the right foot with SMS compliance.
Email unsubscribes usually have a link at the bottom of the email message. This action automatically removes users from receiving further promotional emails. If a user manually replies back to an email, human contact may be necessary to update the contact's information.
If a user sends a long text message back and does not include a keyword, you may need to respond with clarification to remove the contact from SMS marketing.
Managing your contacts and marketing campaigns is a part of the life cycle. Most CRMs have contact options that detail which campaigns, parent organizations, and other information a user is a part of. You can control how and when you send a contact content and managing opt-outs is a part of that process. Because marketing campaigns may offer different content value, you can offer opt-outs that are very specific. For example, have users text STOP A to remove from sales, STOP B to be removed from monthly roundups, or STOP C to be removed from daily text messages.
What laws govern email and SMS opt-out requirements?
The Telephone Consumer Protection Act (TCPA) was passed by Congress in 1991. The goal of TCPA is to protect consumers from unwanted solicitations (aka spam) from third parties who are marketing products or services over the phone, via voice or text. To do this, text message platforms should know how to best manage opt-outs. More specifically, how to ensure that every contact's desire to be opted out is enforced. A good best practice is if you have two or three phone numbers listed for someone and they opt out from one number, they should be removed from all communication for all numbers you may have for them.
While not a governing law, the Cellular Telephone Industries Association (CTIA) is a trade group that acts on policy issues relevant to the telecommunications industry — including SMS. Some of the guiding principles and best practices the CTIA states text message senders should do include:
Offer clear call-to-actions including how to opt-out.
Send one final opt-out confirmation message per campaign to notify the consumer that they have opted-out successfully. No further messages should be sent following the confirmation message.
State in the message how and what words affect an opt-out.
Retain and maintain all opt-in and opt-out requests in their records to ensure that future messages are not attempted (in the case of an opt-out request) and consumer consent is honored.
Remove any deactivated telephone numbers from any opt-in lists.
The CAN-SPAM Act gives clear instructions for email-opt-outs. You should tell recipients how to opt out of receiving future email from you and that message must include a clear and conspicuous explanation of how to do so. The Act says the message should allow "ordinary people to recognize, read, and understand. Creative use of type size, color, and location can improve clarity." Another thing to consider is making sure your company spam filter doesn't prevent you from seeing opt-out requests.
The CAN-SPAM Act specifies how to provide opt-outs and the timelines to abide by: "You should honor opt-out requests promptly. Any opt-out mechanism you offer must be able to process opt-out requests for at least 30 days after you send your message. You must honor a recipient's opt-out request within 10 business days. You can't charge a fee, require the recipient to give you any personally identifying information beyond an email address, or make the recipient take any step other than sending a reply email or visiting a single page on an Internet website as a condition for honoring an opt-out request. Once people have told you they don't want to receive more messages from you, you can't sell or transfer their email addresses, even in the form of a mailing list."
This includes starting fresh when you go to another company. Let's say you work in sales and get a new job: you cannot add former email addresses to your new company's marketing email lists without proper opt-in. This violates the user's opt-out request.
How do mobile carrier acceptable use policies affect SMS opt-out requirements?
To make the most of your SMS marketing campaigns, you should adhere to the policies, regulations, and guidelines for the industry. Mobile carriers designed acceptable use policies to ensure that those who use mobile devices are doing so in legal and credible ways. Concerning opt-outs, these policies make users aware that they are responsible to find the correct ways to include, process, and honor opt-outs.
Some common ways of providing SMS opt-out language includes multiple keywords that make it clear and easy for the user to pick the best and most relevant option for them. For example: they should know to text STOP to stop receiving text messages, HELP if they need support or help understanding, as well as access to your terms and privacy policy. This content should be included in your first opt-in text message followed by a confirmation opt-out or opt-in text message.
How do you opt out contacts from marketing communication?
Use these tips to ensure that you are contacting users who want to receive communication from you:
Make sure the whole team honors the opt-out. This is one area where automation, integrations, and data syncing can be a life saver. Instead of making sure sales and marketing both update their appropriate CRMs with contacts, you can have one record that updates all tech stacks and honors opt-outs in real-time. Given the importance of making opt-outs instant and for good until users opt back in, choosing an SMS platform with integrations and features to help you stay compliant can make an incredible difference. A quality text messaging platform will understand acceptable use policies of mobile carriers and build around that. This also keeps teams compliant regardless of employee turnover.
Have a marketing mix. Know how users want to be contacted. Your marketing mix and communication should meet the needs of your prospects and customers. Give them options for what they want to opt into. Maybe they don't want to receive daily emails from you, but would like to receive an SMS when you have a promo code. Make it clear for them and you on which channels they want to hear from you. Personalization is one UX feature that users appreciate in their tech solutions.
Disclaimer: this is not legal advice. You should always consult with a legal expert and verify with your mobile carrier on specific guidelines and laws that impact your business communications.
Be sure to contact us today for more information and best practices for SMS marketing.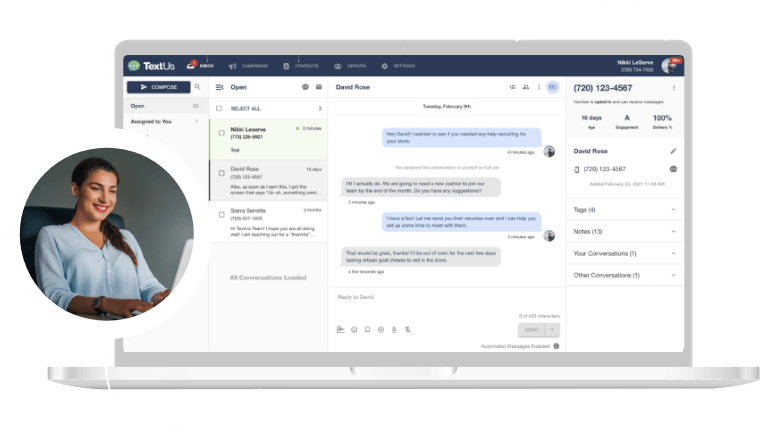 Get a TextUs Demo
Learn how thousands of businesses use TextUs everyday to communicate in real-time.