LiquidAgents Healthcare Cuts Outreach Time in Half and Boosts Response Rates 2,777% with TextUs
Every healthcare recruiter knows that it's tricky to get responses from nurses. They work long, erratic hours, their days off may shift weekly, and their availability for new positions changes rapidly, too.
With TextUs, LiquidAgents Healthcare cut outreach time in half, expanded the reach of each of their messages, and boosted response rates 27x over email.
By broadcasting personalized text messages and integrating TextUs with recruiting software, LiquidAgents nurtured existing staffing relationships, freed recruiter time to pursue new nurse leads, and grew their business.
The challenge
LiquidAgents recruiters couldn't get a response from their travel nurses. They couldn't get their nurses and leads to email or call them back. This is because their nurses were inundated with mass, generic emails from many different agencies and were no longer responding reliably.
LiquidAgents needed a personalized, quick, convenient way to communicate with their nurses.
The solution
With TextUs, LiquidAgents improved recruiter efficiency, streamlined the nurse booking process, and improved nurse response rates by 2,777% over email.
David McKenzie, Director of Talent Advisory at LiquidAgents, had been texting nurses for years from his own cell phone. He knew using TextUs could boost his efficiency significantly.
In the first week of using TextUs, McKenzie sent 1,000 text messages, but his fellow recruiters weren't using the tool at all.
He worried the platform wouldn't take off because his coworkers weren't aware of its power.
He set up a Lunch & Learn with staff and opened their eyes to its features, like Group Broadcasts, Message Scheduling, and best texting practices. "Since that meeting, all our recruiters have been on board. It was a game-changer for our business."
LiquidAgents also heard back from candidates more quickly and received follow-ups from dormant nurses who had been out of contact for six months or more.
The healthcare staffing firm also streamlined their process for booking nurses. For example, they harnessed the TextUs Broadcast tool to send targeted, personalized text messages to nurses whose contracts were expiring soon.
They also used TextUs's scheduling function to time these messages to arrive just when a nurse was just coming off a shift.
This improved their chance of getting a rapid response. Also, by asking for referrals from existing travelers, LiquidAgents could schedule two or more nurses for a gig with a single text.
LiquidAgents' nurses weren't the only ones who responded more quickly and reliably via text. Their recruiters were more responsive as well.
By staying engaged with the TextUs app, recruiters are easily able to answer quick questions, nurture leads, schedule appointments, and move nurses along the booking process without having to interrupt their other workflow.
Integrating TextUs with LiquidAgents' existing systems also improved recruiter productivity and increased security.
Sheldon Arora, CEO of LiquidAgents, said, "TextUs integrated seamlessly with our recruiting software, making it easy to keep detailed notes on each candidate. What's more, since TextUs logs all messages, our company remains in control of all our communication."
Learn more about Texting in Healthcare and how TextUs can help your organization
About LiquidAgents Healthcare
LiquidAgents Healthcare provides clinical staffing solutions to public and private healthcare facilities nationwide. Since 2003, the company has served partnered clients by providing proven, experienced healthcare professionals, staffing flexibility, industry-leading credentialing methods and dedicated customer support. Certified by the Joint Commission with a "Gold Seal of Approval" and voted by employees as a "Best Place to Work" multiple times, LiquidAgents Healthcare is a trusted name in healthcare staffing.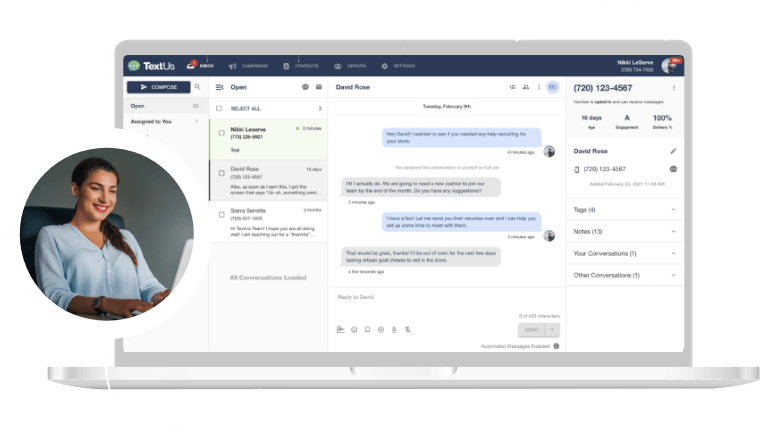 Get a TextUs Demo
Learn how thousands of businesses use TextUs everyday to communicate in real-time.