Common Sense: TextUs is the SMS Platform
When it comes to text message communication, two of the top must-haves are reliability and deliverability. If no one gets your text message or if the SMS platform is not consistently reliable, are you getting what you pay for? When you choose text messaging as a talent engagement and communication solution for staffing and recruiting, you want to take a common sense approach and deliver what candidates want — ease of use and convenience.
Automation should make life easier
The benefit of automation is that it reduces manual workloads. This saves time for users — whether employees or customers. There are many great uses of SMS automation including scheduling, sending reminders, and using keywords to subscribe people to receive your communication.
When contacts text in a keyword, you'll get a sense of what they are interested in. With TextUs, all contacts who text in keywords are added to contact groups that can be used for future campaigns like sending them a text message when a new job that matches a contact's preference is available or following up after an interview. You can create multiple keywords for additional touch points. 
While automation can increase productivity in some cases, there are also some instances that require human touch points including customer service.
UX trifecta: Ease of use, good training, local support
Does the SMS platform you choose have a responsive team?
Automation can only take you so far. When people have an issue that needs more attention or is a rare case, a chatbot or person out of the country may not be able to understand and solve the issue swiftly. Having a dedicated account manager to help you navigate and give best practices will improve adoption across the company and increase response rates.
What does onboarding look like with the software company?
Does it look like the entire company is transparent and in the loop? Or have you talked to sales, then are passed over to account management where there seems to be a disconnect from sales, and then talked to someone in another country who has no idea who the sales reps/account managers are and are just reading from a pre-printed script? It can be frustrating when a product doesn't work the way you want it to, but it's even more frustrating when you can't find the proper support or training needed. 
Does the text message platform have robust features that make it easy to set up campaigns (including supporting larger campaign sends and contact uploads), A/B testing, link shortening, and tracking analytics?
Having advanced analytics and reporting with insights into deliverability lets you send the right message to the right contact. Our own HR team uses TextUs to recruit, train, and provide internal communication. The ability to segment contacts is one of our team's favorite features because it helps send targeted campaign messages in an authentic way. TextUs allows up to 10,000 contacts per upload; Sense allows 1,000 contacts per upload and some users who have switched to TextUs from Sense have reported a 100 contact limit. 
Is there a capability to filter out and suppress contacts who have recently received other campaign messages?
Making sure your contacts receive the messages they want and that you are not bombarding them is important for engagement.  TextUs won't send campaigns if a number has been detected as a landline to prevent compliance issues and also keep you paying for the right usage of contacts. 
Other features that make sense to have with your SMS platform are text quality indicators for automated feedback to help craft better messages, SMS API that allows companies to integrate text messages and contacts with a CRM or any other tool, and support for multiple single sign-on (SSO) providers that makes it easy for users to sign into various platforms in a secure and convenient way.
Don't overpromise and underdeliver features
Roadmap feature planning is part of the SaaS lifecycle. How do you prioritize features and make sure you are able to deliver? If a rep is selling on promises, but the product doesn't deliver, an easy scapegoat is to give someone the problem who lives in another country. 
Complaints in consumer marketing happen. When a product like makeup or car cleaner doesn't work the way a customer wants or doesn't achieve the desired (or promised) results, a customer will just throw it away and vow to never use the product (or brand) again. 
In B2B, when products don't work like they're promised, you see adoption go down.
It's much easier to toss your consumer product and eat a minimal one-time cost. A software platform is a longer investment so if you don't like it or don't use it to full capacity, you are still likely going to be paying for it but without seeing any return on your investment. 
How do you know if you bought a software platform that has a chance of not fulfilling promises in the product roadmap?
One sign is if the sales reps have great success. They easily close deals. But the account management team or support is always taking complaints that say "sales told me it would be like this." If you feel like the buck gets passed (especially overseas), the product feature you are longing for may not be on the roadmap. The company is more concerned with short-term sales than long-term growth and investment in their company product and your success.
If the SMS platform promises many different functionalities but is not able to deliver, it may seem great to have email, SMS, and referrals all packaged into one, but if not built correctly, it may not function as you need it to. A more reliable option would be to have an SMS platform that integrates with other tech stacks in a way that means you don't have to toggle between platforms but keeps your SMS feature high quality and high functioning. 
Given some of the lack of feature fulfillment, Sense Messaging customers looking for alternatives are coming to TextUs. Some users have reported that message delivery was low with AT&T customers. Customers that have come to TextUs from Sense also note that there were technical issues with the product. Bugs happen in software; but if it happens enough that you lose customers, there may be a greater cause.
SMS features that make sense 
These features make sense, but you won't find them with Sense Messaging. 
Text quality indicator
Contact segmentation
A/B testing
Branded link shortener
Link tracking
Keywords
SMS API
Looking for more feature comparisons between TextUs and Sense? Here is a breakdown of what you will receive from TextUs and Sense.
| | | |
| --- | --- | --- |
| | | |
| Platform Products | | |
| Web app | | |
| Mobile app | | |
| Chrome extension | | |
| User Features | | |
| 1:1 messaging | | |
| Mass texting | | |
| Scheduled messages | | |
| Templates | | |
| Message personalization | | |
| Opt-in status | | |
| Opt-outs | | |
| Contact import | | |
| Auto responses | | |
| Text quality indicator | | |
| Contact segmentation | | |
| Add attachments  | | |
| Campaigns | | |
| A/B testing tools  | | |
| Branded link shortening | | |
| Link tracking | | |
| Keywords | | |
| Automated sequences | | |
| Webchat | | |
| Admin Features | | |
| Analytics | | |
| SSO Support | | |
| Data encryption | | |
| SMS API | | |
| CRM / ATS integrations | | |
| 10DLC registration  | | |
| 3rd-party penetration testing | | |
| Customer Resources | | |
| Dedicated account manager | | |
| Technical support | | |
| Help center | | |
A quality SMS platform will have higher adoption and usage that lets you future proof your talent acquisition.
TextUs users love our platform! G2 rated us as a leading conversational texting platform for mid-market and enterprise companies. We are a feature rich company supporting high functionality that lets you recruit and place candidates with ease, but we also execute at a high level and are relational. Our customer support team, UX process, and team-first mentality mean that no matter the role, our team is transparent and invites customers into our product roadmap. 
When things stop making sense, an unhappy customer will hang up the phone, yell at the chatbot who doesn't understand, and call TextUs instead.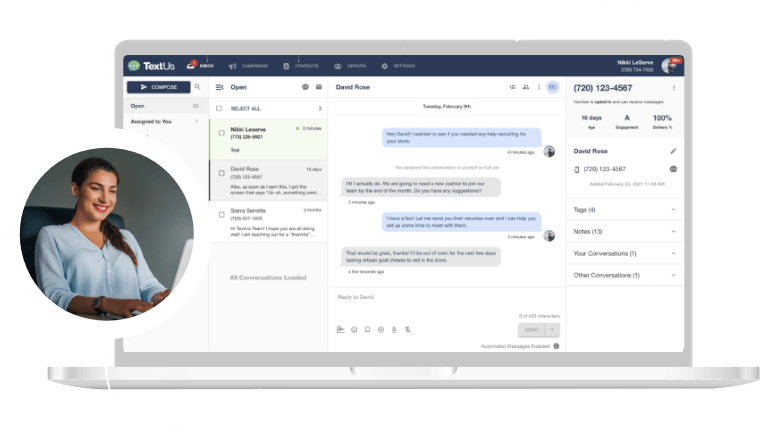 Get a TextUs Demo
Learn how thousands of businesses use TextUs everyday to communicate in real-time.