Consumers are buying but are workers working?
Retail hiring trends this summer
Summer expectations for retail sales are up. According to the AP, U.S. retail sales rose 0.9% in April and are expected to continue despite rising costs and inflation. Consumers are learning to place priorities on where to spend their money– resulting in higher sales for certain items and specialties.
"Never bet against the U.S. consumer has always been a good adage…despite the surge in prices weighing on their purchasing power, the U.S. consumer now appears to be single-handedly keeping the global economy afloat."
Paul Ashworth, chief U.S. economist at Capital Economics
Consumers are ready to buy, but are there enough workers to accommodate the demand?
Retail labor trends
The retail industry is no stranger to the labor market shortage. The industry is not spared when it comes to quit rates and needing to embrace more flexibility and wage shifts in order to attract and retain workers. The "Great Reshuffle" is slowing but still leaving its mark on retail. 
TotalRetail reports that "the average cost to hire a new employee in the U.S. is $4,425 and filling a position can take up to 36 days to 42 days. What's more, it takes an average of 12 weeks for a new employee to become productive on the job."
High turnover is costly when you look at these numbers behind each quit. Every time you have to hire someone new, it takes time to interview, onboard, train, and achieve success. Communication can be a pivotal factor in closing the gap between turnovers and hiring new members of the team. 
The article also highlights empowering employees in a way to maintain and manage the workforce with flexibility. Easily communicating shifts and schedules in a collaborative environment will keep employees informed and empowered. 
TotalRetail presents the case for "digital natives" who are younger employees entering the workforce and have grown up with technology and expecting more automation and access in their lives. Providing a communication solution to this audience that fits in with their schedule and expectations will allow you to recruit the next generation of workers. 
How can you plan for hiring when you know that certain seasons are busier than others? Last year, retailers began hiring for the end of year holiday rush during the summer to make sure they were fully staffed with part-time seasonal help and full-time staff.
Texting as a retail solution
Here are the top three ways texting meets the needs of retailers: 
Quicker placement and training

Texting lets you communicate with candidates when it's convenient for them and increases the chance of getting a response. With candidates getting back to you quicker, you can move through the interview process in a timely manner. This will let you fill your holiday or busy seasons faster. Once candidates get hired, you can text paperwork, training videos or messages, and confirm orientation. Texts also let you check-in with new hires to see how they are acclimating to the work culture. 

Seamless shift scheduling

Text your employees schedules, give alerts when you have last-minute shift pickups, and encourage collaboration with the team so everyone knows what is available. Having a track record of flexible and open scheduling will give candidates a good idea of what to expect from your company culture and how they may benefit from the collaboration and communication to give them a sense of security and belonging. 

Embracing the digital transformation 

The next generation is looking for retail jobs. Stores like Walmart are looking to train and equip college graduates with a path in retail management, while those who do not choose a collegiate path can look to other retail jobs that have increased pay and benefits. This generation favors texting and mobile accessibility over talking on the phone or sorting through their junk email. If you are prepared to recruit for this generation, you will be able to easily hire, onboard, and retain these employees. 
We have seen such a boost in retail leading the recovery of the economy in the past year, that we have created templates specifically for each phase of the industry. Whether you are looking to hire, communicate with staff, market to consumers, or inform logistics, we have texts to get you started! Happy texting!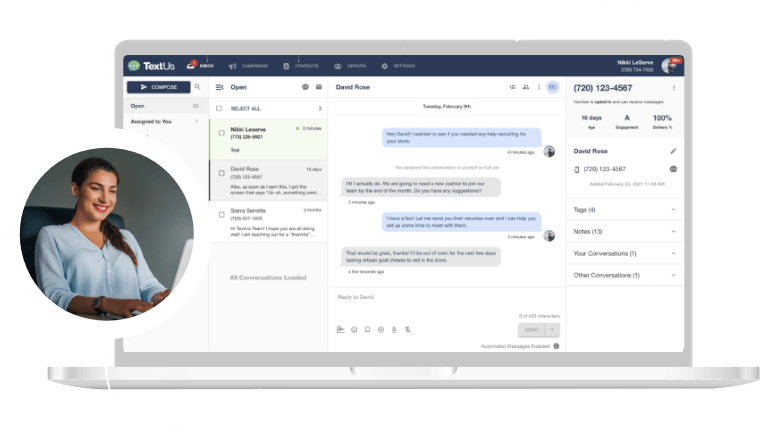 Get a TextUs Demo
Learn how thousands of businesses use TextUs everyday to communicate in real-time.