Conversational texting for high end retail sales
Summer time and summer sales. Big purchase items like furniture, cars, VIP sports viewing, and real estate are popular during the summer months. With Memorial Day kicking off the semi-official start of summer, car dealerships and furniture stores will offer sales to get patios ready for entertaining and a new car for summer road trips. Summer in real estate typically means a hotter market embracing the warmer weather to view homes and move when the weather is nicer.  Baseball is in full swing with events and games at stadiums across America. 
How do you capitalize on busy sales cycles and give prospects the experience they want and need in order to become customers? Conversational texting enables 2 way SMS so that texting customers is easy for you and them!
Texting customers improves CX
Providing a positive customer experience at every touch point keeps closed deals and retention high. Conversational texting is an optimal way to engage with buyers before they are ready to make a purchase. Higher end retail products may include a longer sales cycle as customers think about what they want; you want to make sure you are able to engage with them during that period — 2 way SMS for retail lets you do just that. 
Certain products and experiences still require a test drive before purchase. As a tech company, we offer demos so that users can experience the product and get a feel for how it will work for them to make sure it's the right business fit. Your retail customers are no different. Literally, in car sales, most customers still prefer to take a test drive before purchasing. Most consumers will still start the car buying process online, so before a salesperson can even get to them, they are forming perceptions about your brand and the product they want. Texting customers who are browsing cars online but may have questions before coming in person, lets you build that relationship from the start so when a customer comes in for a test drive, they are welcomed by someone they know – and more likely to buy. 
The same concept can be true for furniture sales. Many buyers will start online to see inventory, but they are wondering if memory foam is really the right fit for them or how deep is the couch really? No one wants to get stuck with something that looks good but isn't comfortable or the right fit. Since everyone has different preferences, the only way to know what is right is to go in person and try it out. Instead of customers wandering around the showroom and getting the next available rep, you can use conversational texting to schedule an appointment and encourage them to come in and see the furniture so they can imagine it fitting in their home. 
Even though there was a break during COVID for real estate markets and online touring became more popular, the majority of homeowners and apartment renters want to actually see what they are getting. A unit or home could be beautiful and have wonderful curb appeal, but what if a buyer shows up and discovers they hate the neighbors? People are unwilling to take those risks and they want to envision living in a place, which is hard to do until you are standing in it physically. 2 way SMS creates an environment where potential homebuyers and renters can view property listings on their phones but still reach out to you with particular questions not answered in the listing or to schedule an appointment to view. Personalized bulk SMS is a prime use for the real estate industry because you can send a listing or open house to your entire contact list at once, but then take interested buyers or renters to conversational texting for more targeted engagement. And getting closer to the ideal buyer without wasting your time. 
If you are selling box seats or VIP events in professional sports, do you want to trust that the photos taken are good enough to make someone want to buy? Or do you want to create a custom experience by getting them into the box and showing them what VIP really means at your sports venue? Texting customers means you can know exactly when they arrive at the venue so you can meet them instead of wasting time standing around waiting for them. 
Conversational texting is the way to take your online conversations to in person creating a positive customer experience from the moment a person considers your brand.
Conversational texting with leads
Our research shows that conversational texting averages a 67% response rate. That's close to twenty percent more than the average response rate! Especially when you are nurturing leads, 2 way SMS marketing is a tool to stay front of mind, but still customize the message and touch point. 
In today's market, buyers want customization, personalization, and convenience. Texting customers gives you a competitive advantage to do all three: convenient to respond back to you when they can and want to, the ability to personalize the message, and giving them options to customize their customer experience. 
Two of the biggest roadblocks to sales are getting a prospect on the phone or scheduling a meeting. Texting customers for meeting requests lets prospects schedule a time that is convenient for them. Do you want to leave to chance or wait for a customer to come into your showroom, open house, or sports venue? Word of mouth and drive-by marketing like billboards and signage is one tactic to bring people in, but it's harder to forecast. 2 way SMS marketing makes it easier to see your pipeline of prospects and where they are in the funnel. You can know who is closer to coming in to buy and who needs more time. You can start with personalized bulk SMS that allows you to reach many contacts at once to get out important information and then switch to 1:1, 2 way SMS to communicate at a deeper and more engaging level with the right contacts. 
2 way SMS
How do you use 2 way SMS for texting customers? Look for a bulk SMS platform that has a mobile app. Especially for retail sales where you may be on your feet all day standing on a showroom floor, walking around a sports venue, or driving to open houses, a mobile app keeps you connected when you are on the go. 
Conversational text messaging means you will have more messages than if you send a couple of one off campaigns to mass contacts. Make sure you have easy inbox management features so that you can quickly search for contacts or messages and organize conversations to avoid inbox clutter.
Just because texting customers is more personal, you can still use automation to make your life easier without losing personalization! 2 way SMS marketing can include the capability to schedule your text messages. Let's say you know you need to follow up with a lead in so many days or want to send out a text message promoting an upcoming event or sale, you can do that with a bulk SMS platform. You can also utilize texting templates that help you think of ways to engage with contacts and give sales nurturing tips so you aren't struggling to find the words to say to get the conversation started! 
Most importantly, make sure you have notifications enabled with conversational texting so that you never miss a message and can communicate in real-time! Sales moves slow until it moves fast — if you miss the message, you may miss the closed deal. Texting customers is a quality way to nurture leads, keep them informed, and be there in real-time when they are ready to come in and see the product or service for real. When that happens, you will already have the connection to close faster. Don't be the random person that walked by at the right time and had to guess what a customer wants -– be the one who already knows because you've been texting customers. 
We know that this line of work is best realized when seeing for yourself how it will fit, work, and look with your needs. If you are ready to increase your sales and engagement, give TextUs a try and see for yourself why billions of text messages have been sent through our personalized bulk SMS platform. 
G2 rated us as a leading conversational texting platform for mid-market and enterprise companies. We are a feature rich company supporting high functionality that lets you implement 2 way SMS easily, but we also execute at a high level and are relational. Our customer support team, UX process, and team-first mentality mean that we honor our relationships with customers just like you do.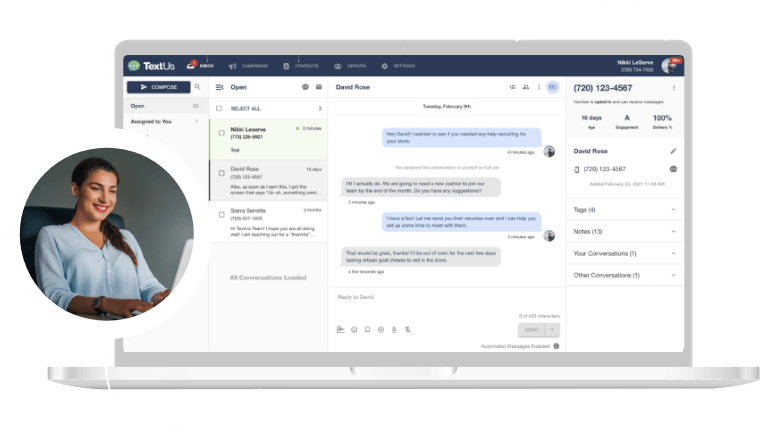 Get a TextUs Demo
Learn how thousands of businesses use TextUs everyday to communicate in real-time.