How Integrity Locums Connects with Physicians Faster and Gets More Done with Bullhorn, Herefish, and TextUs
Increasingly in staffing, it's not only individual tech choices that differentiate firms, but how the entire suite of tech solutions work together. Integrity Locums, a locum physician recruitment firm, saw this firsthand as they searched for a text messaging solution. They tried many other platforms before arriving at TextUs, and the integration with their CRM, Bullhorn, was nonexistent or inefficient — requiring laborious spreadsheet work that sapped consultants' time.
Integrity Locums went searching for new texting software. Hearing good things about the TextUs platform, they tried it out and found just the solution they needed.
"The new TextUs has worked so well for us," said Chelsea Scoggins, Sales Administration Manager at Integrity Locums. "It's been beneficial in expanding our outreach so we can communicate quickly and efficiently, the way our business needs to."
TextUs seamlessly integrates with Bullhorn and with Integrity Locum's automation platform, Herefish. This saves consultants' time, improves response rates, and facilitates more targeted, effective candidate communication.
Integrity Locums also gained insight into what was working in their communication strategy — and what wasn't — with TextUs' robust texting analytics.
"We've been able to get a lot more done with TextUs, and as a result, we've seen more responses, and we've seen our business growing," said Scoggins.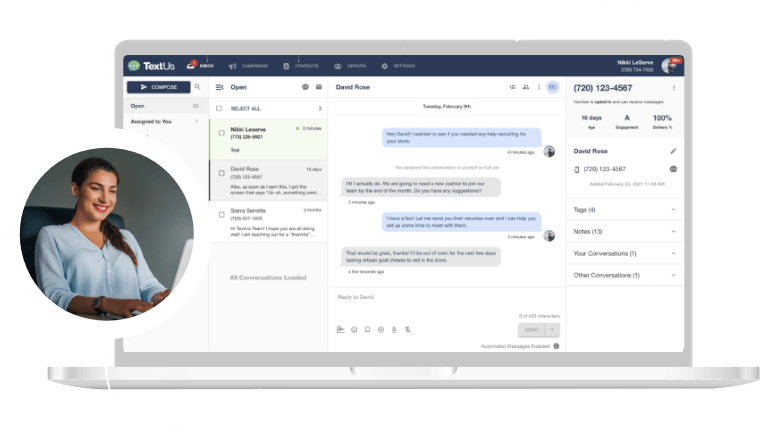 Get a TextUs Demo
Learn how thousands of businesses use TextUs everyday to communicate in real-time.